What It Was Like To Lose On 'Jeopardy!' Last Night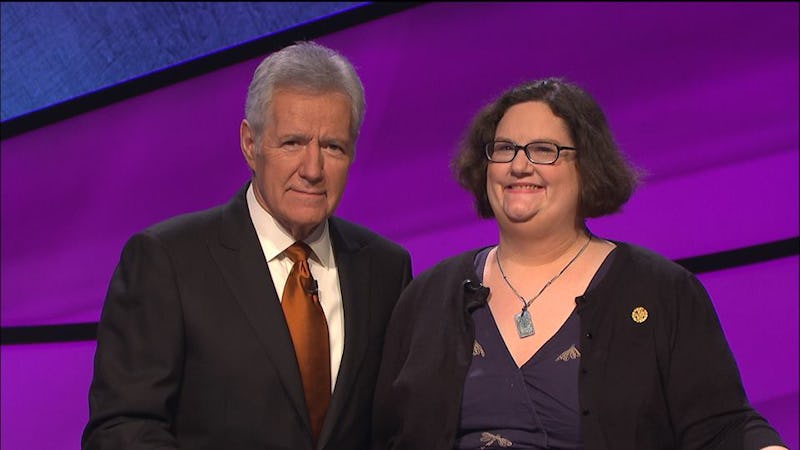 I remember watching Jeopardy! with my parents when the version starring Alex Trebec first began airing. I was 12, on the quiz team at school, and lacked any real awareness of how obnoxious I could seem just by knowing the right answers most of the time. My junior high school quiz team, seven pasty white boys and me, went undefeated that year. The boys wouldn't speak to me on the bus rides to and from our games, even though I was our highest scorer. Girls tend to frighten even the most composed of tween boys, and I had so many rough edges at that time that very few of my classmates ever found a good angle of approach.
I've wanted to try out for Jeopardy! since those days, but I was worried that people who saw me on television would react to my weight — that they'd see me as grotesque, ridiculous, and undeserving. But writing a book, getting an MFA at 40, and losing 300 lbs (don't worry, fat acceptance people, I'm still a size 24) — these things gave me the confidence to try. I passed the online contestant test last April, and in July, I attended an in-person audition in Minneapolis.
At that audition, I wore a white dress with pink flamingoes on it. I painted my nails to match. I cared about these things. I also scored 49 out of 50 on the test they gave us that day. Burning with adrenaline after a fun but intense audition, I was somehow able to reconstruct all the questions from memory. I double-checked my responses online and realized I'd missed just one, about a state capital. (For all the strange, arcane things I remember, I still struggle with geography.)
In January, I got an email from one of the show's contestant coordinators inviting me to LA to appear. I booked tickets and a room at the show's preferred hotel, and anxiously waited my date with gameshow destiny.
On the morning of the taping at 7 a.m., an hour I generally spend deeply asleep, I gathered with other contestants in the lobby to await our free van ride to the studio. I noticed the other female contestants immediately. One, a 20-something wife and new mother form North Carolina, wore a ModCloth dress with little dinosaurs on it. Many of the other hopefuls had rolling suitcases full of spare TV outfits, in case they kept winning. I had packed three eShakti dresses (think ModCloth for fat chicks). The one I wore on the show, a navy cotton poplin fit-and-flare, has gold dragonflies on it. I wore a tile pendant with the state of Michigan etched into it, my grandmother's gold pin, and my own lipstick (a Tarte lip stain in "Fiery").
When it was finally my turn to play, in the last crazy moments before I went to the stage to tape, I felt like a bride, or maybe Gwyneth before the Oscars, as a makeup artist applied blush and mascara.
Standing at the Jeopardy podium, with cameras rolling, I had a card from my sister in one pocket ... and my handicapped parking placard in the other. I know that my disabilities aren't terribly visible (joint problems, depression, learning disability), but I wanted to represent for that community in my own small way.
I pushed worries that the Internet might call me "fat bitch" out of my mind and tried as hard as I could to win.
Early on in the game, I struggled with the buzzer. I remember how incredibly frustrated I felt knowing answers, and frantically jabbing the buzzer, only to have my competitors Scott or Mike successfully ring in first instead. Adrenaline flooded my body, and I felt kind of like a wild animal that never leaves the zoo.
A senior contestant coordinator coached me during the first commercial break. I remember him saying a phrase and telling me to buzz at a specific pause. After that, the buzzer stopped being my enemy.
When I finally got the buzzer going my way, I played aggressively. I hit every category in no order for Double Jeopardy. I almost immediately scored a Daily Double with the answer "embryo" using this strategy. I pushed worries that the Internet might call me "fat bitch" out of my mind and tried as hard as I could to win.
By the time I figured out the buzzer, though, it was just a little too late. Scott, who I'd spent the better part of two days with, and who I encouraged with one or two (now a smidge regrettable) pep talks, won our game, massive Salvador Dali un-ironic mustache and all. The crowd let out a kind of gasp as time ran out.
I came close, within a hundred dollars or so, to making Final Jeopardy a contest.
As I tried to write down my bet for final Jeopardy, my hands shook. I was emotional knowing I couldn't win. I wrote my last bet — $1980 to honor my sister's birthday. I had trouble getting the number out legibly, though. The producer, Maggie, very patiently told me to take a breath and just write the number. When we wrapped the episode, she came up to me.
"Can I hug you?" she asked. I nodded. I was a little teary. Van Morrison's "Bright Side of the Road" played while the staff helped me exit the set. Outside the greenroom, a pair of seniors who'd been the audience asked me to pose for a photo with them and a life-size cutout of Alex Trebek. (The word "surreal" is an understatement.) I shook hands with the show's security guard and the sound guy. I thanked all the contestant team people, grabbed my sack of (unneeded) spare dresses from the greenroom, and left.
I let myself feel bad about Not Winning for a couple of days. The constant, uncharacteristic LA rain, and a mopey trip to Santa Monica Pier, helped me suffer in exactly the right way. After that, I just felt proud of myself for trying.
I'd dreamed of being on Jeopardy! for thirty years. In the dreams, I'd won a few hundred thousand dollars, and life improved immeasurably. In my fantasies, I use the money to buy a house, to cover my sister's student loans (um, and also my own), and to pay off my parents' mortgage. Reality left me with the $2000 prize for second place, and some beautiful, wistful memories of almost getting away with it all.
I used to think the Internet would call me names, but that I wouldn't care because I'd have all this money. While the response on Twitter proved to be mostly positive, I really understand that I don't care if anyone calls me fat now, even without a big win. Deep down, somehow, I've never cared — at least not as much as some people want me to.
Watching myself lose on TV last night, I realized that at least appearing on Jeopardy! means I don't have to wonder what it's like to appear on Jeopardy! anymore. I had the dream, and rode it out for a couple of days. It's not a million dollars, but it's something.
Image: ABC; Giphy