These Are The Cards Cancer Victims Actually Need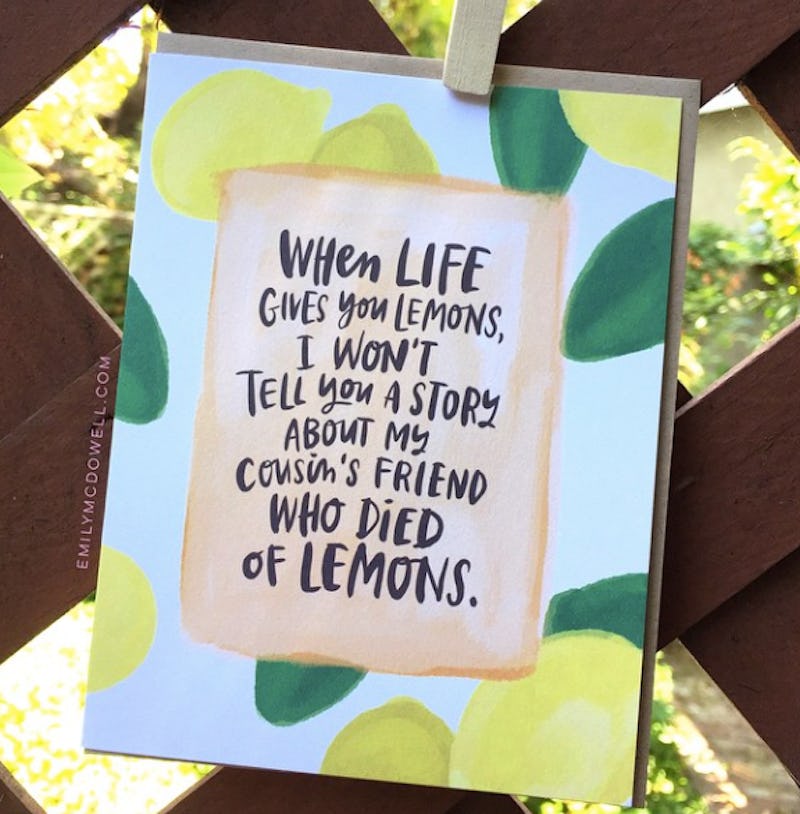 When your life is touched by cancer, it's difficult to know exactly what to do or how to reach out to the cancer patient in your life. You can show your support by raising money for cancer research and promoting cancer awareness. You can make it known that you are there for your relative, friend, or parent, no matter what. But it's still hard to feel like you're helping in the way you should be, and you constantly question whether you are, in fact, doing enough. Cancer survivor Emily McDowell designed cards a cancer patient would want to receive.
McDowell shows us what a cancer patient would actually want to see on a card, by designing a set of empathy cards based off what she wanted to hear when she was diagnosed with Stage 3 Hodgkin's lymphoma. She was diagnosed at 24 years old, and on her website she reveals one of the most difficult parts:
"It was the loneliness and isolation I felt when many of my close friends and family members disappeared because they didn't know what to say, or said the absolute wrong thing without realizing it."
Now 38, McDowell is an established Los Angeles designer. She's cancer free and has received extremely positive feedback for her new line of empathy cards, which are filled with direct, frank emotion.
Here are a few of her latest cards:
When someone you love has cancer, you're told to be realistic without being too heavy or pessimistic. That being said, being overly optimistic, to an almost annoying degree isn't appreciated either. The best advice I've ever been given about friends and family with cancer is to be there for them without ever giving them more work. You never want to make them feel like they need to return your call, but you need to call anyway. You never want to make them feel like they need to be the one comforting you.
For more empathy cards, or to place an order, check out Emily McDowell's website.
Seeing as Mother's Day is right around the corner (and after that, it will probably be someone's birthday, and after that it will be someone else's birthday and so on and so forth) here are a few more Emily McDowell cards for every occasion:
Mother's Day
McDowell's currently doing a real life mom campaign featuring, you guessed it, real life mom stories, and it is actually the sweetest thing you will ever see.
And then there's this, which I have dibs on sending to my step-mother:
COME ON, that's adorable. I must have it.
If you and your SO have an anniversary coming up, or if you just want to get a big jump on V-Day next year, she's got cards for that:
And she's got a card for your boyfriend, if he forgets your anniversary:
#RelationshipGoals (ish). You might want to buy this for him to give to you, just in case.
Images: Emily McDowell/Instagram