Meryl Streep & Mamie Gummer Star In 'Ricki And The Flash' & 13 More Times Mother-Daughter Duos Teamed Up On-Screen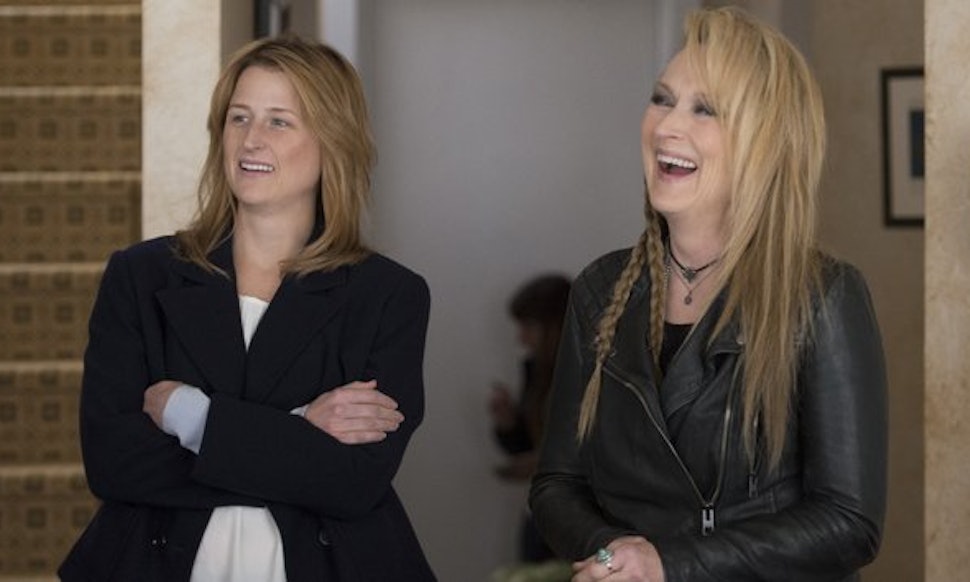 When the first trailer for Ricki and the Flash came out on Wednesday, it seemed like a gift from the movie gods: not only did the summer film look funny, badass and feminist, but it also paired up Meryl Streep with her eldest child (and look-alike), Mamie Gummer. In the movie, the two play — you guessed it — mother and daughter, and seeing them on-screen together will surely be one of the coolest elements of the movie.
And even cooler, it's not the first time the duo have co-starred in a film; Gummer appeared as Streep's 20-month-old baby in 1986's Heartburn, as well as the younger version of her mother's character in a 2007 film, Evening. Clearly, the women love working together — and they're not alone. Here are 13 other mother-daughter pairs that have starred together on-screen.
Image: TriStar
Meryl Streep & Grace Gummer
Mamie isn't the only Streep daughter to get to star alongside her famous mom. The Oscar winner's middle daughter, Grace, appeared both in 1993's The House of the Spirits as the younger version of her mom's character and in last year's The Homesman.
Image: Getty Images
Joan & Melissa Rivers
Melissa and her late mother teamed up for Tears and Laughter: The Joan and Melissa Rivers Story, a 1994 docudrama detailing their complicated relationship.
Image: Getty Images
Susan Sarandon & Eva Amurri
This mother-daughter pair has worked together several times, including Dead Man Walking, The Banger Sisters (pictured), and an episode of Friends where Sarandon got to slap Amurri in the face. Wonder who chose that one?
Image: Fox Searchlight
Blythe Danner & Gwyneth Paltrow
The duo have appeared in three films together, most prominently in 2003's Sylvia Plath biopic Sylvia. Paltrow played the writer, and Danner co-starred as her mother.
Image: Focus Features
Demi Moore & Rumer Willis
Moore's younger daughters, Scout and Tallulah, had small roles in 1995's The Scarlet Letter, but it was oldest child Rumer's parts in two of her mother's movies that garnered the most attention. Rumer appeared alongside her mom in Now and Then and Striptease (pictured).
Image: Columbia
Tippi Hedren & Melanie Griffith
In addition to two other films, Griffith famously co-starred with her mother in Roar, a 1981 thriller that led to much of its cast and crew, including both actresses, being seriously injured.
Image: Filmways
Melanie Griffith & Dakota Johnson
Apparently, her dangerous experience working with her mom didn't stop Griffith from wanting to co-star with her own daughters in future movies. Fifty Shades star Johnson, along with her sister, played Griffith's daughters in 1999's Crazy in Alabama.
Image: Columbia
Leslie Mann & Maude & Iris Apatow
Mann and her two daughters have starred in several movies together, most recently in 2012's This is 40. No word yet on whether the girls will appear in Mann's new comedy, but our hopes are high.
Image: Universal
Angelina Jolie & Vivienne Jolie-Pitt
Shiloh may have gotten on-screen first, appearing with dad Brad in The Curious Case of Benjamin Button, but Vivienne got to star alongside mom in last summer's Maleficent. The toddler played the younger version of Elle Fanning's Princess Aurora.
Image: Disney
Dianna Ladd & Laura Dern
Being the daughter of two famous actors (father is Nebraska's Bruce) allowed Laura Dern to get her start in the business; she co-starred alongside her Oscar-nominated mom in movies like Alice Doesn't Live Here Anymore and shows like Enlightened (pictured).
Image: HBO
Jada Pinkett-Smith & Willow Smith
A year after appearing in her dad's I Am Legend, Smith voiced a role in Madagascar: Escape 2 Africa, also starring her mom. She played the baby version of Pinkett-Smith's character, but in the franchise's Christmas special a year later, she voiced a different character — but still got to hug her animated mom in a scene.
Vanessa Redgrave & Natasha Richardson
The late Richardson starred with her famous mother in three films, including Evening (pictured) and The White Countess.
Image: Focus Features
Laurie Simmons & Lena Dunham
Dunham cast her mom in her 2010 breakthrough, Tiny Furniture, a semi-autobiographical dramedy about a struggling college grad. Simmons, a real-life artist, played Dunham's character's photographer mom.
Image: IFC Films