Watch 'National Lampoon's Vacation' Reboot Trailer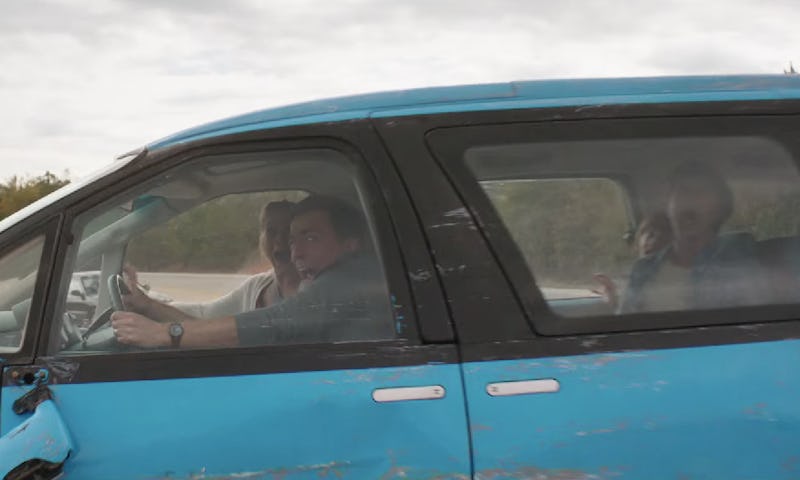 When I first head about the National Lampoon's Vacation reboot, I was baffled. Why does the world need another unnecessary remake of a classic? However, now that the trailer for Vacation is out, I've had a change of heart — mostly thanks to Chris Hemsworth. But I'll get to him in his shirtless glory in a second. First, let's talk about the rest of the cast. Ed Helms plays Rusty Griswold all grown up, and although it would have been better to have Anthony Michael Hall reprise his role, Helms does a great job at being Clark Griswold 2.0. Not only does Rusty act a lot like Clark, but there are great call-outs to the original film that are totally meta. Plus, Chevy Chase and Beverly D'Angelo return as Clark and Ellen, and Christina Applegate is very similar to Ellen as Rusty's wife, Debbie.
The plot is the same as the original National Lampoon's Vacation: Rusty wants to take his family to Walley World, but things don't go quite as planned along the way. Rusty basically says he wants to re-create his vacation from 30 years ago, but it's not a direct play-by-play from the first movie. The best addition to the reboot is Hemsworth, who has a shocking, NSFW moment when he enters the room. Check out nine essential moments from the Vacation trailer, then watch the whole thing below.
1. When They Flash Back To The Original Movie
Good times with Chevy Chase right before Clark crashes the car.
2. Then Ed Helms Re-Creates The Scene — With A Twist
It happens again to Rusty, but this time, he's not crashing.
3. Chevy Chase & Beverly D'Angelo's Return
It's hard to believe the original came out in 1983.
4. Rusty's Super-Meta Moment With His Family
Before they go on the trip, Rusty explains he wants to go to Walley World like he did as a kid. "You want to re-do your vacation from 30 years ago?" his wife asks. "This will be completely different," he responds. "I've never even heard of the original vacation," one of his son chimes in. "Doesn't matter — the new vacation will stand on its own," Rusty replies. Perfectly meta.
5. Chris. Hemsworth. Shirtless.
It's just too much. This screengrab isn't so revealing, but it's pretty NSFW.
6. A Closer Look At That NSFW Moment...
Whoa, Magic Mike.
7. Also, Him & Leslie Mann Being Southern
On a less dirty note, he and Mann are adorable together.
8. Rusty Being Totally Awkward & Clueless
When he gives his son advice, Rusty is as helpless as his dad was.
9. This Super-Gross Moment That Is So National Lampoon's
Of course there's a gross-out moment, and let me just say that mud isn't really mud.
Images: New Line Cinema/YouTube (9)