11 Episodes Every LoVe Fan Needs To Watch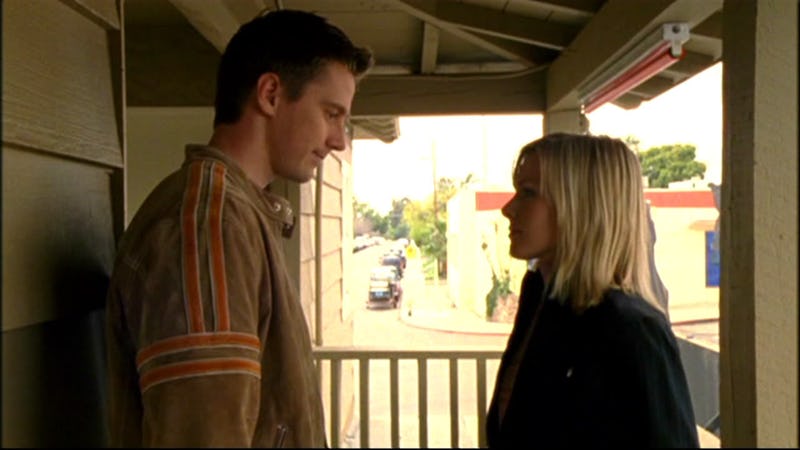 Veronica Mars may have hooked us up with a high school-set gritty murder-mystery, but the real reason we stuck around was for the characters — or rather, two of them. When we first met Veronica Mars and Logan Echolls, they were sworn enemies, and for good reason: After Veronica's best friend and Logan's girlfriend Lilly Kane was murdered, Veronica was the one person in Neptune who sided with her own father (Keith Mars, the sheriff of Neptune at the time) when he suspected Lilly's parents of being involved in their daughter's death. An angry Logan — who felt Keith's suspicions were unfounded — lashed out at Veronica, and Veronica lashed right back. It went on for ages... until the two of them happened to fall into one another's arms midway through Season 1, because even though they lashed out at one another, the romantic tension was always palpable. Guess there really is a fine line between love and hate, huh?
Logan and Veronica were a perfect match from day one of the series, and, while the series may have ended with Veronica dating a different guy and Logan pining from the sidelines, 2014's Veronica Mars Movie put them right back where they needed to be — together. That's not to say that there weren't plenty of amazing episodes that fanned our inner LoVe adoration, though!
If Logan and Veronica are your OTP, then re-watch these episodes for some of the best Logan and Veronica moments of the entire series.
"The Wrath Of Con," Season 1
Not only does this early Season 1 episode show that Logan and Veronica were once good friends, but it also shows a tender moment between them after Logan plays the video of Lilly that Veronica gave to him for her memorial service. It's probably the earliest episode to show that Logan does, in fact, have a heart — which, as we know, will one day belong to Veronica.
"Ruskie Business," Season 1
Logan hires Veronica to find his mother Lynn, whom Logan believes faked her death, only for Veronica to discover that she really did commit suicide. Logan breaks down in Veronica's arms in a rare moment of vulnerability, and the experience bonds the future couple.
"Weapons Of Mass Destruction," Season 1
You can call this THE LoVe moment. After Logan rescues Veronica from a bomber, Veronica plants one on Logan — and he returns the kiss!
"M.A.D.," Season 1
Because illicit bathroom hookups are hella romantic.
"Ahoy, Mateys!," Season 2
There are (tragically) not a ton of romantic Logan and Veronica moments in Season 2, as Veronica dumps Logan and is with Duncan for a good half of the season. Though they aren't dating in the above clip, Logan does rescue Veronica from the Fitzpatricks, because, regardless of their romantic status, he always has her back.
"Look Who's Stalking," Season 2
If there was ever any doubt that Logan and Veronica were endgame, it's squashed with Logan's heartfelt (if drunken) speech at prom.
"Not Pictured," Season 2
Veronica tracks down Cassidy Casablancas, the bus crash culprit, and is attacked by the crazed killer. Logan comes to rescue her (because obviously) and, by graduation, the two have completely rekindled their romance.
"Welcome Wagon," Season 3
This episode is the first where Logan and Veronica are an average, out-in-the-open couple. Totally worth the wait.
"Lord Of The Pi's," Season 3
Logan and Veronica's fight in this episode basically boils down to Logan loving Veronica too much to see her get hurt, because even their fights are romantic.
"Show Me The Monkey," Season 3
Logan breaks up with Veronica to protect himself from getting hurt, but, as this episode proves, these two can't stay away from one another for very long. Veronica shows up to Logan's hotel room and, after one meaningful look, these two are making out again.
"The Bitch Is Back," Season 3
Sure, Veronica might be with Piz at the time, but the series finale shows how Logan won't ever stop loving her. Not only does he punch out Piz after he thinks that Piz leaked Veronica's sex tape, he also goes head to head with a mobster's son — all to defend Veronica.
True love (and LoVe) never dies.
Image: UPN