BRB, Moving In With 'Grace And Frankie'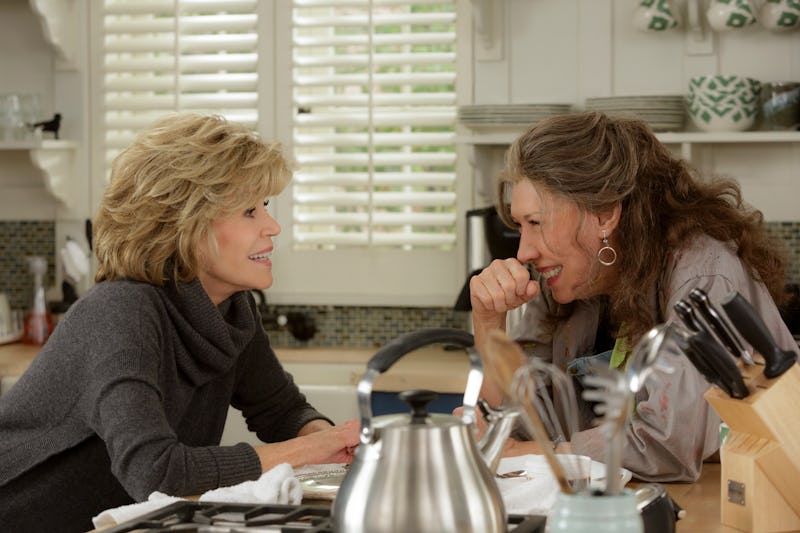 Meet your newest Netflix obsession: Grace and Frankie . While it doesn't come with any Marvel superheroes, and it's not executive produced by Tina Fey, there are a thousand reasons to love it already, including the fact that it stars Lily Tomlin and Jane Fonda, reunited again like it was 1980 all over again. If that's not enough to get you excited about this show, Grace and Frankie takes place in beautiful, sunny Southern California (considering that Frankie seeks a job in La Jolla, Calif. I'm going to wager we're looking at La Jolla or its surrounding neighborhoods in San Diego County), and their homes are ones I can only dream of. I mean, these houses look like something out of a Nancy Meyers movie, so you're not only going to laugh along with these women, you're going to want to live just like them, too. OK, maybe not live like them in the sense that their husbands leave Grace and Frankie for each other, but you know what I mean.
Grace lives in a McMansion, basically, with tall ceilings and perfectly decorated rooms. Frankie, on the other hand, lives in a house that reminds me like a Southern California version of Cameron's house in Ferris Bueller's Day Off. You know the kind that's kinda quirky and sits just on the edge of a steep hill? Like that.
The two houses couldn't be any more different from one another, just like Grace and Frankie themselves. But these two women actually meet in the middle with one shared house: a beach house, initially bought because their husbands pitched it as a "once in a life time" opportunity that they couldn't afford without each other.
Ten years ago that idea worked. But as Grace and Frankie learn that their husbands are actually in love with one another, it becomes clear that this shared beach house is more of a love nest for the two of them. That fact aside, when can I come crash for the weekend? Who doesn't want a gorgeous beachfront house at their disposal every day of the week? I mean look at this place:
While it's never clearly explained where this darling beach house is located, I'm willing to venture it's in the city where Frankie seeks a job, La Jolla, or another coastal San Diego community like Del Mar. It's a little bit quieter, a little more more secluded, and the lush greenery leaves me to believe it's not in any of the busier, bustling beach communities.
And this beautiful house is where Grace and Frankie retreat to to live, leaving behind their McMansion and quirky new-architecture abode, for the sand, the surf, and each other.
Image: Melissa Moseley/Netflix; Netflix (5)