Which Network Has The Most Feminist Fall Lineup?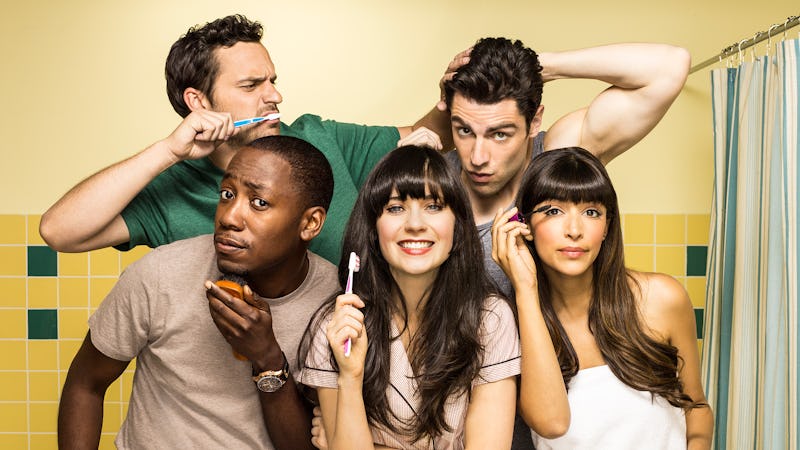 It's been a stomach-churning week. Over the last few days we've received a veritable onslaught of television show renewals and cancellations, with everyone eternally on their toes about the fate of their favorite shows. We've saved some solid picks, but lost a few goods ones. And in light of the recent cancellation of The Mindy Project , we especially have to wonder, is there still hope for feminism in the upcoming fall line-up?
Maybe. It's still really early to make judgements on an entire network until we see the finished product (and, of course, pick and process it in think piece after think piece). But with a bunch of new shows for the fall line-up ushered in, we can at least do a thumbnail observation of which of the big few networks has the most diagonal feminist leanings. That way, you'll get a sense of what has progressive promise in the upcoming months... and which networks are stuck in the era of laugh tracks and black-and-white television. Or white and white television. You know what I mean.
So after careful scrutinizing and examining of what's to come, here's your quick guide to which networks are looking the most feminist this upcoming TV season.
ABC
The most promising new piece of work is The Catch, a drama about a fraud investigator who's, incidentally, about to become a victim of fraud by her fiancé... and how she works to stop it before it ruins her career. The words "strong" and "successful" are used. Bueno. Aside from that, new shows are primarily focusing on more ensemble cast such as The Family, which is focusing on the return of a politician's allegedly dead son after a decade.
But we haven't faced any dire losses. Once Upon a Time, filled with badass babes and fairytale subversion has been renewed, as has Marvel's Agent Carter, which could potentially use this next season to really focus on its titular leading lady. Shondaland is going strong, with How to Get Away With Murder, Grey's Anatomy, and Scandal all returning. And the station is keeping up with diversity with renewals of black-ish, Fresh Off the Boat and Modern Family.
NBC
Nothing hugely life-changing on the renewals front, but, overall, NBC has big shoes to fill after the loss of Parks and Recreation. One cool thing, though: the triumphant return of America Ferrara. Ferrara will be starring in Superstore, a comedy about a group of employees working in, well, a superstore. Of course, amount of her involvement remains to be seen, but she's always a delight.
CBS
But speaking of "super," Supergirl is slated to appear on CBS, following the comic book queen and Clark Kent's Kryptonian cousin. Could be promising, especially since most Superman media focuses on, well, Superman himself.
Otherwise, it's kind of Struggle City over here. I think the loss of Two and a Half Men will be good for CBS, and overall society, but there's a long way to go.
Fox
Now Fox is kind of a mixed bag. As we said earlier, people are still reeling from the cancellation of The Mindy Project, but there's some good in there. New Girl is going strong for another season, and we'll get to see more of total riot grrrl Tina Belcher on Bob's Burgers.
On the horizon, there are a few ensemble casts and shows starring hot middle-aged men (John Stamos and Rob Lowe, respectively), but, aside from that, there doesn't look like an injection of fresh, female blood. You know, if blood could be female...
The CW
Hart of Dixie has gotten the axe, meaning we'll be waving farewell to Summer Roberts and whatever doctor adventures she's been having in the South for the past four seasons. The most intriguing pseudo-replacement pick has definitely got to be Crazy Ex-Girlfriend. It follows a woman who gives up a partnership at a law firm in Manhattan to pursue "love and happiness" in East Nowhere (read: West Covina) California. In some ways, it could be an interesting and invigorating take on self-rediscovery. In other ways, that just sounds like a terrible, terrible life decision to make, so I can't wait to see how the CW handles it.
Overall? I'd say your best bet is probably ABC, with a promising show on the horizon and plenty of solid standards alongside it. But overall, it's hard to maintain something truly radical and overtly feminist on network television. So if you need me, I'll be partying at Comedy Central or on Netflix.
Images: Fox (1); Giphy (4)