Ranking The Best Dance Movies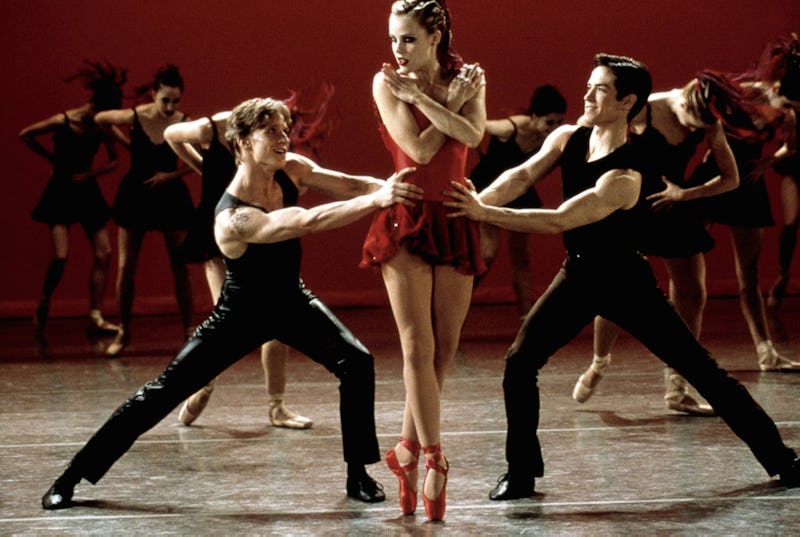 One of the best dance movies of the last two decades is celebrating its 15th anniversary this year. I can still recall watching Center Stage for the first time. It was one of my first experiences going to the movie theater without parental supervision and I remember debating the whole movie through whether or not I would be willing to suffer through the trials and tribulations of learning ballet and going through the one-year academy training to become a professional ballerina. Nope. There was no way. But wow is it fun to watch. Even though Center Stage has its fair share of corny plot lines, cheesy acting moments, some aggressively bad outfits, and a few obnoxious characters, it is still overall one of the most entertaining films about dance. And that got me thinking about the multitude of other dance films over the last several decades. These are just a few of the very best ever made.
When I started this exhaustive list, it was just that: Exhaustive. Seriously, do you guys realize how many dancing movies have been released over the years? Some of the films on this list could be argued as not specifically dance films as they are musicals or dramas with dance infused in them. But considering how amazing the dancing is in each entry and how dancing plays an important part in each film, it's hard not to include them all. So get ready to take a gander and feel free to debate me on the choices included. I welcome any conversation about dance films because they are easily some of the most enjoyable released from the beginning of film to today.
Footloose
Footloose is a film all about a dancing ban. So compared to some of the other films on this list, there aren't many routines into which we can really sink our teeth. But Kevin Bacon's angry garage dance is enough to get it on this list.
Flashdance
What a feeling indeed. Flashdance is corny and some of the moves are extremely outdated. But damn is it still so much fun. This final scene and the maniac dance alone are classics.
Magic Mike
Yes, yes I know. This is a film about stripping. But guys, watch Channing Tatum's "Pony" dance and try to argue with me about this.
Save The Last Dance
Compared to other final dances from films on this list, this one danced by Julia Stiles is really not that great. But the film itself is great and the dance chemistry between Stiles and Sean Patrick Thomas is hard to beat.
Dirty Dancing
Nobody puts this movie in a corner.
Stomp The Yard
I can't tell you guys how many times I used the phrase "stomp the yard" after this movie came out. And yes, I sounded idiotic every time. But this film (despite featuring Chris Brown in the first few minutes), does an excellent job introducing people to the world of collegiate stepping along with infusing street dancing. This final battle is awesome.
Strictly Ballroom
A beautiful, colorful, at times over-the-top ballroom film. Still one of the best ballroom films ever made.
Billy Elliot
Just watch this dance and look up videos from the incredible musical this film produced. Billy Elliot is dance and movie gold. There's a reason it catapulted Jamie Bell to success.
How She Move
Tara from True Blood owns it in this film which features some incredible stepping and street dancing. Plus it's one of the only films that features two girls battling via dance.
Black Swan
Yup, that's right. Black Swan absolutely counts as a dance film and there's no argument allowed that it's not one of the best despite whether or not Natalie Portman did most of her own dancing.
Shall We Dance?
Classic Fred Astaire and Ginger Rogers. Definitely a must include on this list.
Moulin Rouge
Again totally counts as a dance film because the Moulin Rouge puts on dance numbers in their show. And the Roxanne tango is too good to ignore.
White Knights
Mikhail Baryshnikov and Gregory Hines together. It's a no-brainer.
Tap
If this is how the film starts, can you even imagine how good the rest of it is?
Chicago
From "All That Jazz," to the "Cell Block Tango," Chicago is filled with unforgettable dancing that people won't soon forget. This film definitely fits the whole dance-related films idea for the list because Velma is in a nightclub act and that's precisely what Roxy wants to do as well.
An American In Paris
16 minutes of this film are just a giant dream ballet sequence, and it's absolutely beautiful. Sure it's one of the only movies on the list that isn't specifically about dancing or entertainment. But that ballet guys. That freaking ballet.
Hairspray
Tracy Turnblad's dream is to dance on the Corny Collins show, and it's our luck that we get to watch her journey there along with all of the important events that happening in 1960s Balitmore where this film/musical is set.
The Step Up Series
How do you pick one of the other in terms of dance? Overall, the original Step Up film is the best thanks to acting, story and chemistry between real-life couple Channing Tatum and Jenna Dewan-Tatum. But the other films in the franchise feature some of the best dancing ever put on screen.
West Side Story
I don't care that this is one of the only other films that doesn't directly relate to dancing in the plot, etc. The dancing featured in the film is worth it guys.
Center Stage
Charlie, Zoe Saldana, Cooper Nielsen's crazy awesome ballet featuring Jodie's fuetes at the end. It all adds up to one terrific dance film.
On The Town
Most of the classic movie musicals featuring Ann Miller is worth being on this list, but because I could only choose one, I went with the film that also has one of the best dancers of all time, Gene Kelly and one of the best singers of all time, Frank Sinatra.
All Of Fosse's Musicals
From this dance of the Rich Man's Frug in Sweet Charity to Cabaret to everything before, in between and after, all of Bob Fosse's films he choreographed are automatically considered the greatest dance movies of all time. I couldn't choose, so sue me guys.
Singin' in the Rain
And finally we come to arguably the best dance movie of all time. Again sure, it's not a typical dance film. But it's a movie about making movies — making a movie musical to be precise — and features story lines involving dance and characters who dance. Plus the Cyd Charisse dream sequence stuff is iconic along with the songs "Singin' in the Rain," "Good Morning," "Make 'Em Laugh," and "Moses Supposes." Every aspect of this film is truly unforgettable.
Images: Columbia Pictures