Exclusive Peek At 'The Winner's Kiss' Cover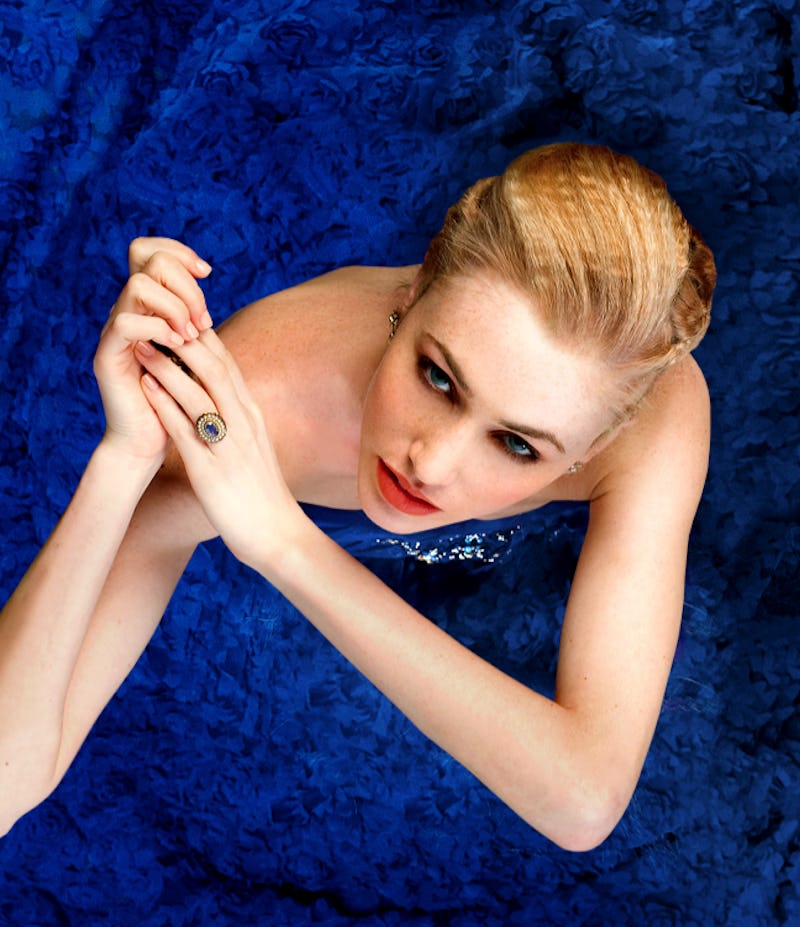 For the most avid fans of Marie Rutkoski's Winners trilogy, it already seems like forever ago we got the hotly anticipated second novel The Winner's Crime , though it was just back in March. While the third and final book in the trilogy won't be released until 2016, don't panic; get an exclusive look at the (of course, stunning) cover, which will tide you over until then as you reread books one and two over and over and curse the amazing cliffhanger ending.
Rutkowski's The Winner's Curse began with 17-year-old Kestrel sees marriage not as white fluffy dresses and champagne parties but as a prison, trapped by her own obligations as the empire's general's daughter. She really only has one decision to make on her own in her young life: to get married or to join the military. Trusting her instincts, she buys the life of a slave named Arin at an auction, and despite all of the horrific consequences if she is found out, starts to fall for the mystery man. But her decision also means she trades her own freedom for Arin, agreeing to marry the crown prince for Arin and his people's lives. And plus, there's this whole thing where they're on two different sides of a brewing war between the Herrani natives (aka slaves) and the revolution against Valorian colonizers.
Arin, though, isn't the only one with secrets, we learn as the story continues into The Winner's Crime. Kestrel herself has the powers of persuasion and deception, trading in on everything and everyone she has known to act as a spy in the court on the side of the Herrani people, keeping this secret from her love Arin. However, there are only more secrets and surprises. (Cue cliffhanger that will have you screaming.)
Thankfully, I have a sneak peek into the plot of The Winner's Kiss to tide you over as much as possible. And if you haven't yet read the first two books, be careful of light spoilers here. (And you're going to want to take some time to catch up.)
War has begun. Arin is in the thick of it, with the East as his ally and the empire as his enemy. He's finally managed to dismiss the memory of Kestrel, even if he can't quite forget her. Kestrel turned into someone he could no longer recognize: someone who cared more for the empire than for the lives of innocent people—and certainly more than she cared for him. At least, that's what he thinks.
But far north lies a work camp where Kestrel is a prisoner. Can she manage to escape before she loses herself? As the war intensifies, both Kestrel and Arin discover unexpected roles in battle, terrible secrets, and a fragile hope. The world is changing. The East is pitted against the West, and Kestrel and Arin are caught between. In a game like this, can anybody really win?
Clearly, we are still neck deep in secrets and lies, with Arin and Kestrel dancing around each other, unable or unwilling to reveal their true selves and motivations. But finally, with The Winner's Kiss, we will find a resolution. And the cover, thank goodness, has more epic ballgown envy.
As always, love love love the juxtaposition of the traditional femininity in the killer ball gown (seriously, when I can I drape myself in that?) with the sword, showing power and struggles, secrets and danger. And the red? You guys, I'm seriously scared that it means more blood and death. We know Kestrel isn't above taking the most risky of risks. Mark your calendar with a heart around March 1, 2016 to see what Rutkowski has in store for us all.