9 Lessons About Beauty From Kim K's 'Selfish'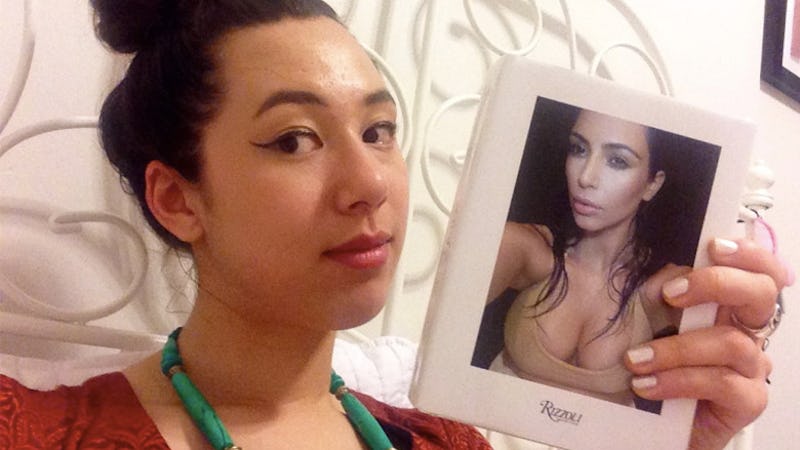 I keep up with the Kardashians, yet I am ashamed by how much I know about Kim's wedding, Khloe's divorce, and Kourtney's birth canal. So when it was announced last fall that Kim Kardashian's selfie book would be published with Rizzoli, I promised myself I would do the noble thing and not purchase the book. For once, I wouldn't succumb to the almighty power of the Kardashians, expend more time thinking about this family, spend more money propping up their empire, or be made fun of by my boyfriend for my expansive, almost encyclopedic, knowledge of the clan.
That resolve lasted for exactly three days after the book's publication because I totally caved and bought a copy Selfish by Kim Kardashian on Amazon.
And for the record, I have no regrets about buying Selfish. If anything, I regret not going in on the preorder many, many months ago. (I do, however, slightly regret having the book delivered to my office. I've quickly learned that sending e-mails with a copy of Selfish casually sitting on your desk doesn't exactly scream "competent young professional.")
Given the subject matter (which is, you know, pictures of a famous person taken by the aforementioned famous person), I thought Selfish would be totally narcissistic and vacuous, the literary equivalent of binge watching the first three seasons of Keeping Up With the Kardashians on Netflix even after watching all the reruns on E! before the two-part Kim and Kanye wedding episode aired. You know exactly what's going to happen because you've seen it all before, and you've read about it in the tabloids and devoured any hints of what's to come from Tweets and Instagram posts, but you still can't look away, and at the end of it all, you feel a little bit sick thinking about how much time you've just spent looking at something you can't exactly categorize.
I got some of that nauseous feeling after reading Selfish, for sure. Thumbing through 444 pages of selfies of a famous person is a strange, somewhat addictive, exercise in voyeurism, even when it's of a woman whose image I see all of the time, splashed on every website and magazine cover and TV screen. It was also strangely humbling to realize this was only a sliver of what's out there, "a small fraction of the thousands of selfies we considered for publication," as the book's jacket reads. Selfie spans the better part of a decade, which is a crazy long time to have been taking and cataloging selfies.
But I was also pleasantly surprised to find the book has some heart. The handwritten captions, although not exactly revelatory, are surprisingly sweet. My main takeaway from Selfish is how much Kim Kardashian genuinely loves makeup and clothes (and her family, too). Some of the selfies are totally glammed out, while others are makeup-free, offering a refreshing look into the daily life of a human being who seems to be operating on a totally different planet in so many ways.
If there are three things Kim Kardashian knows about, it's doing hair and makeup, styling outfits, and taking selfies, all of which are included in abundance in Selfish. So here are nine lessons about beauty and fashion I learned by looking through hundreds of Kim's selfies.
1. Getting your hair and makeup done can be "therapeutic"
Kim gets her hair and makeup done daily, and as someone who tried to recreate Kim's makeup and beauty routine, I don't know how she puts up with it. Kim can sympathize with that. "I know so many people would probably find getting their hair and makeup done so often tedious but I love the entire process so much," writes Kim. But she's not tired of it. "It's therapeutic for me. It relaxes me." Viewing getting made up as a luxury rather than a chore is a good, and probably healthy, shift of perspective.
2. But it also pays to know how to do your own makeup
One of the perks of getting your makeup done by someone else all of the time is that you get the chance to learn how to do it yourself from a pro. In Selfish, Kim admits, "I secretly wish I was a makeup artist." And from what selfies she shares, she wouldn't be bad at it. Know what's being done to your face and hair, and view every encounter as an opportunity to learn something new.
3. Dress-up doesn't have to end when you're an adult
If anything surprised me about this book, it's how much fun Kim seems to have with trying out different looks. There's the '40s glam look, the "crazy red look," and, of course, this leopard costume, which Kim purchased for Halloween at a store called Trashy Lingerie. Growing up doesn't mean stopping experimenting with your look. Try a new bikini or a low-cut Halloween costume, if you want. Go platinum blonde. It's your look so do what you want.
4. Don't make drastic beauty decisions while pregnant
The one time you might not want to play around with your look and do what you want is when you're pregnant, since, naturally, you might not feel the same way about it the next day. Take Kim's advice to heart: "Never do anything drastic to your appearance when pregnant. Bangs were such a mistake! LOL." (They really were not her best look.)
5. Old Hollywood glam never fails
Although Kim is always trying out new styles, she has some standbys that she keeps returning to over the years. Old Hollywood glamour is one of them, with voluptuous red lips and perfectly wavy hair, and Kim consistently rocks the look. As she describes it, "Simplicity." You can't go wrong with it!
6. Neither does making fun of yourself
I was pleasantly surprised with Kim's ability to laugh at herself. She peppers the photo captions with the occasional "LOL" and includes some less than (traditionally) flattering photos in the book, like the time she fell asleep in Mexico while wearing huge sunglasses and woke up with a nasty sunburn. It's OK to look like a goofball sometimes, especially if you're with your family.
7. Own your nakedness
There's a whole section of the book featuring Kim in a series of nude or semi-nude selfies. There are two totally naked images of Kim, taking a selfie in a mirror with her beloved BlackBerry with a caption explaining that Kim "wasn't intending to put these in the book but saw them online during the icloud hack. I'm not mad at them. lol." So instead of freaking out about getting hacked, Kim just put these nudes in her book. She owns it, and it's totally awesome, proving once again that confidence is the best accessory.
8. It takes a lot of pics to get the perfect selfie
In his 2008 classic The Outliers, Malcolm Gladwell posits that an individual needs 10,000 hours of practice in something to be considered a master at it, and after nearly a decade of taking selfies, I'm pretty sure Kim has reached that Gladwellian milestone. It's not a fluke that she takes consistently gorgeous selfies. She practices. In a somewhat philosophical moment, Kim ponders, "How many pics does it take to get the perfect selfie?" If anyone is going to figure that one out, it's Kim.
9. Selfies (and clothing and makeup) are memories
"I can look at any photo of myself and can tell who did my hair and makeup, where I was and who I was with," writes Kim. "Photos are memories to me. As soon as I see an image all of the details of the day or moment come alive for me." Taking selfies is a great way to commemorate the everyday moments, and that look into Kim's day-to-day life is what makes Selfish such an incredibly addicting read.
Images: Maxine Builder; kimkardashian/Instagram; Giphy (2)