7 Singles From 'Voice' Contestants To Remember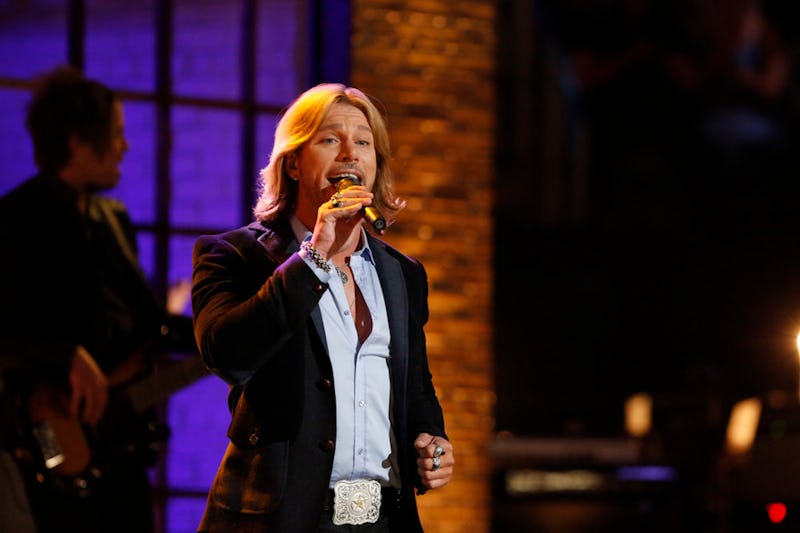 The thing about The Voice is that no matter no matter the entertainment value of playing high stakes musical chairs with charismatic famous musicians, the series just can't seem to produce a Kelly Clarkson or Carrie Underwood-level star. A few of its winners have had some success scoring a few Voice hits on the Billboard charts. But, to really make an impact as a recording artist, you can't just win a show; with record contract in hand, you have to quickly put out an album that gets fans' attention; and for an album to grab attention, it has to have hit singles... singles that are going to play on the radio way too many times, singles that are going to haunt people's dreams, and singles that both fans and non-fans will have stuck in their head for upwards of a year.
And in that way, The Voice has actually done alright. Its success hasn't been in the star power of its winners, but some of The Voice's best voices are actually contained in its non-winning leftover contestants. I wonder why we never heard more from Season 1 consummate front-runner and ultimate winner, Javier Colon, but I also wonder about his charming runner-up, Dia Frampton. I know that they're around, but I just keep waiting for some original content along the lines of Frampton's "Heartless" cover to become readily available to me.
Luckily, there are plenty of successful singles out there from former Voice contestants and winners. Here are a few of the most popular original songs that have come out of the show's nine seasons' worth of contestants...
Vicci Martinez — "Come Along" ft. Cee-Lo Green
Vicci Martinez is the perfect example of a former Voice contestant who may not be all over the Billboard charts all the time, but has staying power in the industry. She just keeps popping up! After finishing third in Season 1 in 2011, she came around with "Come Along" featuring her coach and EP producer, Cee-Lo in 2013. For some reason, "Come Along" wasn't officially released in the U.S., but it has more than two million hits on YouTube and is catchy as hell.
Melanie Martinez — "Carousel"
Of no relation, but similar trajectories, Melanie Martinez also took her time coming out with original music, but when she did, she did it right. A year and a half after placing third on Season 3 of The Voice, Melanie released her EP, Dollhouse, which features a number of haunting hits, most notably, "Carousel," gained Melanie extra notoriety when it was (perfectly) used in American Horror Story: Freak Show's open credit sequence. Melanie is one to keep an eye on.
Cassadee Pope — "Wasting All These Tears"
But, beyond Martinez, Season 3 of The Voice also produced its most successful winner yet. Despite her pop-punk roots with pre-Voice band, Hey, Monday, with the help of Coach Blake, Pope went the way of pop-country, debuting her post-Voice album, Frame by Frame. By far her most successful single has been the perfectly dramatic, certified-platinum "Wasting All These Tears."
The Swon Brothers — "Later On"
Indeed, country is probably the most welcoming genre for singing show contestants who didn't win their season, and charming third place duo from Season 4, The Swon Brothers, have benefited from both the genre and their coach's support. Shelton loved throwing around The Swon Brothers' recent chart successes during the audition rounds of this season and for good reason: Their self-titled album debuted at #28 on the Billboard 200, featuring hit singles, the most popular of which is surely "Later On."
Danielle Bradbery — "Heart of Dixie"
But, before the Swon Brothers made their reemergence, Shelton finally found the classic country winner he was looking for in Danielle Bradbery, who dominated the iTunes charts throughout her run in Season 4. Her self-titled album featured a country-as-they-come hit single in "Heart of Dixie," which held a spot on the Billboard Hot 100.
Craig Wayne Boyd — "My Baby's Got a Smile On Her Face"
While Seasons 5 and 6 have yet to yield any solid hit singles (to be fair, Season 6 winner Josh Kaufman was busy reviving Pippin on Broadway), in Season 7, The Voice made probably its smartest move to date: Enlisting hit songwriters like Swedish hit master Max Martin to pen original songs for each of Season 7's top four artists to sing in the Finals. As Season 7 winner Craig Wayne Boyd reminded us when he visited the show a couple of seasons ago, "My Baby's Got a Smile On Her Face" made him only the second artist ever, along with Garth Brooks, to debut his first original single at #1 on Billboard's Hot Country Songs.
Matt McAndrew — "Wasted Love"
But CWB wasn't the only one to get a hit single out of that original song deal. The Voice contestant who might just turn around the show's no-star stigma is Season 7's runner-up, Matt McAndrew, and he has the hugely popular (went to #1 on iTunes and debuted at #14 on Billboard's Hot 100) single, "Wasted Love" to prove it. It's certainly the first Voice contestant's single to be covered in during competition in a future season, as Sarah Potenza tried it on for herself in this season's Knockout Rounds. McAndrew also just debuted his first single from his forthcoming album with Republic Records on The Voice, "Counting On Love." We're counting on you too, Matt.
Image: Trae Patton/NBC