Ben Mendelsohn Talks "Magical" Ryan Gosling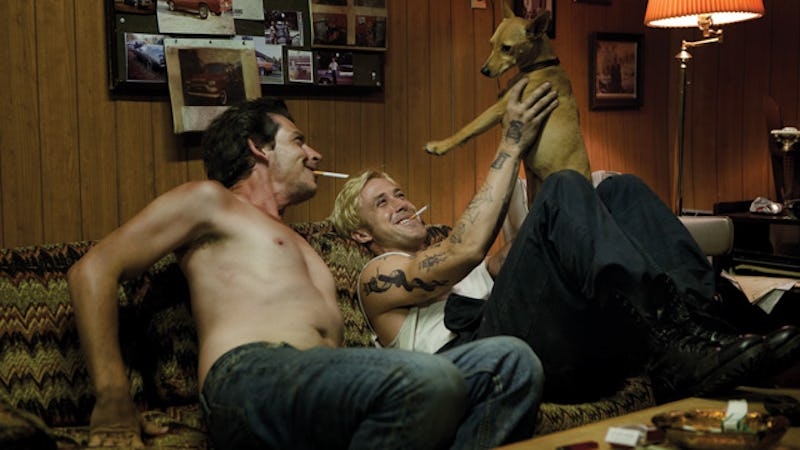 At SXSW film festival, Ryan Gosling gave a talk moderated by Guillermo del Toro about his film Lost River . During the talk, he managed to slip in a mention of "Hey Girl," and to my delight, a conversation about one of my all time favorite films, The Place Beyond the Pines. Lost River , Gosling's directorial debut, plays out like a neon-lit dark fairytale, with loose plot points draped in gorgeous cinematography. It also stars two of Gosling's Pines co-stars: Eva Mendes and Ben Mendelsohn. Gosling spoke with great affection for Mendelsohn, and let it slip that the veteran actor would arrive on set dancing, with a boombox propped on one shoulder. "The couple of weeks shooting Pines was the most magical couple of weeks of work ever," Mendelsohn says. "Like, ever."
"You want a set to be like your living room. You want to be as comfortable on a set as you are in your living room," Mendelsohn, who stars in the upcoming Slow West, says. "I think the more comfortable you are on set the less fear you've got. There's fear and anxiety that makes things difficult. What you've got to do to cut through that, it varies from person to person, but I play music," he says when I bring up the boombox scenario.
"I play stuff that generally people can enjoy, and it gets a mood going. It gets people excited to be there. That time with Ryan was magical," he says. But Mendelsohn, who is fresh off of filming Netflix's Bloodline series opposite Kyle Chandler, says his chemistry with Gosling didn't always come to easily.
"The first day we worked together [on Pines], I sucked. It was a bad day. Really bad day," he says. "I think we were getting to know eachother. It was a weird situation. We were playing adversaries at this stage. I was supposed to be this tough, prison, neo-Nazi type that was going to lead this guy astray, and it wasn't coming together."
But those who have seen the film know that Gosling and Mendelsohn's scenes together are sensational. So what gives? To remedy the problem, director Derek Cianfrance had the two characters work together, instead of butt heads. "Derek said, 'What about if you just liked this guy?' So we played it that way and it was like bam! It just clicked," Mendelsohn says. "Once we cracked through, we both had a ball. And I think that came through. We weren't scared. It was really a lot of fun."
Because of how much fun the pair had on Pines, Gosling was eager to cast Mendelsohn in his debut. "Because we worked really well together, he then gave me the significant honor of being entrusted to play in his film," Mendelsohn says of Lost River. "Again, we made it up as we went along."
See Mendelsohn's latest fare, Slow West, in theaters May 15 and on DIRECTV now. Watch the trailer below:
Image: Sidney Kimmel Entertainment; Tumblr