Questions For Hiker Who Found Reese's 'Wild' Boot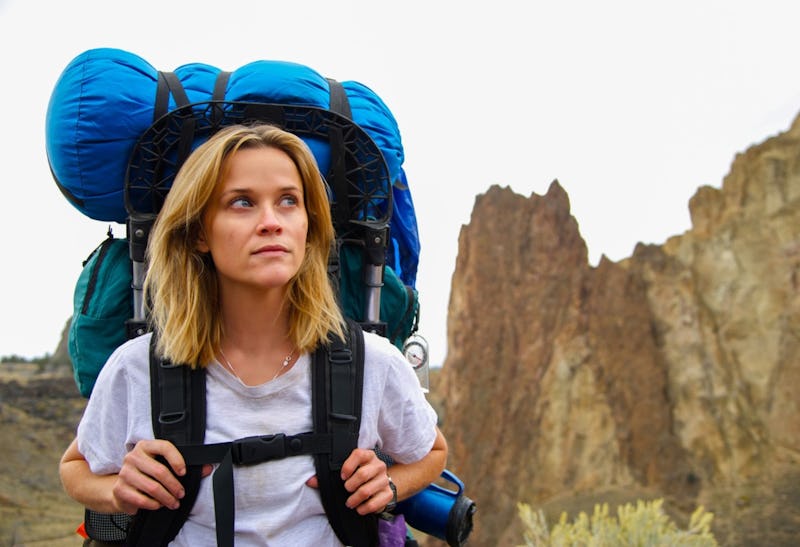 File this under: It really wasn't a green screen! Back in March, a hiker found the boot Reese Witherspoon chucked over a cliff at the beginning of 2014 movie Wild. While watching the Oscar-nominated adaptation of Cheryl Strayed's memoir, Camas, Washington resident Chris Kesting recognized the spot on the Pacific Coast Trail where Witherspoon lost both of her hiking shoes. Rather than sit on this information, he decided to go look for the footwear. In an interview with The Oregonian, Kesting says he and friend Tim Pate hiked to the exact location where the boot got the boot ("I thought it would be fun to do but there would be no way I would find it," he says), and it took all of 15 minutes to find one of the size 6 1/2, red-laced Danner shoes Witherspoon wore in the film.
"If you look at the movie poster," he tells The Oregonian, "it's that boot."
Well, I'll be a piece of gum stuck to the sole of a shoe made for backpacking! This neat-o (neat-o, I say!) story left me with some questions for Kesting:
When you found the boot, were you at all tempted to reenact the scene right then and there?
Have you reenacted the scene at home?
And by that I mean, have you climbed onto your roof and hurled the boot into your backyard?
If not, why not?
Does the shoe have a worn-by-a-celeb glow about it?
Does the shoe have any glass slipper-esque magical properties?
You know, like, if it fits someone's foot perfectly, does that person turn into Reese Witherspoon?
Being an outdoor shoe and all, how is it adapting to being inside?
You know, like an outdoor cat whose owner won't let it go outside?
Has Indiana Jones knocked on your door and told you the boot belongs in a museum yet?
Does the boot have a SAG card?
Is the shoe interested in getting back into acting?
Or has the shoe moved on from the Hollywood life?
Has the boot said anything about its fraternal twin?
Have either of the boots attempted to contact each other?
Did the boot think the movie was still shooting?
Or did the boot realize it'd been left behind?
What's the shoe's favorite memory from the movie shoot?
Has the shoe seen Wild yet?
Here's a photo of Kesting with the boot:
Images: Fox Searchlight Pictures; foxsearchlightpictures/tumblr (2); Jaxmus/Reddit