Which Docs Aren't Returning To 'Grey's Anatomy'?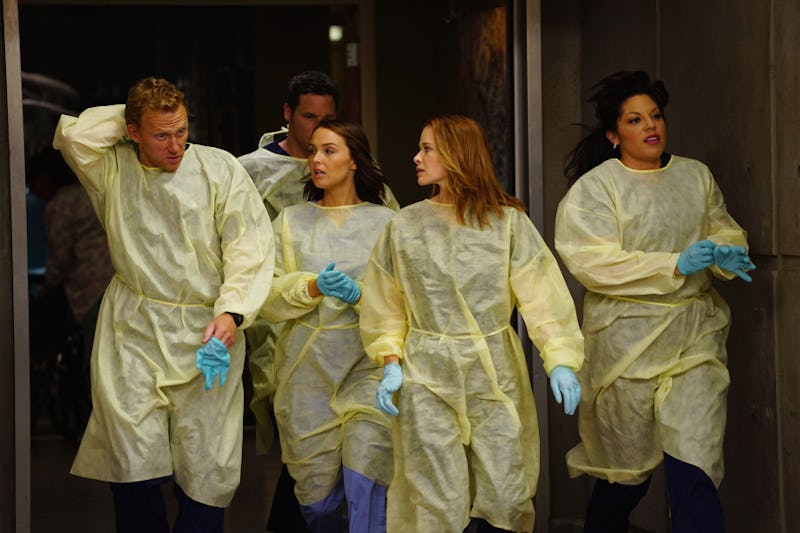 Grey's Anatomy has gone on quite the journey this season, huh? Though the finale of Season 11 is upon us, we can all breathe easy because it's been confirmed that Grey's Anatomy will indeed have a Season 12. But who will stick around for it? Not all of that has been confirmed. As any true Grey's Anatomy fan knows, nothing is set in stone. After all, Patrick Dempsey had inked a two-season deal earlier this year to take him through the end of Season 12, and Derek Shepherd was killed off just a few episodes ago. This just confirms that literally no one is safe from the inner workings of Shonda Rhimes' brilliant mind.
Now that Derek is dead and gone and Meredith has given birth to another one of his kids (which was a great plot twist), Grey's Anatomy has a great opportunity to freshen things up. His death opens up the writers to so many new possibilities, and I can't wait to see where the show goes next. But with Derek gone, will any other characters not make it to Season 12, either through their own resignation or Shonda's mighty sword? Let's talk about it.
Amelia Shepherd
Amelia just got to Grey Sloan Memorial, so how could she think of leaving? Well, she's really had quite the time of it. She's lost all of the men she's ever loved — her father was murdered, her son died at birth, her fiancé overdosed, and her brother was killed in a car accident. Though it would be easy for Amelia to cut her losses now that Derek is gone, she has two things holding her in Seattle: A fledgling relationship with Owen Hunt, and Meredith (grouped in with Bailey, Ellis, and Zola). Amelia is actually needed in Seattle, so I don't think she'll leave.
Owen Hunt
Owen hasn't been very important for the last few seasons, huh? I mean, he immediately lost some relevancy when Cristina left, and even before that, he was never my favorite character. Owen is now the long-suffering Chief of Surgery, which leaves him as a bureaucrat and not much else. Even though he really cares for Amelia, I could see Owen bailing sometime soon.
Meredith Grey
Meredith is totally not leaving Grey Sloan Memorial. Though she is reeling from Derek's loss, she has a new baby (a little girl named Ellis) and she will totally need her support system to rally, take care of her kids, and continue her life as a surgeon. That, and the fact that Ellen Pompeo already signed a contract to take her through Season 12, in addition to expressing her excitement towards exploring Meredith's future without Derek.
Callie Torres
Disclaimer: I love Callie, and I think she deserves better than Arizona. This constant back-and-forth in their relationship has really grated on me, and I'll be glad if the show gives Callie a new love interest for Season 12. It's worth noting that Sara Ramirez has signed a contract through Season 12, as well, so I bet she's sticking around.
Arizona Robbins
Fresh off a pretty serious and prestigious fellowship, Arizona has a very particular set of skills (just like Liam Neeson), and I bet she goes somewhere else to use them. She could be a surgeon literally anywhere, especially with her new fetal surgery knowledge, so I could totally see Arizona picking up for places away from Callie. There is the question of custody of their daughter, but wouldn't that make for some good drama?
Miranda Bailey
The unsung hero of Grey Sloan, Bailey finally has her life in order. She worked through her OCD, has a great husband, and a great kid — what could go wrong? Please, Shonda, for the love of all things Shondaland, let Bailey just have nothing go wrong. Chandra Wilson also inked a deal until the end of Season 12, so I don't think she'll go anywhere.
Alex Karev
One of the only OG interns left on the show (Meredith being the other), Justin Chambers is in contract to appear through Season 12. Now that he's with Jo, I think he'll stick around, and I hope he does — but only if we're completely done with Richard Wright as his father. I'm over that.
Richard Weber
The last of the "we're-definitely-coming-back" signings is James Pickens, Jr., who plays Richard on Grey's Anatomy. Weber is another character that I'm not quite sure will have a lot to do in the upcoming season. He's just decided to hitch his wagon to Debbie Allen's Katherine Avery, which is nice — Weber isn't used to being happy. Maybe he'll glide through Season 12, indulging in his honeymoon phase.
Who do you think will make it to Season 12 of Grey's Anatomy? We'll have to tune in this fall to find out.
Images: ABC/Richard Cartwright; Giphy (8)