How To Recreate Expensive Lipsticks With Eyeshadow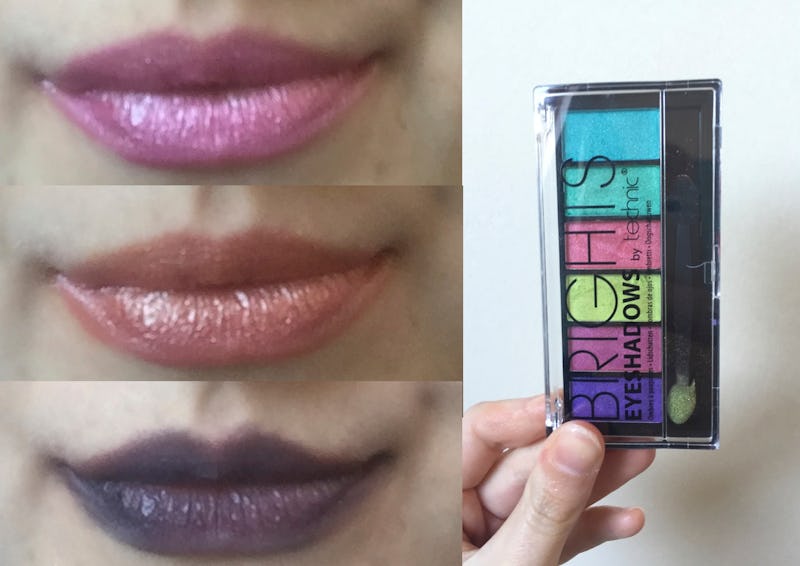 There are so many fun lipstick shades in the world nowadays, but they often come with a not-so-fun price tag. So I wanted to see if I could make lipstick with eyeshadow! Because, why not? (That being said, it is worth mentioning before I delve in that after I conducted this experiment, I found an article on the safety of using eyeshadow on your lips and it was a bit of an eye-opener. I would recommend reading this first if you want to try experimenting with eyeshadows on your lips in a safe way that won't be remotely harmful to your skin!)
Brightly-colored lipstick is becoming the norm in the world of fashion. There is now a rainbow of colors to paint your lips with, ranging from coral pinks to chocolate browns and even emerald green lipstick shades.
There have been a lot of fun lipstick colors gracing the pouts of celebrities and the general public alike as well. We are getting more experimental and brave with our beauty routines, and I love it! At this point, we have seen Rihanna rocking black lips, an unusual yet super pretty yellow lipstick on Jennifer Lopez, and who could forget Coca Rocha starring as a judge on The Face, wearing that awesome purple lipstick?
I personally don't have any wild lipstick shades, but I really wanted to try some out. So instead of forking out for some good quality, designer lipsticks, I decided to see if I could make unusual lipstick shades by mixing eyeshadow with lipstick. Here's what happened...
The Lipstick Shades
This lipstick is from Boots' Natural Collection and is a Moisture Shine Lipstick in "Crimson." I thought I definitely needed to try a classic red shade as a base for the eyeshadows.
I also thought a lighter, pink shade had to be put to the test so I chose this Collection 2000 Volume Sensation lipstick in "Perfect Pink."
I thought these two shades would make good base lipsticks as I would take an educated guess that most ladies out there have a classic red and a light pink shade in their collections.
I stuck to the same method of application throughout the entire experiment, which was blending the eyeshadow into the previously applied lipstick with my finger. I thought it would blend more evenly with this method than by using an applicator brush.
The Yellow Eyeshadow
First off, I wanted to try a very light shade, so I picked this Barry M Dazzle Dust in this pretty, canary yellow color.
When I blended this sunshine shade with the red lipstick, it created this warm, orange hue. I thought this was quite a nice color as it wasn't an in-your-face orange and could easily be worn during the day. The only trouble was the consistency of the Dazzle Dust being (as its name suggests) "dust-like" so it was a bit tricky to blend.
The Dazzle Dust transformed the pink lipstick into a nude tone, which was totally unexpected. I think this is even more wearable than pairing the Dazzle Dust with the red lipstick and would make a classic, everyday lip shade. However, I was coming to notice that applying the eyeshadow without a brush was proving quite tricky and the color kept bleeding, especially with the oilier and less matte pink lipstick.
The Green Eyeshadow
Next, I picked out my trusty, super cheap "Brights Eyeshadows" palette by Technic. I wanted to experiment with some shades from this collection, as I sometimes find that thrifty makeup can actually be surprisingly good. This is a complete mystery to me as surely expensive makeup brands use higher quality ingredients. So I put the green eyeshadow (the second from the top) to the test.
Even though this is a really unusual shade, I like what this green eyeshadow did to the red lipstick. It was an iridescent blue in the way that it seemed to change color slightly in different lights. I loved the Ursula vibes that this shade gave my lips.
Wow! I was amazed at my newfound mermaid lips! As the pink lipstick was less pigmented than the red, I soon learned that it took on the pigment of the eyeshadows a lot better than the red lipstick. This shade has a real Deep Blue mermaid feel and I can totally imagine the bioluminescent Neela rocking this color.
The Purple Eyeshadow
Having been really impressed with the green eyeshadow from this set, I decided to try the purple color next to make sure it wasn't a fluke.
I thought this shade looked OK paired with the red lipstick, but it was nothing to write home about. It didn't seem to blend too well with the red lipstick, either. However, if you have never tried purple lips before, this could be a nice shade to ease into as it's not too crazy.
Now this was a triumph! I wasn't expecting the purple eyeshadow to look so good with the pink lipstick, but again, the pink lippy came through and allowed the eyeshadow to take center stage. I really like this edgy, purple lip color and it reminds me slightly of Jeffree Star's liquid lipstick in "I'm Royalty." Even though my purple lip color doesn't have the luxe matte texture of Jeffree Star's lipstick.
The Silver Eyeshadow
I then moved on to this Bourjois Ombre à Paupières in "Argent." I thought the experiment needed a metallic eyeshadow added in to see what kind of effect it would have on the lipsticks.
This is what happened to the red lipstick. I'm not too keen on this look; the silver eyeshadow added a silvery sheen but did nothing for the overall color of the lipstick, and, in fact, I think it made the color look weak — neither here nor there.
Although not too different to the red lipstick, the pink lipstick managed to hang on to its pinky hue while really absorbing the silver. I thought this was an interesting, futuristic look and it made me feel like Cyborg Barbie.
The Blue Eyeshadow
Lastly, I wanted to try a really good quality, highly pigmented eyeshadow so I chose this MAC Eyeshadow in "Electric Eel." As one of the "Satin" shades, I thought this would give a dramatic look and really affect the pigment of the lipsticks.
This was quite an unexpected outcome for the red lipstick. Although it's not as pigmented as I had hoped, I liked the fact that it was an odd, steely grey and it would make an interesting alternative to the popular black lipsticks on the market.
This had to be my favorite shade of the competition! As with the rest of the eyeshadows, the pink lipstick embraced this blue shade and changed color like a chameleon. This lip color would be great for making an impact and turning heads in a room. I think it would look really slick paired with an androgynous suit and high heels.
Conclusions
I am happy to announce that you can definitely make new lipstick shades by blending eyeshadow into your lipstick. However, here are the main lessons I learned:
Use high quality, "popular" brands with a denser pigmentation for brighter, better quality shades
Do your research first and make sure your chosen eyeshadow(s) is safe to use on your lips
The lighter the base lipstick, the stronger the color
It is difficult to achieve a matte look with this method
I would recommend using eyeshadows with your lipstick if you are on a budget. The world is your oyster and you can experiment with colors that you might not be able to find in stores — which would be perfect for Halloween costumes or fancy dress parties when you can't find the exact shade you're looking for.
So what are you waiting for? Get experimenting with rainbow lips now!
Images: Phoebe Waller; Giphy