Rebel Wilson & Adam Devine's Bond Totally Extends Beyond 'Pitch Perfect'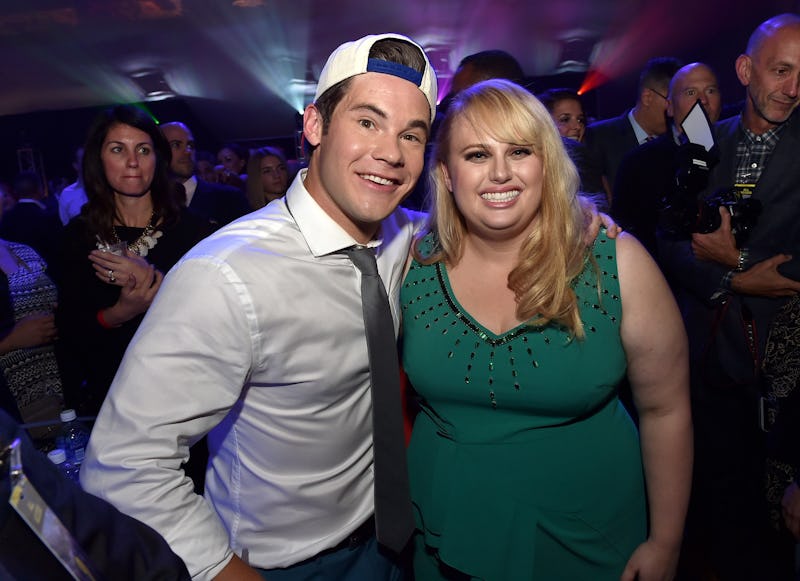 Kevin Winter/Getty Images Entertainment/Getty Images
Pitch Perfect 2 comes out on Friday, May 15, and I am personally so excited, given my slight obsession with a cappella groups and most of the actors in this movie. There are some new Bellas this time around, including Hailee Steinberg and Chrissie Fit, but I have to say that Fat Amy is the Bella who really steals my heart. She's brash, unapologetically confident, and in the sequel, seems to have found her match in Bumper Allen. The two had that kind of elementary flirting thing going on in the first film, but the chemistry was undeniably there, so I wonder if actors Rebel Wilson and Adam Devine are friends in real life? Maybe that would explain why they really shine on-screen together.
I'm going to throw out a little pun and say that the status of Barden Bella fans around the country is quickly reaching fever pitch. In the midst of their long promotional tour, we've been #blessed with some pretty hilarious moments from the entire cast and naturally, Wilson and Devine have been working a lot more intimately given their relationship in the new film. I took it upon myself to look into their relationship and it seems like these two are the best of friends and have shared some pretty sweet and funny moments with each other.
Although they starred together in Pitch Perfect as Fat Amy and Bumper Allen, Wilson and Devine had previously worked together and they became really close right away. Wilson told People, "Actually, before you'd seen us in Pitch Perfect, I'd had a cameo on his show Workaholics... I didn't even know him, but the very first scene we did, we made-out and he felt me up." Well, that's one way to get to know someone.
That cameo seemed to set the precedent for the future of their on-screen antics and Wilson confessed that a seven-minute make-out sequence with Devine in the Pitch Perfect sequel had to be cut because filmmakers noticed her pants were see-through in post-production. Wilson said of the scene, "We were going for an MTV Award Best Kiss. It's all about the trophies!"
Actually, Bumper Allen was almost not in the sequel, but many of the filmmakers said they couldn't ignore the improvisational chemistry that Wilson and Devine had in the first film. Wilson shared in an interview with news.com.au,
It wasn't actually between Fat Amy and Bumper in the original script. And they did a table read and realized "why isn't Fat Amy having a love interest with Bumper?" They changed it just a few weeks before we started filming and thank God they did because Adam and I are mates and I can't imagine anyone else.
Before Devine was confirmed to be part of the Pitch Perfect 2 cast, he told SheKnows that he couldn't wait to possibly work with Wilson again. He shared, "We actually have the same agent, and every time I talk to her, she's like, 'We need to get you and Rebel in a movie together where you're love interests...So, yeah. We're very comfortable with each other." No wonder those make out sessions are coming so easily to them, a little friends with benefits action.
Regardless of all the jokes, these two are definitely the best of friends, and after seeing their antics while on this press tour, I cannot wait to see Fat Amy and Bumper get the love story that they deserve.
This article was originally published on May 13, 2015. It was updated on Sept. 6, 2019.