How To Wear Tevas Without Looking Like A Dork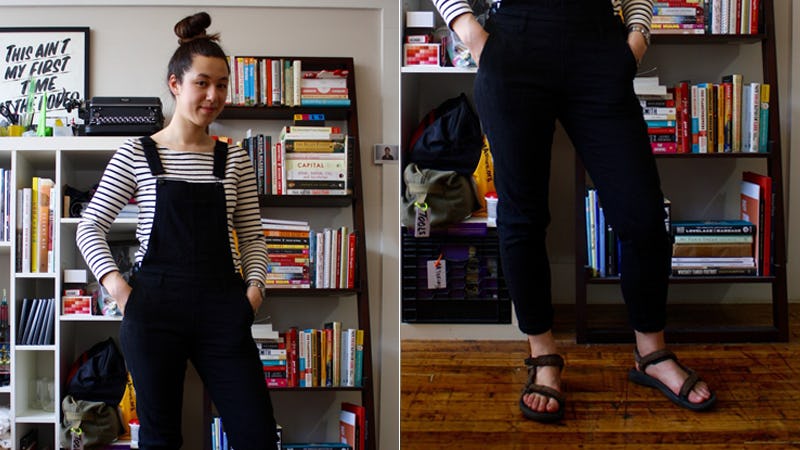 For a while, Birkenstocks seemed to be the on-trend sandal for the normcore set, but I would argue they've been dethroned by Teva sandals. Now, I'm sure you're asking yourself, "How do you style Tevas? Don't they have velcro straps? How can anyone make velcro look cool?" Well, I'm here to tell you that the once kind of ugly sandal is now totally hip, not dorky. Maybe this is my own delusion and blind love for practical footwear speaking, but I'm convinced you can wear Tevas and still look super cute.
Don't get me wrong, though. I get the challenges of styling Tevas for day-to-day wear. "Fashionable Tevas" sounds like an oxymoron because at their core, Tevas are utilitarian, designed to be flip-flops that won't float away in a lake. They're meant to be worn while wading down a river, chasing after your runaway kayak, or walking down a rocky beach on the coast of Maine, not strutting down a catwalk at New York Fashion Week.
I was handed my first pair of Tevas sometime in elementary school by my dad because my family vacations when growing up were mainly to U.S. national parks, where Tevas were the footwear de rigueur. They're comfortable and tough sandals, perfect for outdoor adventures. My Tevas have traveled the world, from a segment of the Appalachian Trail in Maine to the summit of a mountain somewhere in the foothills of the Himalayas in northern India, and they've never let me down.
My own long and lovely history with Tevas is part of the reason I'm fiercely advocating for these sandals as hip streetwear, the next wave of normcore, even if no one else really believes me... yet. (Excerpt for the bright minds at Opening Ceremony. They saw the potential for Tevas and totally capitalized on it and I thank them.) And although I do love my Teva sandals, I can admit how hard it can be to wear them without feeling or looking like a dork. For a while in middle school, I refused to wear them on family vacations because I thought they looked so uncool, even if they were really comfortable.
Well, no more! Tevas were so uncool that they're cool again, and they're back with a vengeance. If my whole love letter wasn't enough to convince you that Tevas are the greatest sandals out there, here are five tips to working these practical sandals into your daily wardrobe and convince you, once and for all, that you can wear Teva sandals every single day without being a total dork.
Channel Your Inner Prep
If everything else about your outfit is super clean cut, it'll be hard to contest your footwear, and if you're wearing something really preppy, your Tevas will make it look like you're running off to grab a lobster roll on your way to the yacht club... or something. (Can you tell I've never belonged to a country club?) I'm wearing high-waisted Levi's cut-off shorts and a blue plaid Ralph Lauren button-up that belonged to my little brother when he was in middle school. This outfit might not be the preppiest, but I think you get the idea.
Go Full High-Fashion
My Tevas are several years old at this point, so I honestly don't remember what style they are. But if you really want to be on-trend, you could go out and get sandals from the collaboration between Opening Ceremony and Teva. Teva has also collaborated with Nasty Gal, but be warned that these flatform and gladiator-like sandals aren't for the faint of heart. I'd recommend pairing them with monochromatic outfits so you can let the sandals shine.
Embrace The '90s
I think the whole normcore trend, and Tevas specifically, has a retro '90s feel, so I went for the now somewhat classic, grunge-inspired floral print dress and oversized denim jacket look. The patterned dress, although not floral, is H&M, and the denim jacket is my mom's from the '80s or '90s, so pretty historically accurate.
Double Down On Dorkiness
You're wearing Tevas, which might be the dorkiest footwear available on the market, so just double down on the dorkiness with perhaps the dorkiest pants available: overalls. I paired my Tevas with a pair of black overalls from H&M and a black and white striped Breton shirt from Joe Fresh. In much the same way as Teva sandals were so uncool that they became cool, the combination of Tevas and overalls is so dorky that it's no longer dorky.
Wear Them In The Great Outdoors
As much as I say it's cool to wear Tevas in the big city, it's even cooler to wear them in the great outdoors. That's what they were designed for the in the first place. So tighten up those velcro straps and find the nearest national park. That's where your Teva sandals will definitely look the coolest.
Images: Maxine Builder; openingceremony, teva/Instagram