9 Canceled 2013 TV Shows We Would Have Watched Forever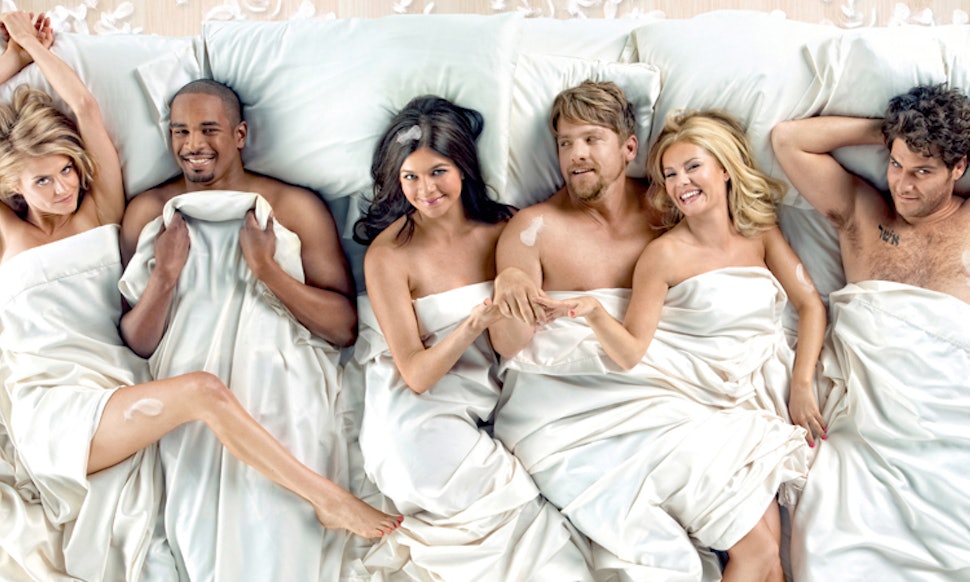 The television world is a battlefield: For every Grey's Anatomy or Supernatural that hobbles into a ninth or 10th season — its actors weathered and much more tan than they were in their wee beginnings — there is a Firefly or a Pushing Daisies or a Lone Star that bites the dust after a few paltry, but thoroughly enjoyable episodes. There are also a bunch with names we surely won't remember in a matter of weeks, let alone a matter of years — and a few that you actively tried to forget ever existed. Your Man Up!s and your Work Its and your The Playboy Clubs, if you will.
In case you needed more proof that television is a battlefield: Two and a Half Men has had more seasons than Firefly, My So-Called Life, Party Down, Veronica Mars, and Arrested Development combined. That's a sentence that kind of makes us want to cry, but it's also very telling about the television world. A bunch of people in suits pay hundreds of schlubby maybe-brilliant writers large sums of money to create lots and lots of pilots, and from those pilots a very small percentage are picked up to be developed into a season, and, from there, even fewer make it to become those beloved shows that people actually remember past the moment they hit delete on their DVRs.
Basically a lot of shows get made and almost all of them get canceled (or at least called off) at some point, and it's just a matter of time before it make you think about your own mortality a bit. As a result of this, we decided to spend a little time as the year comes to a close remembering a few of our fallen television shows — the good, the bad, the soon-to-be-forgotten, and the ones we're still very, very bitter about. Here are the shows we (sort of) loved and lost in 2013.
'The Killing'
This show lost a lot of street cred after the finale of its first season left all TV critics really pissed off. (Red herrings, man — they're tricky.) It kept going for a while after that, maybe even got a little better after some troubles, but then... yep, dead.
Image: AMC
'Bunheads'
Amy Sherman-Palladino couldn't quite remake the lighting in a bottle that was the best of Gilmore Girls, though try she did. And as much as we love ourselves some Sutton Foster and will (kind of secretly) miss those dancing young'uns, it also just felt kind of weird every time those Gilmore "la-la"s would lilt into the soundtrack as if this were Connecticut and our dreams hadn't died already in 2007.
Image: ABC Family
'666 Park Avenue'
All we know about 666 Park Avenue is that John Locke and Vanessa Williams were there together, which seems fabulous and diva-full. Unfortunately for them, a bunch of fancy people in a fancy building being under (fancy?) supernatural influence didn't draw a lot of eyeballs, and so the show went kaput before Locke could even yell "DON'T TELL ME WHAT I CAN'T DO!"
Image: ABC
'Happy Endings'
We're gonna be honest right up front: This one wins the list for us. We're still pretty ripped up about the fact that ABC MURDERED HAPPINESS by canceling Happy Endings . It haunts our every moment. No one else talked quite so quickly and with quite so many twists and references in their sentences.
But HOW DARE THEY. So not a-mah-zing, guys.
Image: ABC
'What Would Ryan Lochte Do?'
'Don't Trust the B— In Apt. 23'
But where will we get our James Van Der Beek-as-James Van Der Beek fix? Or our Krysten Ritter fix? We watched her in Breaking Bad, but it ended up just making us sad.
We're telling you, though, we did not get nearly enough of a Dawson's Creek endeavor out of this one before ABC pulled the plug.
Image: ABC
'Army Wives'
This one lasted a good long while — seven seasons, to be exact, making it the longest-running on this list. It tackled how families struggle with war in true Lifetime fashion: With many suds. One could say this one died of old age instead of on the battlefield.
Image: Lifetime
'Ironside'
Poor Blaire Underwood: First he gets dumped by Miranda on Sex and the City (OK, that was years ago, but it still had to sting), and then his show gets dumped by NBC. Ironside and its wheelchair-bound detective hero may have been a boon for representation, but alas, it was not long for this season, and is soon to be replaced by Community.
Image: NBC
'The Client List'
Ah, Jennifer Love Hewitt. Ah, Jennifer Love Hewitt kinda-sorta-accidentally finding herself involved in prostitution.
This show was canceled after a pretty big Season 2 cliffhanger, which is a bummer. Also a bummer is the fact that reports are saying that the ending came because of a "creative stand-off" between the network and the producers after Hewitt got pregnant and asked that her real-life fiancé also play her on-screen baby daddy.
Image: Lifetime