Get Amal Clooney's Wedding Makeup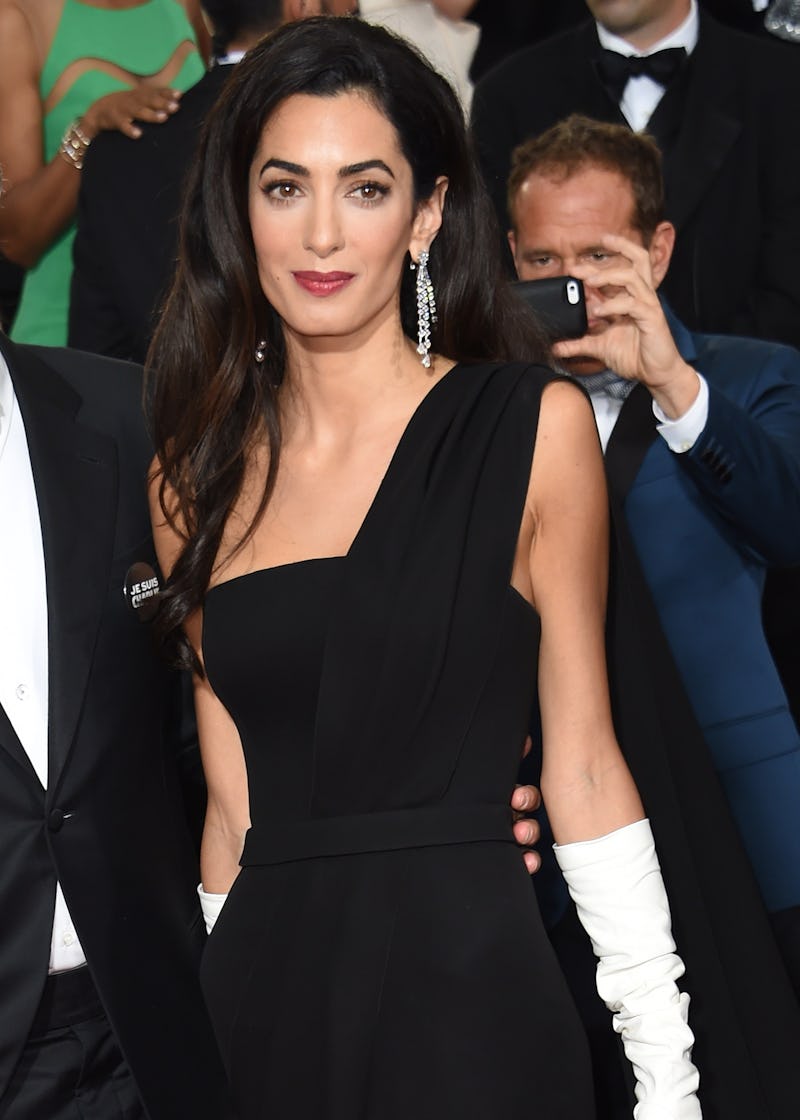 Mrs. Clooney looks stunning in anything and everything she steps out in, but nothing compares to her wedding day style. If you want to look just like her, you can already snag her exact wedding dress at Bergdorf Goodman, and you can copy Amal Clooney's wedding day makeup thanks to her makeup artist's DIY tutorial. BRB while I do this immediately in hopes that the right #look will instantly turn me into a badass human rights lawyer who happens to be married to George Clooney.
Celebrity makeup artist Charlotte Tilbury posted a "Get The Look" video to her Youtube channel demonstrating step-by-step exactly how she created the stunning look, which is one of her most requested. Well, duh. I could have told you that. Clooney was practically the epitome of style and grace on her wedding day — who wouldn't want to steal that style?
The look is fresh, clean, and dewy, aiming to bring out the natural beauty within. While it may look as if you're wearing minimal makeup, there are actually quite a lot of steps to the finished product. We often don't think about all of the pre-makeup skin prep that goes into fabulous beauty looks, and that is exactly what Tilbury stresses in the video. By the end of it, your skin will look incredibly luminous.
If you're feeling overwhelmed, don't fret — I've broken down the tutorial to 12 main steps that are easy to follow.
1. Start With A Skin Mask
Goddess Skin Clay Mask, $55, Nordstrom
Tilbury says her go-to product is the Goddess Skin Clay Mask from her own line, which she uses often on celebrity clients. She instructs to apply the mask to your entire face (except for the eyes) and wash off after 10 minutes.
2. Primer
Wonderglow Primer, $55, Nordstrom
Tilbury uses the Wonderglow Primer , which she says "soft-focuses all your lines and pores and gives you a wonderful ethereal glow."
3. Cream Foundation
Light Wonder Foundation, $46, Nordstrom
According to Tilbury, the Light Wonder Foundation she used is super light and airy, giving you great coverage without looking caked on. Her skin really does look picture perfect, doesn't it?
4. Combine Two Shades Of Concealer
Tilbury uses the lighter shade underneath the eyes to get rid of dark circles and discoloration, while the darker shade is used as a spot treatment around the face to cover up any blemishes.
5. Powder To Finish
Flawless Airbrush Powder, $45, Nordstrom
And by "finish" I mean with the face portion of the makeup look — I told you there were a lot of steps! But it's totally worth it. Just look at that flawless matte finish! Tilbury uses the Flawless Airbrush Powder to achieve this fine HD type look. "While most powders make you look dusty and old, this powder actually makes you look younger", she says.
6. Cream Eye Shadow
Eyes To Mesmerise Cream Shadow in Marie Antoinette, $32, Nordstrom
Tilbury's Eyes To Mesmerise shadow in Marie Antoinette features "an antique oyster-gold color", which she washed all over the eye with a blending brush. The color really does glisten in the light, it almost looks iridescent.
7. Eyeliner
Classic Eye Powder Pencil in Sophia, $22, Nordstrom
This look is not eyeliner-heavy by any means, but Tilbury uses the Classic Eyeliner in Sophia , a brown powder pencil, to give the eyes a subtle definition. She advises to start in the inner corner of the eyes and line all the way along the lash line, adding a tiny upwards wing shape at the outer edge.
8. Mascara
Full Fat Lashes Mascara, $29, Nordstrom
After applying mascara to the top lashes using Full Fat Lashes Mascara , Tilbury uses the tapered end to brush over the bottom lashes, providing for a complete lash-boosting effect.
9. Contour With Bronzer
Filmstar Bronze & Glow Face Sculpt and Highlight, $68, Nordstrom
She uses the Filmstar Bronze & Glow Palette to lightly contour the cheeks. "Look in the mirror, suck in your cheeks, and follow the hollows brushing backwards and forwards." Next, she instructs to use the lighter shade to highlight along the cheekbones, the nose, and the bow of the lip, which adds to that ethereal, looking glow.
10. Neutral Lipliner
Lip Cheat Re-Size and Re-Shape Liner in Pillow Talk, $22, Nordstrom
Tilbury uses a neutral color that matches the lips ( Lip Cheat Liner in Pillow Talk) to softly outline the edges of the lips that will keep your lipstick in place.
11. Rosy Lipstick
K-I-S-S-I-N-G Lipstick in Bitch Perfect, $34, Nordstrom
Tilbury created two bespoke shades of rosy pink lipstick, which she blended together to get this gorgeous pout. Unfortunately, you can't purchase these exact colors, but the one pictured above is pretty similar.
12. Pink Blush
Cheek To Chic Swish & Pop Blush in Love Glow, $40, Nordstrom
The very last step is some pretty pink blush. Tilbury uses the Cheek To Chic blush in Love Glow to sweep across the apples of the cheeks.
And there you have it, folks!
Check out the before and after looks.
Pretty amazing, huh?
Here is the full tutorial.
Shop all the products mentioned at charlottetilbury.com
Images: Youtube, Charlotte Tilbury