Essie Golden Is Hosting A Body Pos Pool Party!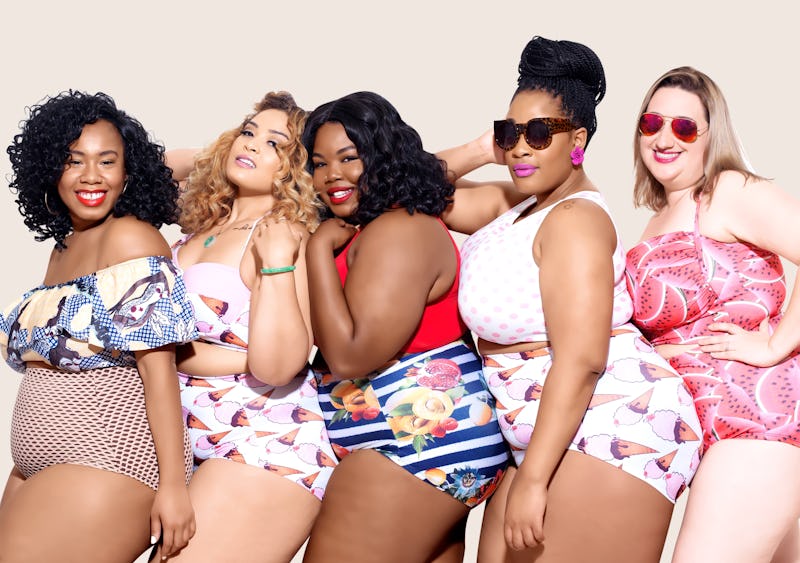 When you are the founder of a major body positive movement, what do you next? Well, if you're Essie Golden, founder of #GoldenConfidence, you team up with two of the biggest designers in plus-size swimwear and one of the biggest plus-size magazines and you throw a big body positive pool party in New York City.
Tickets to the grand affair went on sale yesterday for the June 13th event, and Golden told me via e-mail that they are already half sold. And that doesn't surprise me one bit. Golden partnered with plus-size swimwear innovators Monif C. and Rue107 and media giant Plus Model Magazine to sponsor the event at a Midtown Manhattan hotel with a rooftop pool. This all begs the question: Why don't I live in New York?!
It definitely seems very fitting that Golden would host an event like this. Golden started using the #GoldenConfidence hashtag more than two years ago as a way to give plus-size women the courage to wear swimsuits by giving visibility to other women who look like them. Golden features a feed of the hashtag on her blog and regularly comments, likes, and shares from the more than 10,000 tagged Instagram photos.
And with the work of advocates like Golden, these days, it's becoming more common to see plus-size women proudly wearing bikinis. But the landscape two years ago when Golden started #GoldenConfidence wasn't quite the same.
"Women were starting to become comfortable with the idea of wearing a swimsuit," Golden tells me. "Bloggers and indie brands like Rue 107 and Nakimuli were really pushing them to forefront and making swimsuits look amazing. I started to see women purchase them and become excited about them. It was truly awesome to see. To see women go from not wanting to wear one to being interested and actually purchasing one, I knew things were changing for the better."
Although this is technically Golden's first time hosting a #GoldenConfidence event, this isn't the first time she's tried. Over the past two years, she's tried to throw a few beach meet-ups that ended up getting cancelled due to weather. But she says she knew an event of this kind was still necessary.
"After reading a few comments on my social media about women purchasing swimsuits but still being afraid to wear them for fear of being judged, I decided it was time to do a beach meet up," Golden says. "My friends encouraged me to go bigger so I decided on a pool party."
To promote the event, Golden teamed up with a few fellow models and bloggers to create some truly babely photos. Cherry Collab shot Golden alongside bloggers Kelly Augustine, Chante B. of Everything Curvy and Chic, Sarah Chiwaya of Curvily, and model Desiree Jenkins wearing bikinis from Rue107 including the adorable ice cream print and the stunning Josephine Baker off-the-shoulder top.
Photographer Osha Waiters shot Golden, Chante B., and model Tiffany Bank in Monif C. suits including the sweetheart ruched "Fiji" one piece and the "Sao Paulo" fringe bikini top. If you aren't familiar with Monif C. swimwear, the brand's Sea by Monif C collection went viral this March when Tess Holliday was featured in the campaign.
Photos like the ones Golden shot for this event have been so important in creating fat acceptance. Seeing plus-size women in photos who have bodies like yours is important. Both as a model and a blogger, Golden has been a leader in changing people's perspectives on plus-size swimwear. She exudes confidence and she aims to empower women of all sizes to feel the same.
But there's another reason why this event really matters: So much of the inspiration and the support in the plus-size community exist only online. Whether it's through Instagram, Tumblr, Twitter, or Facebook, I know that I myself feel a kinship with plus-size women I have only interacted with virtually. While I am grateful for these relationships and support systems, existing in a space that's only online can be isolating. It seems like sometimes so many of the in-person events hosted by major brands have big price tags or are invite only to elite bloggers. And while the pool party will certainly be a chance to interact with Golden and her blogger/model pals, it's a chance for all kinds of plus-size women to come together regardless of their follower count.
"I just want women together and feel[ing] comfortable," says Golden. "It's judgment free zone and an opportunity to be surrounded by women who look just like you."
And that is a beautiful thing.
Images: Courtesy Cherry Collab, Osha Waiters, and Essie Golden