B.B. King's Final TV Appearance Will Make You Cry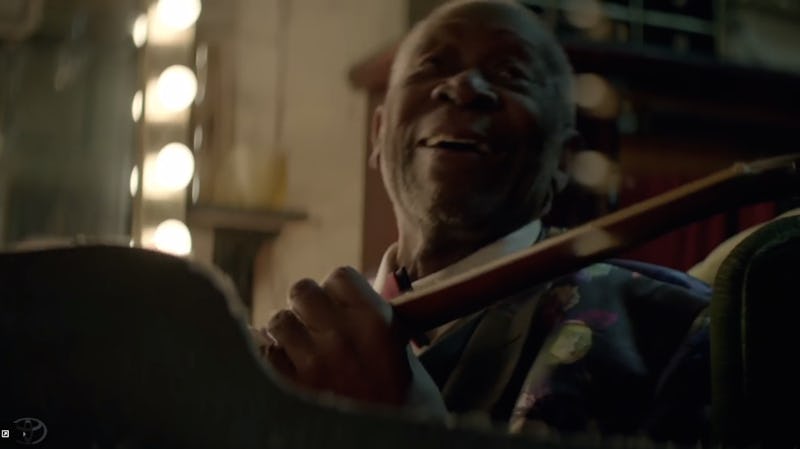 By now, it's near impossible that you haven't heard that blues legend B.B. King passed away peacefully in his sleep in Las Vegas on Thursday. The 89 year old performer had a career that spanned almost 70 years, during which he sang so many hits that you probably know at least two B.B. King songs even if you don't know the name of the man whose voice you were listening to. Although King was forced to cancel his remaining 2014 tour dates after falling ill in October, his official website still kept fans up to date on information about King's appearances and health. This included what is likely King's final television appearance in a 2014 Toyota commercial — a commercial that reminded the world exactly what a legend he was.
The commercial, which was called "B.B.'s Guitar - Featuring B.B. King," was an advertisement for the 2015 Toyota Camry and was posted to King's website on October 9, 2014. The post introduced the commercial with the words, "B.B. King has been featured in a new commercial now showing on TV in the USA." In the commercial, a woman finds a guitar and tracks down the owner in her Camry... who turns out to be none other than King. After excitedly taking the guitar back from the woman, he tunes it, plays it, signs it, and then gives it back to the awed and excited woman. "One bold choice leads to another," the commercial promises.
As far as appearances go, this one was a tribute to the life and times of King, who was capable of plucking sounds out of a guitar that other musicians can only hope to emulate. The fact that he ends this commercial by handing the guitar back to the woman in question feels like a symbolic way of passing the torch to the next generation of musicians. If you can get through this commercial without crying on Friday, then I commend your emotional fortitude. I have tears in my eyes already.
Check out the commercial below.
Image: YouTube