'90s Stars Gave Us Fashion Flashbacks At The BBMAs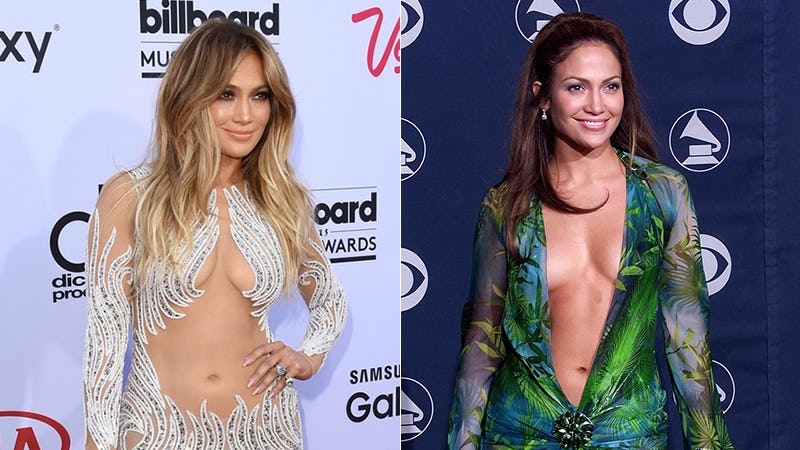 The Billboard Music Awards have us remembering the '90s all over again. From Charli XCX's black slip dress to Pete Wentz's bleached tips, this year's red carpet makes it hard to forget a classic, simpler, and beloved time in fashion — and apparently, neither can pop's reigning queens. For the first time in years, all four of the pop industry's chart-topping female names — Celine Dion, Britney Spears, Jennifer Lopez, and Mariah Carey — were in the same room to entertain a new generation of worldwide fans. But, what some of those younger fans might not notice is: all four ladies copied their red carpet looks straight out of their '90s closets.
A little black dress, a green one shoulder number, a belly button sighting — you're not fooling us, ladies. We've seen all of this before. Is '90s fashion inspiring another year of trends, or are the four biggest names in pop music simply just getting, well, kinda lazy? That's for you to decide. Frankly, with millions of dollars flowing from their wallets and stylists hanging on their every word, I would expect at least a litttlllee change-up every now and then — though I can't really complain about seeing Brit in all her glory again. In the meantime, let's take a look at their glamorous looks from tonight and the ones that inspired them more than two decades earlier.
Mariah Carey
We know Mariah loves, loves, loves to wear black, and Sunday night was no different. Carey hit the red carpet in a black mullet cocktail dress with a plunging neckline and sheer panels at the waist. But it looks very familiar...
Yep, Mariah Carey took the Billboard Music Award stage in 1998 in a nearly identical black ensemble. The only real difference? The OG was made of leather.
Celine Dion
Celine Dion looked smoking hot in an olive green leather close-fitting frock with an up-to-there slit and strap around the neck. Let's transport to 1996....
Celine wore a lighter green gown to the 1996 Billboard Music Awards that featured a similar strap around the neck, only this time, it was embellished with rhinestones.
Britney Spears
Britney rocked a glam bedazzled gown with a high neckline and low back. The material of this dress reminded me of a similar babydoll dress she wore in 1999...
The same bedazzling, the same shade, the same smile. Caught you, Brit!
Jennifer Lopez
Jenny from the block loves to show off her bod. This year, we got an up close and personal look at her belly button, BUT this wasn't the first time...
Ah! Her famous green Versace dress from the 2000 Grammy's was the first time we were introduced to her navel. Hot then. Hot now. Hot forever.
Images: Getty Images