Is Kendrick Lamar's "Bad Blood" Remix On iTunes?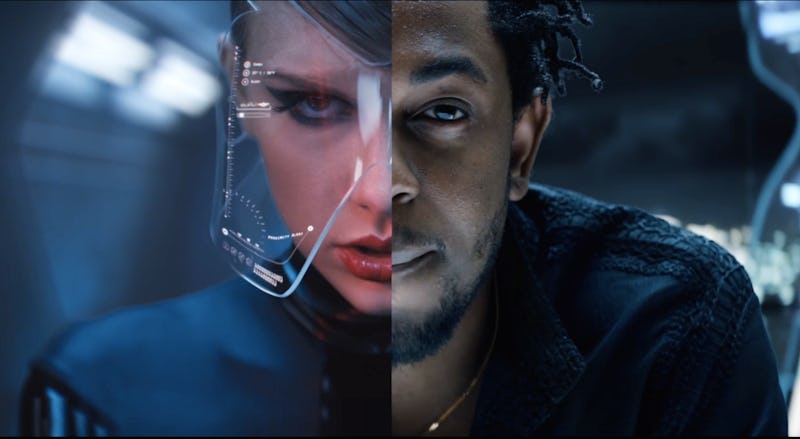 There were a lot of surprises inherent in the premiere of Taylor Swift's "Bad Blood" music video at the Billboard Music Awards, but, for me, there was no surprise bigger than the fact that the version of the song used in the video was the debut of Kendrick Lamar's remix of Swift's "Bad Blood." We had long suspected that Lamar and Swift had collaborated to remix the song, and Lamar appearing among all of Swift's friends in the music video should have really tipped us off, but did anyone else not see that coming — let alone expect it to sound like heaven in my eardrums? Just me? OK... In any event, the original version of "Bad Blood" is all well and good and available on 1989, but is Kendrick Lamar's "Bad Blood" remix on iTunes yet? Thankfully, the answer is a resounding HECK YES.
Now here is a version of "Bad Blood" that would be better to play in a club or a dance hall than at, like, cheerleading practice or something. (Which is not a criticism of the original song so much as it is an acknowledgement that it sounds like Swift's answer to Gwen Stefani's "Hollaback Girl." Which is also not a criticism unless you hate "Hollaback Girl," and thus are a hater of joy.) Lamar's verses replace Swift's verses on the track, leaving Swift to come in for the chorus and, of course, for the bridge about band-aids and bullet holes that make up the tagline of the entire music video.
The poeticism of the split screen dividing Lamar and Swift — which, often times, involves their faces being melded into one half-and-half creation — is not lost on me. I can just see Swift approving the shot with a squeal of delight, considering what a big fan she has been of Lamar, and vice versa, up to this point. "Bad Blood" featuring Kendrick Lamar is available on iTunes, and I invite everyone to run there to go and download the song right now. The original "Bad Blood" was amazing, but Lamar's remix is even better and, when add that to a mind-blowing music video, you have a hit single that people are not going to forget any time soon.
Check out the music video for the umpteenth time below.
Image: YouTube (2)