How To Make A Mini Frappuccino Just Like Starbucks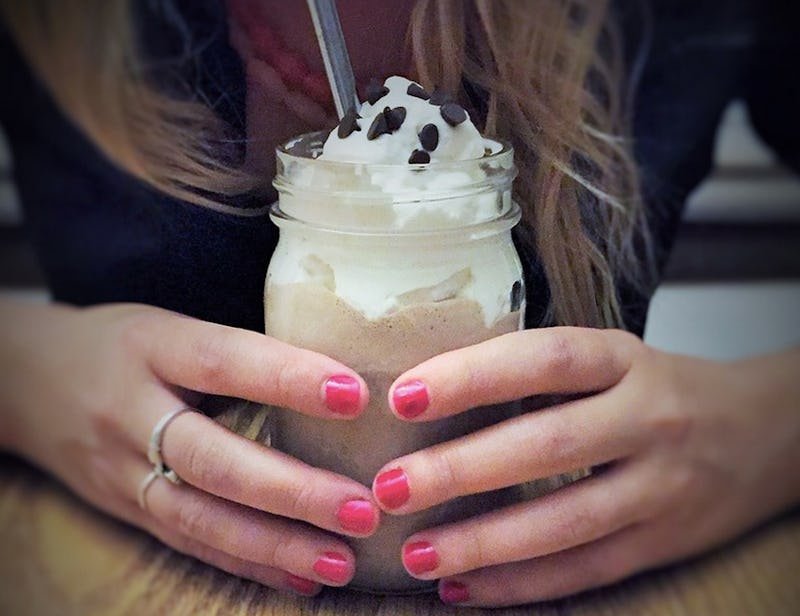 They blew you away with the cookie straw, and they awed you with the Birthday Cake Frapp, and just when you thought you couldn't love Starbucks any more, the coffee conglomerate has given you something else to go crazy over: the Starbucks Mini Frappuccino. This adorable, limited-time offering is just what it sounds like: a mini, 10-ounce version of your favorite frozen blended beverage, available in every flavor that a standard sized Frappuccino comes in. And in case you're feeling a little extra ambitious (or maybe you're just too lazy to run to your nearest Starbucks location — no judgement), I've broken down exactly how to make a Mini Frappuccino at home. Spoiler alert: it's pretty easy.
This itty-bitty treat will only be available until July, so if you can't imagine life without a baby Frapp firmly planted in your hand, here is how you can make it on your own, in two different flavors — double chocolate chip, and java chip. I did mine in a mason jar, which only made this pint-sized treat even more adorable. Add homemade whipped cream and a few chocolate chips to top everything off, and you've got a delicious drink that tastes just as good as the real thing. Look at you go, you aspiring little barista you.
Ingredients
8 oz. Häagen-Dazs chocolate chocolate chip ice cream
2 oz. milk
1 Starbucks Via instant coffee packet (for java chip)
1 cup heavy whipping cream
1 tbs. powdered sugar
1 tsp. vanilla extract
Mini chocolate chips or chocolate syrup for topping (optional)
12 oz. mason jar
Directions
1. To make the Frappuccino, combine ice cream and milk in a blender. Blend until smooth. This base makes the double chocolate chip Frapp. To make a java chip Frapp, add in one Starbucks Via packet to the milk, and stir well before adding milk to the blender.
2. To make whipped cream, use a chilled metal bowl and an electric mixer with chilled beaters. Whip heavy whipping cream until it forms soft peaks. Add in sugar and vanilla, and continue beating until harder peaks begin to form. Be careful not to over-beat, as the whipped cream will fall flat.
3. Pour the Frappuccino into a 12 oz. mason jar, up to the 10 oz. mark. Spoon the whipped cream on top, filling the jar to the top. Add chocolate chips or chocolate syrup for a finishing touch. Serve immediately with a straw.
The Verdict
When July comes around, fear not the loss of the Mini Frappuccino, because this at-home version is just as delectable. This basic method can be applied to your other favorite Frappuccino flavors by simply replacing the ice cream flavor — think vanilla bean gelato or strawberry ice cream for the vanilla bean or strawberries and cream Frapp. Though not an exact science, this DIY method will hit that mini sweet-spot with this mini-sweet shot of frozen blended goodness.
Images: Sadie Trombetta