How To Make A S'mores Frappuccino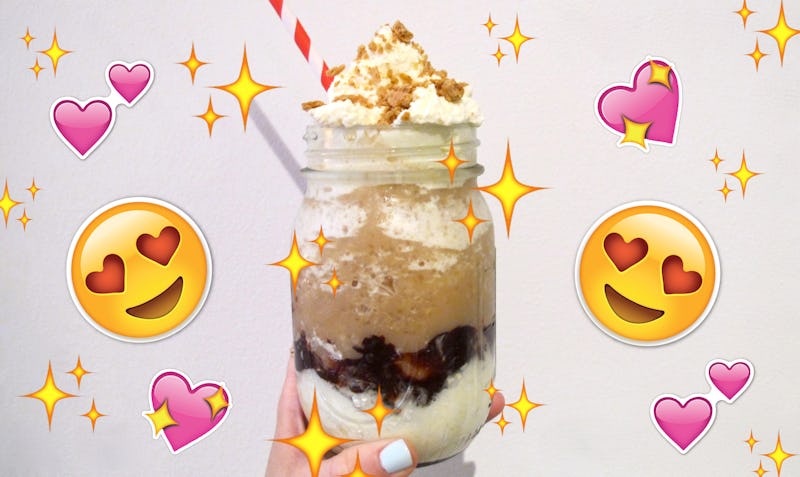 The Frappuccino has seen a serious revival this year, first with the short-lived birthday cake frapp and now the buzzworthy s'mores rendition. Add these newcomers to the list of old standards and legendary secret menu concoctions, and the dessert-turned-frapp lineup is pretty nuts. The perfect mix of syrups, creams, toppings, and velvety blended coffee can achieve any number of flavors, and how those baristas do it may seem a little mysterious. But I have news — learning how to make a s'mores Frappuccino is really not hard, and you can easily make your own at home for a fraction of the cost. With just a few extra ingredients you can swap your standard at-home coffee for a DIY frapp — and all of a sudden those nostalgic campfire flavors are refreshing, totally decadent, and all yours.
Sometimes iced coffee just isn't enough, and we've all had those summer afternoons that call for dessert disguised as coffee in a cup. Something about the addition of caffeine and a straw makes Frappuccinos sound more reasonable than a triple scoop of ice cream, but we all know that's not true. Who cares, though? Treat yo self, etc. The s'mores Frappuccino is begging you to do just that with chocolate, graham crackers, and marshmallow fluff. So give your blender a break from smoothies and margaritas, and get mixing — because we've got marshmallow whipped cream to make.
What You'll Need
Coffee or espresso
Milk
Heavy whipping cream
Sugar
Marshmallow fluff
Chocolate sauce or syrup
Graham crackers
Ice
1. Brew Your Coffee Or Espresso
Do this first (as much as several hours ahead), so that it has time to cool. To speed up the cooling process, you can also put your coffee in the freezer for a little while. For this recipe you'll only need 1/3 to 1/2 cup.
If you're using a Keurig, do yourself a favor and brew directly into a sturdy glass (like Pyrex) measuring cup. This will make for easy pouring later on, and you won't get as many dishes dirty! Score!
If you like your ice blended extra strong, you can also make coffee ice cubes in advance to use in place of the regular ice.
2. Make Your Whipped Cream
1/2 cup whipping cream
1/2 cup fluff
1/2 to 1 teaspoon sugar
Using a standing or hand mixer, whip your cream on high until soft peaks form. They'll look something like this:
Then add the sugar, and mix on high just until stiff peaks form. Be careful not to over-mix.
Fold in your marshmallow fluff until just combined, and refrigerate until you're ready to build your Frappuccino.
3. Crush Your Graham Crackers
Using a muddler or spoon, crush half a graham cracker in a small bowl. Do this before blending your drink so that they're ready to go, and your drink doesn't get melty.
4. Blend
1 cup ice cubes
1/3 cup strong brewed coffee or espresso, chilled
1/3 cup milk of choice
1/2 a graham cracker
1 tablespoon sugar
Put your ice in the blender. Six to eight large cubes should be good.
Pour your chilled coffee over the ice.
Add milk, sugar, and graham cracker to your blender.
Blend on high until smooth, about 30 seconds. Add a couple more ice cubes if it looks too thin, and feel free to adjust the milk and sugar to your liking.
5. Construct
Start by spooning about half of your whipped cream mixture into the bottom of your glass.
Follow with a layer (however much you want — I'd suggest one to two tablespoons) of chocolate syrup.
Pour in your blended coffee mixture until the glass is almost full.
Spoon remaining whipped cream on top, and sprinkle with graham cracker crumbs. Add a straw (and maybe a spoon), and enjoy!
Images: Giphy; Jenna Wexler