Ryan M. Got Super Drunk On The 'Bach' Premiere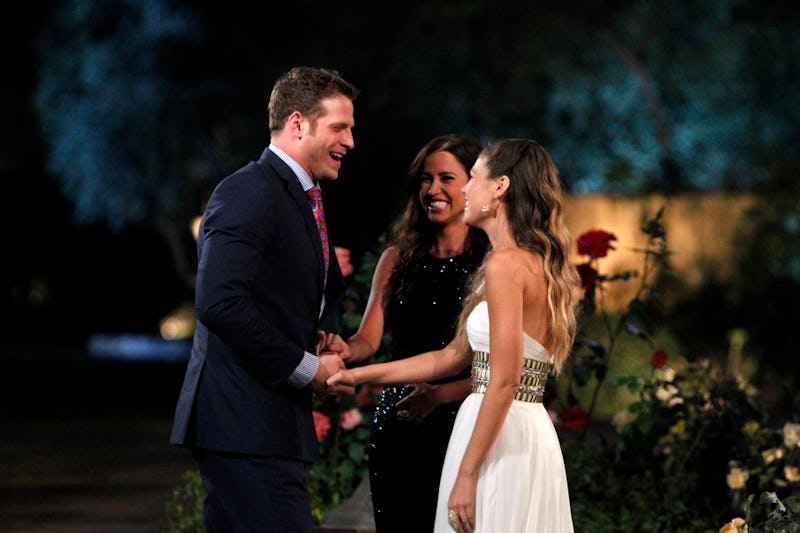 On every season premiere of The Bachelor or The Bachelorette in history, there's always a contestant (or two... or three) who hits the free booze a little too hard and ends up becoming a little inebriated. Usually, the token inebriated contestants wait until the limo arrivals are over, but in the case of drunk Ryan M. on The Bachelorette premiere? Yeah, staying sober was a thing of the past, and it ultimately turned him into one of the biggest douchebags the show has ever seen.
Before Kaitlyn and Britt were even done greeting their hopefuls, Ryan was inside the Bach mansion, wasted to the point where he was amazed that the women were waving at him through the window when they saw him looking out at them. Not the best start, Ryan. And the drunker he became, the more obvious it was that drunk Ryan was actually revealing sober Ryan's true personality.
Less than halfway into the premiere, it became pretty apparent that he's not a jerk when he's drunk, he's just a jerk. And regardless of her awesome sense of humor, Kaitlyn didn't think any of it was funny. You know the famed first impression rose? This girl has him pegged for something other than that. "If I was going to give out a worst impression rose it would go to Ryan M.," Kaitlyn commented.
And that wasn't even the worst of it. As the night progressed, so did Ryan's blood alcohol content, and it definitely put him out of favor with the rest of the guys as he sat on the couch pretending that he'd rather be just about anywhere else. Some of Ryan's gems of the evening:
Is this the gay Bachelor?
What's funny is that this looks like a legit drink, but it's just fireball on the rocks.
Maybe I'll jump in the pool, whatever. This place is dead, anyways!
Seriously. These are real things a real Bachelorette contestant said. You know, right before he went outside and picked a fight with Shawn E., letting him know that everything about him "sucks."
And then, it was time for Ryan to go chat with Kaitlyn and Britt, and in an attempt to rescue them from him, more than one of the guys came to try to get Ryan out of there. It wasn't too effective, considering the fact that he took the opportunity to make a move for Kaitlyn's butt and it totally wasn't appreciated (obviously). It took less than an evening for Ryan managed to alienate both bachelorettes and most of the other contestants. This has got to be a record.
But as awkward and as cringeworthy as all of this was, it didn't even begin to touch the real reason why Ryan is the worst. The real reason? The time he said, "Why am I not raping you right now?" to J.J. when he tried to talk some sense into Ryan. So when a man came in to escort Ryan back to Chris Harrison, who swiftly kicked him out — a first in Bachelor history — I was totally OK with it. Good for you, ABC, for showing that you will not tolerate this, not even for good television.
Oh, Ryan. Such a douchebag. Even if he hadn't been kicked out, he still wasn't going to win this season.
Image: Rick Rowell/ABC