Most Cringeworthy Quotes On 'The Bachelorette'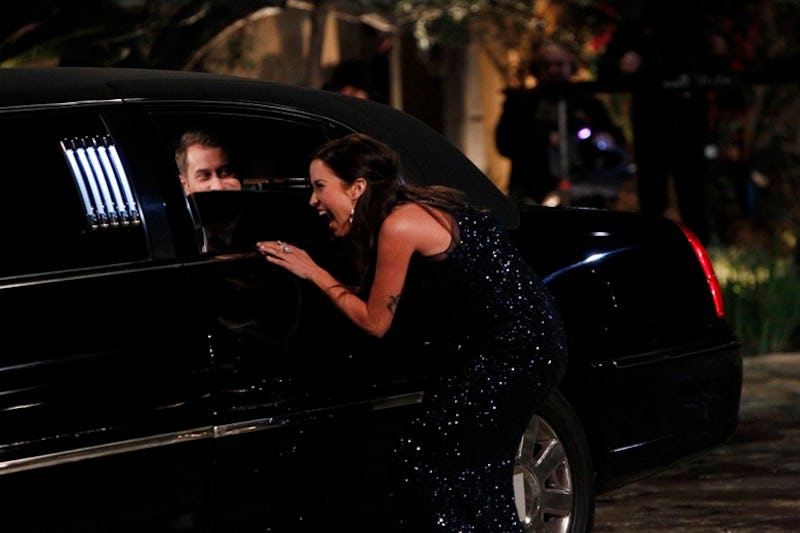 One thing you can always count on during The Bachelorette premiere is cringeworthy quotes. When you put a bunch of men together and make them try to impress two women, there are sure to be a number of terrible pick-up lines. This season it was like Tinder came to life for all the, um, interesting greetings Britt Nilsson and Kaitlyn Bristowe were subjected to. Some of the show's 25 men were totally genuine and sweet, and yet some others came out of the limo and put their feet right into their mouths.
It has to be awkward to try to make a lasting impression in just a few short moments, especially when you have to come up with creative greetings for two unique women. Obviously several men got a little tongue tied when meeting the ladies, while others had horribly contrived pick up lines that fell flat, and some said things that were just downright groan-worthy. If you want to make a good first impression on national television, this isn't really the way to do it. These guys will go down in bad Bachelorette quote history.
"Loveman is here to rescue the Bachelorette from evil men in the world." — Jared
Britt and Kaitlyn are not damsels in distress.
"Honeys, I'm home." — Ryan M.
If you're just looking for a housewife, you need to get back in that limo.
"Hi Disney princess." — Ryan B.
Nope.
"I would love to puck you." — JJ
This pickup line was an homage to to Kaitlyn's F-bomb opener from last season. So even though it was corny, it was kind of cute.
"I'm not a farmer, but I was hoping the offer to plow your field was still on the table." — David
This season is off to a sexual start.
"Maybe we'll like both [women] and we have to move to Utah or something." — Ian
Multiple wives is a whole other type of reality show.
"I feel like the energy from Britt's [voting] box was pulsating." — Tony
The show's resident healer is off to an interesting start.
"I have to prove myself as wife material so they put a rose in my box." — Britt
Priorities.
"Knock knock. Who's there? Two Bachelorettes. Two Bachelorettes who? That's it. That's the joke!" — Kaitlyn
Getting real about this crazy twist.
Images: Rick Rowell/ABC (9)