11 Awesome Moments From The New 'Pan' Trailer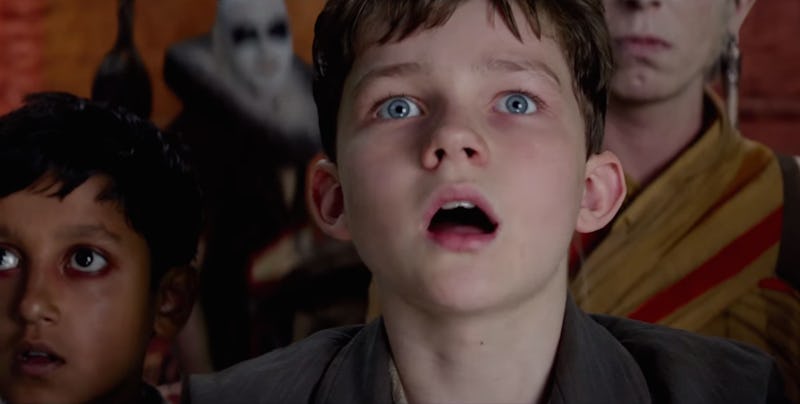 Being a fan of Peter Pan has brought many highs and lows when it comes to faithful and not-so-faithful adaptations for the screen. The newest film to take on the mythos, in a sense, is Joe Wright's film Pan, which follows Peter before the rise of Captain Hook when Blackbeard was the most feared villain around. While I'm excited at the prospect of this new tale, I've been fearful since the announcement of the film, especially when I first saw Hugh Jackman's appearance as Blackbeard and his version of the character in the film's first trailer. However, the newest trailer for Pan has been released and it has completely reduced my fears. In fact, these 11 moments from the trailer actually make the film even more highly anticipated in my opinion.
Te imagery, the appearance of favorite characters, and the sheer energy that newcomer Levi Miller brings to the role of Peter prove that Pan could be really great. It's not even five seconds into the new that before you're breathless with wondering, and remembering everything that you used to love about the story of Peter Pan and the magic of Neverland. Seriously, look at this image, and tell me that Pan isn't beautiful.
It's just one of the many amazing images from the trailer, which you can check out below along with the 11 best moments.
1. Defying Gravity
From minute one of this trailer, we see Peter floating through space while traveling to Neverland. It's a beautiful first tease of how epic and fantastical this land really is.
2. Is This Canada?
Best joke from the trailer: Peter asks if Neverland is "Canada," because clearly he hasn't been anywhere exciting in his short life.
3. Bubble World
As Liz Lemon would say, "I want to go to there."
4. Peter Plays With Saturn
What in the world? How is this possible? It's Peter Pan; suspending disbelief is the name of the game. And it's awesome.
5. Is This The Iconic Croc?
It's like Free Willy, with what I'm hoping is the iconic crocodile we all know and love from the Peter Pan canon.
6. Tinkerbell Appears
My favorite character is here!
7. Tiger Lily Fights Blackbeard
She may not look the way we want, but at least Tiger Lily ferociously stands up for her people and is brave enough to fight the dreaded Blackbeard with seemingly no fear.
8. Peter Stands Up For Neverland
The moment Peter stands up against Blackbeard and chooses to fight signifies the future we know will come when Captain Hook takes over as well.
9. This Awesome Ship
Blackbeard's ship is enviably and undeniably badass.
10. This Incredible Location
Where are they, and can I mine a small piece of this place for some epic jewelry?
11. Is Peter Flying?
This is the moment I've been waiting for: Peter's first flight.
Images: Screenshot/YouTube (13)