7 Body Positive Fashion Sites To Start Binging Now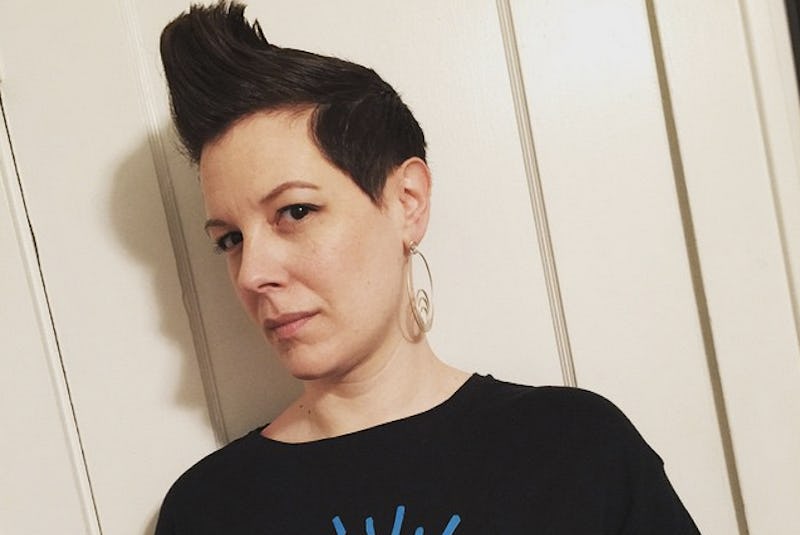 Body image is something that we all struggle with at some point in our lives, but creating positive body image is what is being championed by many online bloggers, writers, and entrepreneurs who are shifting the narratives surrounding bodies, especially when it comes to the relationship between our body and our self-worth. Cue body image websites!
I think we can all agree that no one has perfect body image, and that loving the body that you're in takes a lot of dedication and hard work. After all, our society often tells us we should love our bodies while simultaneously telling us that they're not good enough, by selling us diet pills, plastic surgery, weight loss programs, and waist trainers.
That's why I value thinking critically about body image and the messages that mainstream media often sends us. The Internet is a particularly valuable tool for this, since anyone can create content for free, or relatively low costs. Building a website takes just a few clicks of the mouse, and inspiring a social movement can be started with a simple hashtag. And we're leveling the playing field of media!
If you're wanting to get started on learning about body image, want to cultivate a more positive relationship with the body you currently have, or simply love great content centered around loving your body while also appreciating fashion and beauty, here are seven body image websites you should be following with a fashion and beauty twist.
1. Already Pretty
Already Pretty is a website dedicated to celebrating the beauty you already have and talking honestly about body image. The site is written and published by Sarah McGraw, who is a writer and personal stylist from Minneapolis, Minnesota.
"I started this blog because I used to utilize so much energy hating my body that I exhausted myself into depression," she wrote. "For years I tried to change my body with diets and exercise, believing that its shape and size were the root of the problem, but I just kept on hating it. When I began exploring fashion and style... an unexplored universe opened up to me. For the first time, I respected my body."
She thus combines her passion for positive body image with her love of fashion to create great content for fashion and beauty lovers who also believe in body positivity. Most of her content focuses on how dressing can make you feel good about yourself and have this butterfly effect on your self esteem.
2. Body Bliss Central
If you want to go on a transformative journey towards body peace, you will love Body Bliss Central. This website includes a blog, online store, and coaching practice hosted by Sandy Ross. The site was created to help you fall madly in love with your body and question how the beauty industry often sells you products based on the supposed need to "correct" your flaws.
I'm all for beauty, but not beauty that is being marketed to us by advertisers who want us to feel insecure. Ross is changing that and fighting to cultivate a healthier, more loving environment for us to adore our bodies in.
3. Luvin' My Curves
Luvin' My Curves is a blog written by a "full-figured fashionista" who shares her journey of body love with you, through the good, bad, and ill-fitting. Although the blog's author remains nameless, she calls herself a lawyer, educator, and travel addict who is committed to social justice.
"You can find me sitting in a closet, surrounded by clothes trying to figure it all out. I don't follow society's standards of beauty — I define it for myself," she writes. The blog was originally created out of her frustration at not being able to find stylish clothing for plus-size gals, but has evolved to include personal posts and content around body image more broadly.
4. Garner Style
If you're a plus-size woman who loves fashion and wants to be given a side of body positivity with it, you'll love Garner Style. Created in 2008 by image consultant Chastity Garner Valentine, who gives plus-size women the confidence and the clothes they need to feel and look like the fashionistas they are. She has also written the book A Curvy Girl's Guide to Style, which is a crash course on style and the struggles that come with being a plus-size woman.
5. REglam
REglam's motto is "love yourself," which basically tells you everything you need to know about this body positive fashion and beauty website. This site is filled with content that is written through a critical body image lens, making it that much more awesome.
REglam is an online fashion magazine re-launched in 2014 to emphasize diversity and beauty among all body types — and touch upon how "glamour" can only uplift us. Its website's content is on point, and focused on taking a holistic yet diva-like approach to taking care of our bodies. Its headlines feature everything from matcha green tea smoothies to celebrating the fact that everyone has a bikini body to the psychology behind fashion trends. There is something here for everyone!
6. The Curvy Fashionista
This body image and fashion website is host to a variety of content, ranging from style blogs to body image essays to plus-size lookbooks. The website was launched by Editor-in-Chief Marie Denee, in order to create a community where plus-size women could share their ideas and experiences with being curvy fashionistas. The Curvy Fashionista goes beyond just fashion, though, and takes a holistic approach to lifestyle, by including the much-needed body image conversations within this framework.
7. Adios Barbie
Adios Barbie is the body image website for every body that takes the conversations around bodies further than you could have imagined, by examining the intersections of race, gender, ability, class, and sexuality that go into our body image identities. The website also features a lot of content geared around fashion and the plus-size fashion industry, which I know all of you fabulous fashionistas will find enlightening.
Images: alreadyprettyblog/Instagram; Body Bliss Central; Luvin' My Curves; garnerstyle/Instagram; REglam_ME/Twitter; mariedenee/Instagram; AdiosBarbie/Twitter