What Sketches Should Stay & Go On 'The Late Show?'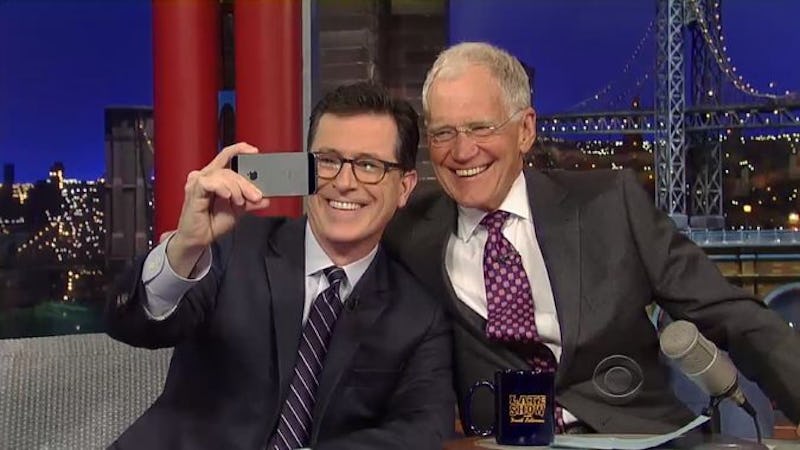 As far as revolutionaries in late night television go, David Letterman is a total legend. As previously reported, Letterman will be leaving The Late Show on Wednesday, and, upon his departure, will pass his Late Show torch to former The Colbert Report host, Stephen Colbert. Though the prospect of a Colbert-hosted The Late Show isn't a terrible idea by any means — in fact, it's actually fairly exciting — that doesn't make Letterman's departure any less painful.
Of course, there are high hopes for Colbert's takeover, especially after his long absence from our television screens; and though it isn't the same, Jimmy Fallon's brilliant takeover of The Tonight Show gives me hope that a new era of late night hosts can be a great thing. However, as a fan of The Late Show, I have a lot of questions about how this transition is going to work. After all, Letterman has made sure The Late Show's recurring bits, segments, sketches, and guest choices are of top notch quality — and though we know that Stephen will bring his own rambunctious segments and characters along with him when he takes over, it would be a downright shame to dismiss some of the more legendary fixtures of The Late Show.
So, in honor of the amazing legacy Letterman leaves behind — and in honor of Colbert's imminent takeover — here's what the show should keep and what the show should let go after Letterman departs.
KEEP: Small Town News
As it's easily the most patriotic of Letterman's sketches and segments, Colbert would be doing himself and his audience a disservice if he didn't keep up the Small Town News tradition. He'll be great at it, considering The Colbert Report's "Better Know A District."
KEEP: Stump The Band
An ode to Johnny Carson from Letterman should definitely become an ode to Letterman from Colbert.
KEEP: Will It Float?
Well, WILL IT?! I have questions, he has answers. Genius.
KEEP: Hello Deli
I don't have a lot of celebrity crushes, but Rupert Lee will always be in my top five. Some day, I hope, I will get to play a Hello Deli game, preferably Beat The Clock. For now, though, you can either grab a sandwich at the deli if you're in New York, or buy this stunning graphic tee from his website. I hope that Rupert makes new friends but keeps the old, 'cause Colbert is silver, and Letterman is gold.
CUT: Stupid Pet Tricks
It pains me to say it, but Stupid Pet Tricks has got to go. I love animals, and I love animals being dumb, but for some reason, this one's just a yawn.
CUT: Ape Or Artist Or Elephant?
Come on, Dave — creativity is not easily interchangeable between the species! You have hurt my sensitive artist feelings. (But that monkey is a good painter, not gonna lie.)
CUT (BUT NEVER FORGET): Top 10 List
Yes, I know, no one is going to agree with me on this one, but someone has to say it: some things are just too sacred to mess with. Just as it would feel fifty shades of wrong to see someone else other than Stephen Colbert school us on the word (besides the presidential exception, Barack Obama, of course) on The Colbert Report, no one should be counting down from 10 on The Late Show except for David Letterman.