Is 'Scream Queens' Another Ryan Murphy Classic?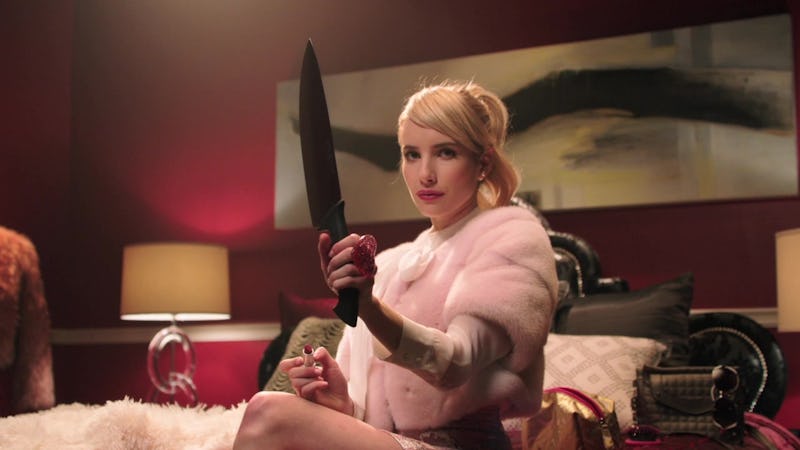 There are a number of ways to tell when you're watching a Ryan Murphy TV show, and the new Scream Queens trailer has them all: lots of his signature sass, lots of puns and at least two of the actors in his Murphy circle of trust. (In this case, that's Emma Roberts and Lea Michele.)
Whereas Glee tackled a high school filled with glee clubbers and American Horror Story brings all of our worst nightmares to life — and then some — Scream Queens seems to be a perfect pairing of the two. Featuring a hefty cast that includes Jaime Lee Curtis, Abigail Breslin and guest stars Ariana Grande and Nick Jonas, the new anthology series tackles a slew of serial murders... with a light and comedic edge. Plot-wise, the show deals with the following: Basically, the hard-to-broach Kappa House is plagued by a series of murders perpetrated by an unknown assailant in a devil costume. This coincidentally happens to coincide with a new mandate from the dean: Kappa must allow anyone, regardless of economic status, to pledge.
Scream Queens will hit FX this fall, and the trailer makes it seem like one helluva snarky time. Murphy will practically kill you with all the puns (see what I did there?!) packed into this thing. Watch the latest footage below.
Now, let's rewind and check out some of the moments that just scream Ryan Murphy.
1. "Good evening, idiot hookers!"
This is classic Madison Montgomery bitchiness right here. You are all beneath Roberts' Chanel (yes, that's her name) and she'll let you know.
2. "What fresh hell is this?"
I love how everything is the end of the world, but instead of getting all worked up, Chanel keeps it all inside. Like here: the only signal that she's freaking out is one exquisitely worded statement. For reference: In AHS: Coven, when witches were being killed off, it was stuff like, "my vagina is sweating."
3. "You're about to get hazed harder than a suburban banquet hall during bat mitzvah season."
Murphy knows the exquisite art of straddling the line of the inappropriate. He does it all the time through Rachel from Glee, Zachary Quinto's Chad Warwick in AHS: Murder House, and lots of characters since. Roberts gets another juicy role to play in Scream Queens, and it looks like Murphy and his team were only getting warmed up.
4. "OK, Pissy Spaceck"
This is like the name game. Give Chanel a name, any name, and she'll make a devilishly good backhanded remark out of it!
5. "Why you gotta knife in your throat?"
There's always one person who has to freak out over everything, and this time it's Niecy Nash. Here she plays a cop investigating the murders around campus. Think she'll last long?
6. Some Man Candy
Yaaaaas, Murphy, yaaaaas! Though it's just a peep, I'll take Nick Jonas with a side of shirtless any day of the week. If Matt Bomer in Freak Show was any indication, Murphy will devote as much screen-time as he can to this man candy.
7. "If any of you die while protecting a sister, you're allowed to skip the rest of hell week."
It's every Kappa for herself in Scream Queens. Accept it, embrace it and move on. Sisters are going to be getting offed left and right, so it's important for Chanel to not get emotionally attached to any of them.
Images: FX; FX/YouTube