The Cupcake Guy Got The First 'Bachelorette' Kiss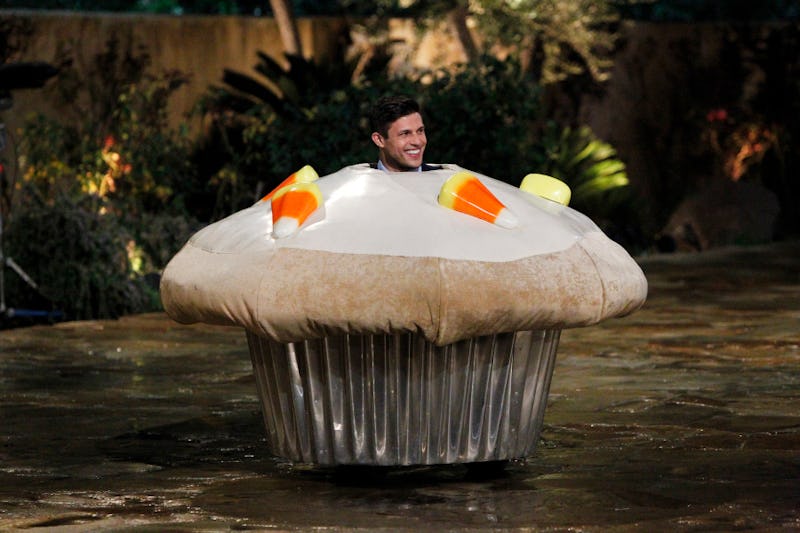 After so many seasons of reserving kisses for several weeks in, Chris kissed Kaitlyn on night one of The Bachelorette — which is pretty unusual for the first evening. But it's not entirely unprecedented. In fact, Chris the dentist is giving me some major Chris Soules flashbacks. If you remember, he also bestowed a night one kiss on his season of The Bachelor (to Britt), and many, many more after that. So is Chris just like Chris (in more than just name, of course)? Smooching-wise it seems so!
The dentist from Nashville had no qualms with sitting down with the newly elected Bachelorette and planting one on her, and she didn't seem to mind either. Despite his unconventional limo arrival, (he came in a motorized cupcake), he seems to have won Kaitlyn over. She was so smitten that she handed Chris the first flower during the rose ceremony, keeping him and his lips around for one more week.
But Chris has racked up a few more fans as well. So far, Bachelor Nation is going wild for him. "Wow!! Go Chris the dentist!! I'd kiss him too," one fan tweeted after the season's first smooch. If he keeps things up, Kaitlyn might end up with another Chris for a boyfriend. (Hey, when you don't succeed, try, try again!)
Chris Soules may be taken, but his night one kissing name twin is single and ready for love — and Kaitlyn seems pretty happy with what she sees in this second Chris so far, no matter what costume he showed up in.
Image: Rick Rowell/ABC; BacheloretteABC/Tumblr