You Need To See Amy Schumer Interview Sharleen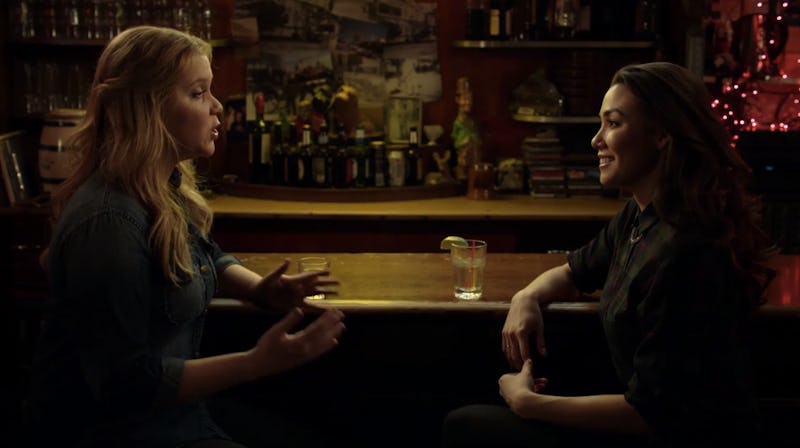 If there are two things I never thought I'd see merge in beautiful, comedic harmony, it's the hilarious stylings of one Amy Schumer and Bachelor Nation. And yet, twice in one night, I've now sung the praises of this exact combination (during The Bachelorette, it was revealed that Schumer would play Jimmy Kimmel's comic relief role on Kaitlyn's season). But since we can't see what Schumer is up to over on ABC just yet (the promo was pretty minimal), it's a comfort to know Schumer brought a little Bach to her own show: This is not a drill, Sharleen Joynt did an interview on Inside Amy Schumer. And yes, it did make me want to be friends with her. More than I already did.
But beyond giving those of us who loved Sharleen on The Bachelor the opportunity to get a little more screen time with her, the interview also got way more real than almost any post-Bachelor interview I've ever seen. After all, ABC likes to keep its ex-contestants on lock and by "lock" I mean, in interviews where they don't talk about whether or not they'd sleep with Juan Pablo post-show. Luckily, Sharleen is not on lock and she was able to speak a little more candidly about the whole thing.
These are just some of the best moments from the interview (though I highly suggest that you go back and watch the whole thing yourself):
When She Explained Why She Even Went On The Bachelor
"I just thought, could I really not do this?" Joynt says she was a fan of the show and that she auditioned in response to a rocky relationship, but I mean, when Chris Harrison comes knocking, would any of us really say no? Pretty sure I would take on the opportunity out of morbid curiosity at the very least.
When She Inspired Amy To Get A Little Juan Pablo Up In Here
That's Schumer's "ees okay" face and "ees okay"...that Sharleen went on the show knowing it was Juan Pablo. Hey, we all thought he was the bees knees at one point, too.
When She Said Something That Sounded Crazy
Sharleen's take on why JP is attractive, presented without comment: "Honestly, it sounds crazy, but I liked his personality."
When She Tried Really Hard Not To Insult JP's Intelligence
"He doesn't really get sarcasm, but it doesn't mean he's not smart. He just gets other sorts of jokes," she said, to which Amy replied, "Okay, he's stupid and you're lying." And Schumer would know, she says she's slept with "some rocks" and a guy who thought Mark Twain was a whimsical, fictional character. Ees okay.
When Sharleen Admitted That It's Weird That There's So Little Sex On The Bachelor
She said she was surprised more people don't sneak into the Bachelor or Bachelorette's room for a little hanky panky. "It can be done... To be honest, I'm surprised not more people do that, I think it would it would definitely give you an advantage." Not necessarily in Bachelor-land, but I get what you're saying, Shar.
And When She Confessed What She'd Do If She Ran Into JP In A Tampa Dive Bar
Amy: "Would you have sex with him?"
Sharleen: "How desperate am I?"
Amy: "You haven't had sex in a year."
Sharleen: "If it felt right."
That is a "yes," you guys.
And with candidness like this, I can't help but resurrect my old (totally hopeless) campaign once more: #SharleenForBachelorette2016. Make it happen, ABC.
Images: Comedy Central (2)