A Beginner's Guide To Watching Porn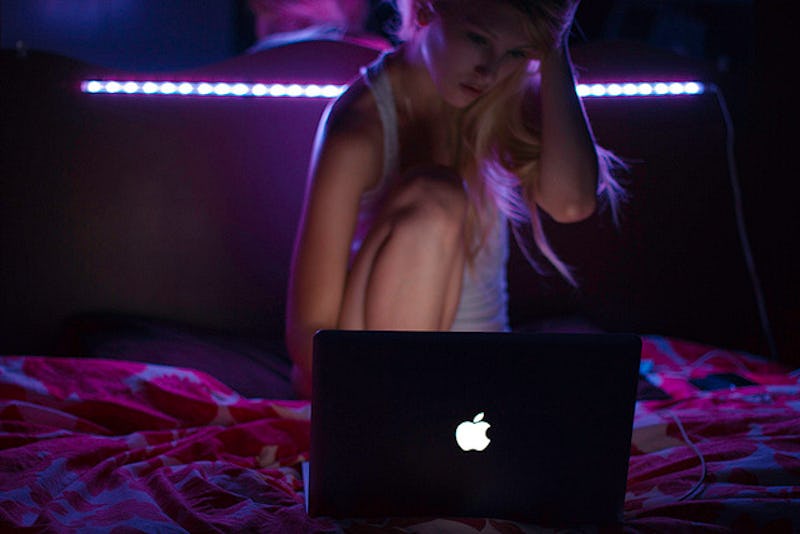 So many people are eager to get a bit kinkier in the bedroom, but aren't quite sure where to start. Considering all the inspiration that comes with it, porn seems to be the obvious answer. Not everyone is going to be up for extreme bondage play or having a threesome, but if you're looking to spice up your sex life (with yourself or your partner), watching porn can deliver some pretty serious turn-on material. So, what do you need to know about porn for beginners?
"It's not too intense of a foray into racier sex play, but can feel like a real adventure nonetheless, infusing inspiration and creativity — and even education — into your lovemaking," says sex expert Dana Myers.
Watching porn can build your desire in lightning speed, and create a sense of sexual tension and anticipation between you two. It can give you lots of new ideas for positions, moves and techniques to try. Plus, it can fill your mind with hot, healthy fantasies.
For some of us, porn can be a really tricky subject, says Myers. The results can be a rather mixed bag: You might love it, you might be rather turned off by it, you may even have been conditioned to hate the very word. But, on the other hand, you might think you'd turned off by it, but then try it and wind up loving it. You might worry that your partner will favor the unrealistic fantasy of porn over his reality with you.
"You might think some porn is degrading to women, and I agree, there is a lot of despicable porn out there. There's validity to all those feelings, but I encourage you to free yourself from any preconceived notions, fears and judgements you have about porn and open yourself up to the potential of having some straight-up, sexy FUN with it," says Myers.
Here's how to get started:
1. Discover your options
These days, there is a wellspring of empowered, gorgeous, beautifully-shot porn. Start doing some research on your own to discover what kind of porn turns you on."Head to YouPorn.com or PornIQ.com and start exploring the categories that you think will turn you on. There are several companies producing content that present women as sexual collaborators with men rather than as sexual conquests of men. You may find your interests lean towards soft, romantic porn or perhaps it's the kinkier stuff that gets you going," says Myers. Porn is fantasy, so give yourself the permission to cut loose in your search, to not restrict yourself, and to really discover what categories of porn turn you on.
2. Stick with what you like
"You will see images that turns you off, that I can promise. Don't get stuck there. Ignore the image, change the clip, research a different site. But definitely bookmark the clips you do love, because they'll come in handy when you're with your partner!" says Myers.
3. Invite your partner to play
Once you've tested the waters of porn on your own, invite your partner into bed and let him/her know you'd like to watch some erotic footage together. "If this is new for you as a couple, they may stammer a bit… and be a little surprised at your suggestion. If you've done this before, but not for a while, that's great too. Either way, they'll be excited and aroused at the opportunity to watch porn WITH you (because I can pretty much guarantee that they're watching it without you, and hopefully they has a healthy relationship with it)," says Myers. Even more, your partner will be intrigued and turned on that you've been poking around the internet, exploring the kind of visual stimulation that turns you on.
Then, take control and turn on the clip the turns you on the most, says Myers. Try keeping your hands to yourselves for the first few minutes, until you simply must reach out and touch each other. You could try "doing what they do" in the clip, mimicking their moves, even their sounds. When the clip ends, switch to another one of your bookmarked favorites, or offer your partner a turn to choose a clip. If you know your favorite clip is 20 or 30 minutes, use it as opportunity to relax in knowing how long your session will be ,and then really reconnect with all sorts of foreplay, as you anticipation towards a big orgasm.
Another erotic suggestion is to watch porn while you simultaneously self-satisfy — turning your eyes toward each other, then back to the screen, then back again to watch each other self-pleasure and reach orgasm. That's hot, and definitely qualifies as having creative sex in a long term relationship. For many, self-pleasuring in front of another will be a new experience, and a really hot and intimate one," says Myers.
4. Take notes
Not literally, of course. Unless that turns you on. But as you're exploring your tastes in porn, keep in mind what you can learn from it. If you want to learn expert tips on giving a great hand-job? Search for hand-job clips. Then watch them with your partner and follow the moves you see. Same goes for discovering new positions, or fantasies, or karma sutra techniques, or even exotic dancing moves. "There's porn that speaks to just about everything you could want to learn – so please, consider it an educational tool!" says Myers.
Images: Shandi-lee Cox/Flickr; Giphy