You Can Now Get Off From Virtual Reality Porn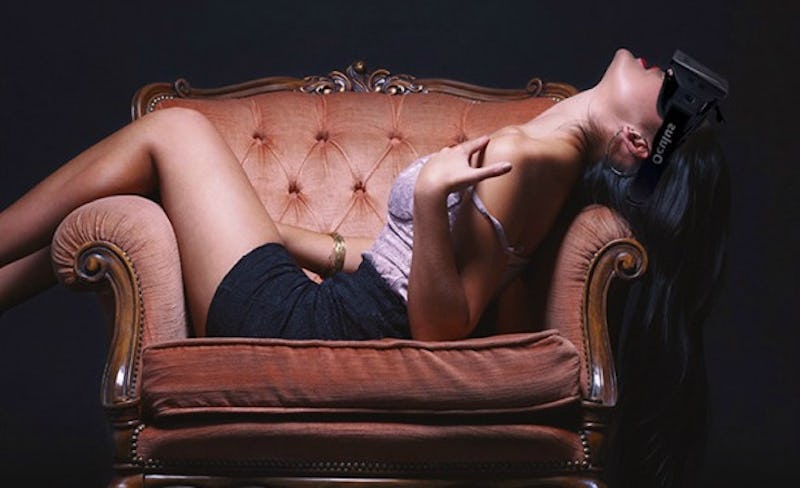 Just in case regular old masturbation isn't doing it for you anymore, there's now a much more high-intensity (and probably expensive) way to get off: Virtual reality porn with synced-up sex toys. Virtual Real Porn, an adult entertainment company, has partnered with Lovense, a startup sex toy company, to release a line of "haptic" toys that mimic the movements of whatever VR porn you happen to be enjoying. Run for your lives, because it looks like we're one step closer to robot sex (though I can't say I'm totally upset about it).
So how does it work? The Lovense sex toys come with a Bluetooth wireless dongle that pairs with a computer or smartphone (both iOS and Android apps for Virtual Real Porn are in the works). Once paired, the Virtual Real Porn's movie player recognizes the device, causing the toys to automatically sync to the movements of the porn that is queued up. Pretty fancy, TBH.
The sex toys work like so: The male toy contracts (using air pumps) based on the speed of the female performer, and the "head" of the female toy rotates based on the speed of the male performer. When the VR porn actors' bodies collide, the male toy and the clitoral stimulation arm of the female toy vibrate. The haptic — or touch feedback — technology supposedly creates a "more immersive" experience for those wishing to amp up their solo orgasms.
"This was an unexpected partnership, but we believe it is a positive development for Lovense," said founder Dan Liu in a statement. "Our focus is to use sex tech products to solve problems for consumers, but when they approached us, we immediately saw the potential. They are the top virtual porn content producers, and we are a leading teledildonics [computer-controlled sex toys] company, so the partnership felt natural. We are both pioneers in our respective industries."
The sex toys will be compatible with various VR porn prototypes, including the Oculus Rift headset, which was made famous a few months ago when a video of old people watching and responding to VR porn was released. So if you're in the market for a new sex toy, start saving now — I wouldn't blame you if you were first in line to try this innovative and intriguing new way to masturbate when all the technology is officially on the market.
Images: Lovense; Giphy