Scarlet Witch's 'Civil War' Look Is V. Different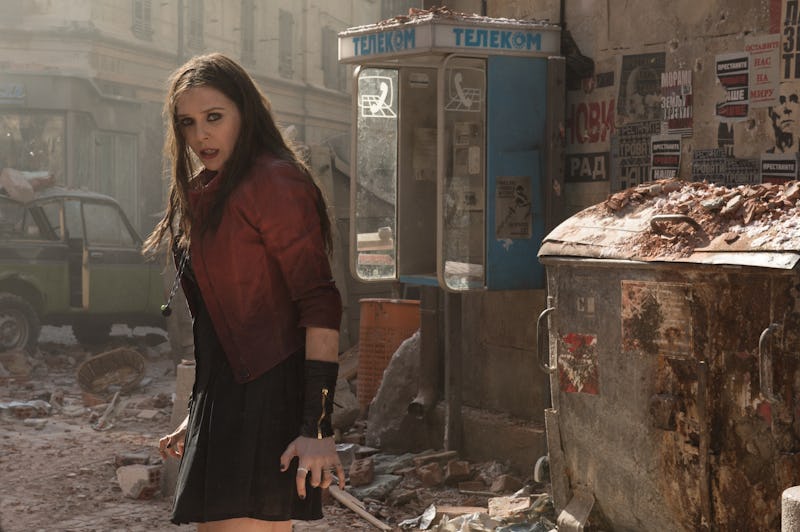 Captain America: Civil War is filming in Atlanta and it's bringing a number of changes to the Marvel Cinematic Universe. And you know what that means, right? New costumes! And it looks like the first to get a Civil War costume is Scarlet Witch.
MTV News revealed the latest photos from the set. Along with new looks at Chris Evans as Captain America and Frank Grillo as Crossbones, we also got our first look at Elizabeth Olsen's Wanda Maximoff in Civil War. Ever since debuting in Avengers: Age of Ultron , she has become something of a fan favorite. While her teammates chose hammers, mechanical suits, and shields as their weapons, Wanda used telekinesis and mind manipulation as hers. Now, just like the trendsetter that she is, she's upping her style with a whole new look. And there's no scarlet to be seen.
In fact, she has two totally normal looks: The first replaces Wanda's emo, "I listen to Evanescence alone in my dark room" vibe (i.e. black duds with a red jacket) with black leggings, a dark blue top, and an army green jacket. (I'm already trying to figure out how to translate this into my own wardrobe.) The second, is even more casual: A white top with some itty bitty cut-offs.
While she looks incredible and I can't wait to see her send a few more baddies fly across the room with a flick of her wrist, does anyone else notice how she's the only member of the team without a formal costume? Everyone from the Cap to Falcon to Black Widow has some kind of protective and symbolic suit, but not Olsen. We saw her sporting a new look in the last scene of Age of Ultron, with long locks and a draped red coat, but that didn't last too long. Perhaps she'll be the Avengers' secret weapon, walking around in civilian clothes to remain unnoticed; I'm eager to see how she fits into the puzzle that is Civil War.
The third installment of the Captain America trilogy picks up a little while after the last Avengers. The Cap is leading a new team of Avengers when an international incident involving the heroes prompts the world's leaders to unite and set up strict regulations on superhuman activity. This causes a rift between the team with some siding with Captain America and the others joining Team Iron Man.
My money is that Scarlet Witch will be joining Cap, since she pretty much shouted her hatred for Tony Stark from the rooftops. We shall see, but for now, I'll just have to wonder how this super casual ensemble works into the greater mystery until Captain America: Civil War hits theaters on May 6, 2016.