Drake & Beyonce's "Can I" Is Super Relatable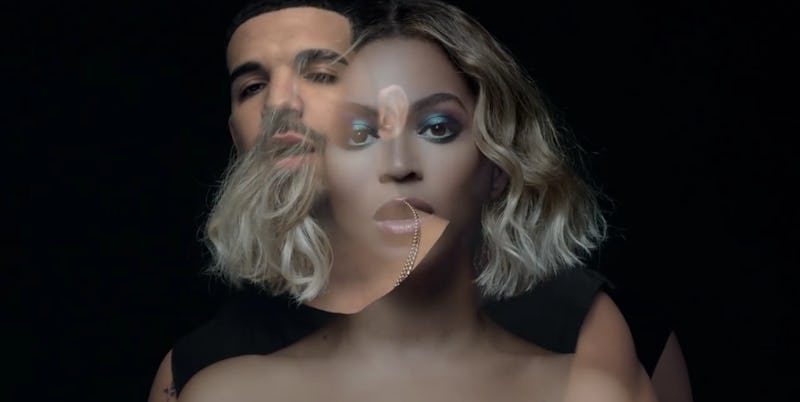 It can often be troubling for an artist when their music leaks before they are ready to present it to the public. However, as technology continuously evolves, it has become increasingly difficult for the music industry to keep new music under wraps. On a positive note, leaked tracks can also work in the favor of an artist, getting their fans excited about the impending release of a new album or music video. That is the case for Drake's new track "Can I" featuring Beyoncé, from his forthcoming album Views From the 6, which has leaked online — and people already can't get enough of it. But the real question is, who is Drake & Beyonce's "Can I" about?
The last time Drake and Beyoncé collaborated was on her 2013 self-titled album for the track "Mine." Since "Mine" was one of my favorite songs from Bey's surprise album, I was super excited to hear "Can I," and I was not disappointed. Though both tracks are amazing, they couldn't be more different. Beyoncé's voice is woven across the entirety of "Mine." However, she only supplies one line in "Can I." On this new track, she repeats, "Can I, baby" over and over again, while singer Sal Houdini supplies the majority of the singing vocals. The song opens with Beyoncé and Houdini singing:
Can I, Get you over here to the cityBaby, Get you here on a private flightCan I, Scoop you up first so you can see meBaby
Celebrities have talked at length about the pitfalls of fame, especially about the difficulty of seeking out and maintaining romantic relationships. As the song opens, Houdini sings about the desire to impress a special someone by using some of the advantages of fame: private jets and travel. However, as the song continues, Drake raps about wanting this person to see him for who he really is. He jumps on the track with Beyoncé and Houdini with the strong verse:
Bring you to the six where I really stayShow you why I am the way I am, Tell you what I think my biggest flaw is; I try be consistent but I can't. Have an honest moment with you right now, tell me who the f–k you wanna be.Get an honest answer from you right now, cuz all we ever talk about is me.
Though we may all secretly want Drake to kick his friendship with Rihanna up to the next level, we all know that Rih can afford her own flights. Instead, the song is about finding someone who sees past the fame and fortune: a 'normal' person. Drake is searching for a woman he can reveal his biggest flaws to, and, in return, she can let him in on her greatest desires. Too often we forget that celebrities are people just like us. They have hopes, dreams, fears and desires. Unfortunately, fame means that they aren't given the opportunity to deal with heartbreak and failure behind closed doors. Their loves are placed out in the open for public consumption. "Can I" talks about these sort of sacrifices.
See you right now I know the sun is up, sorry I don't really have a choiceNever make ya feel like I'm down for you, you do so much more than that for meFinally take the time and open up to ya, cuz that's a side you never get to see
"Can I" is about the desire for normalcy, a deep longing to connect with someone, and to have them see you for who you really are. Though we aren't celebrities like Drake and Bey, it's certainly something that we can all relate to. Though Beyoncé's presence on the track isn't as robust as we've grown accustomed to, her distinct voice gives the song a powerful edge. If this song is any indication of what Drake's forthcoming album has to offer, then we are in for a real treat.
A super honest musician, Drake always seems self-aware and in tune with his emotions. His vulnerability stands out, especially in the hip-hop genre. "Can I" definitely boasts a nostalgic sound. Drake has given us a tune that is reminiscent of the tracks from his first couple of albums, So Far Gone and Thank Me Later. When the song is officially released on iTunes, I will certainly be scooping it up.
Images: YouTube (1); Getty Images (1)