Channing Tatum Told Me I'm Not Ready For 'XXL'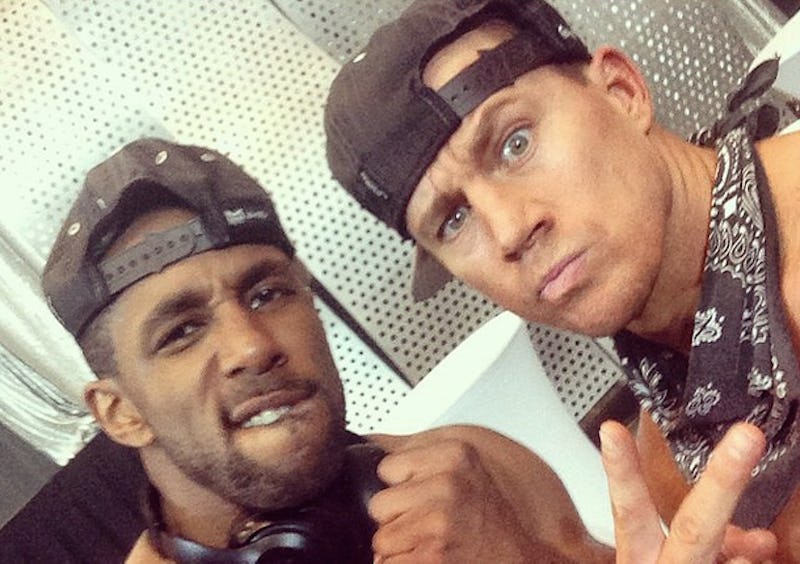 I am standing on the Savannah, Georgia set of Magic Mike XXL when star/producer Channing Tatum decides to drop me a hint about what's to come. "You are not ready for what you're about to see," he tells me. Confused I ask, "I'm not?" "No," he replies, as we gather inside a large convention center ballroom to witness the filming of Big Dick Richie's (Joe Manganiello) climactic solo routine. The piece involves a complex bit of choreography with two very different, very intriguing set pieces that are sure to raise a few eyebrows and high-pitched screams.
But before I get carried away with that delightfully R-rated sequence, there are a few PG-rated things you should know about XXL, like how the film's brilliant, cheeky title was born not from extensive brainstorming sessions, or one person's bright idea, but the World Wide Web.
"It was the Internet. It really was," Tatum reveals during a break from filming. (Not a break from his filming, mind you. Tatum wasn't even working the day I visited the set, he was there because he just didn't want to miss seeing his co-stars perform their "epic" routines.)
"It wasn't from our end saying that's what [the title] was, but that's the way it leaked and then the Internet ran with it. We came up with about 15 other dumb options that were pretty much all in the same joke that, 'It's bigger.' Then we came up with some stupid ones like Magic Mike: Road to Myrtle Beach and we were like, 'That's stupid. We're not doing that.' We didn't hate it so we thought, 'Eh, whatever. The Internet spoke, so screw it let's just do that.'"
So what exactly is Tatum's Mike and the rest of the crew up to now? Last time we saw him at the end of the Magic Mike, he seemed ready to retire from stripping in order to focus on his furniture business, while the rest of the gang kept at it.
"I don't want to give away too much, but a lot has happened in three years. That's all I can really say. But this will be our last ride of sorts," he teases. "It's a stripper odyssey."
An odyssey that involves getting the gang back together for one last hurrah at a stripper convention in Myrtle Beach, with proper attention and screen time given to all of the characters, in a much more lighthearted fashion.
"It's definitely lighter. It's definitely more fun," he says. "It might be a little bit more up the ally of some things that people were expecting out of the first one. I would say it's less dark for sure."
One of the lighter, more fun elements to the film, in Tatum's opinion, is in having a group of men trying to figure out who they are as they keep exploring themselves. "That, in turn, makes them more interested in what and why women want what they want, instead of men telling women what they should think is sexy," he explains. "It's crazy to me that male stripping hasn't evolved at all and it's not that we're trying to revolutionize male stripping or anything, but we're definitely trying to make it a little different and a little bit less misogynistic. I'm not trying to get very meta about it all because at the end of the day, it's just for fun."
Despite the male-centric storyline, the film has an empowering new addition via new cast member Jada Pinkett Smith and her character Rome, an old friend of Mike's. Rome is a strong, feminine, no-nonsense type who runs her own club that is all about exaltation and attending to women's needs. Her "attendants"/employees include characters played by Michael Strahan, Donald Glover, and Stephen "tWitch" Boss.
"She wants women to always know how beautiful they are. She calls them queens," Smith tells me of Rome, a character who Tatum originally had in mind for his friend Jamie Foxx but when it didn't work out, felt the universe handed him a gift in Smith.
"Look Jada is gonna make us look so smart. That's just the truth of the matter," Tatum says of having her presence in XXL. "She is probably one of the most powerful women I have ever been around. She doesn't come in and hit you in the face with it. She lures you in just close enough that you know you're in danger and you don't want to put out the flame. She's just seducing you mentally," he continues. "We find Jada's character in the deep South and she just comes in and is a deep force in this movie and is a complete surprise I think. I hope."
For Tatum, the entire Magic Mike experience has been a continual surprise; the fact that they got to make the first one at all and that it was a $100-million-plus box office success he attributes to luck. "We definitely didn't think it was going to work like it did," he admits. Another continual surprise? That men are far more interested than women in his brief stint as a real life stripper.
"Women when they find out that I've danced, they go, 'Oh my God, really?' And that's it and they don't really inquire that much more," Tatum says. "Men are like, 'What, what? Are you fully nude? Like dick out? How much money did you make? Did you hook up like every night? Like multiple times, multiple girls?' They want to know everything and then they're like, 'Nah, I'm not going to go see some stripper movie.' I find it so funny because it's like a feathered fish. It's a movie kind of about guys being guys, made for women in a way. It's such a strange alchemy. I think straight guys found it later. Then they were like, 'It's actually a good movie. There's some story there.' 'Thanks, that's very nice of you.' But I don't know. I'm interested to see what it's going to play like now."
Tatum also admits that his time making both films has changed him for the better when it comes to making decisions about his career.
"It sort of has completely empowered me to do the things that I want to do and not worry about any of the rest of the crap," he says. "Just do it with the people that I want to do it with and that's it. And don't worry about the rest of it."
But does Tatum ever worry about when his nearly two-year-old daughter reaches an age where she wonders about what her dad is doing in these films?
"We're just going to keep her around the world so she never has to ask the question," he jokes. "There are strippers everywhere."
Wouldn't that be nice, if strippers were everywhere and they all looked like the men of Magic Mike XXL ? On second thought, that would be too much of a good thing. I'll happily settle for the R-rated movie version that is good, harmless, fun.
"We're not in it for the shock value, we're in it to be entertaining," Tatum says of keeping the film R-rated edgy versus NC-17. "You want to go to the edge, put your toe over it, give people something they didn't know they wanted and then pull it back. We don't want to be disrespectful. We don't want people to feel gross or dirty so we try to stay pretty mindful of that type of thing."
This of course brings us back to BDR and the aforementioned scene I've been waiting all day to see. At this point in the day, and after speaking with Tatum at length, I feel ready for anything. There is a smoky, sultry energy in the room, thanks to the palpable excitement from a ballroom-full of women, and, of course, several carefully-placed smoke machines. Also lingering about the large set are hints of whipped cream, chocolate sauce, spray tanner, and the leftover aromas from Adam Rodriguez and Matt Bomer's solo performances earlier in the day.
At long last the cast, crew, and cameras are ready to be led by director Greg Jacobs, and BDR's big number begins in a very happy, bouncy way as Manganiello-as-BDR strides into the room all tall, dark, and handsome. Things take a surprising turn from here, which leads to ear-splitting shrieks of excitement from the crowd. We all know what's coming (no pun intended). It involves showing some skin and a series of sexually suggestive choreography that has the audience in hysterics. Hundreds of $1 bills and wild, ecstatic screams fill the air, as I try to reclaim my jaw from the floor.
Tatum was right: I was not ready for what I was about to see. And neither are you.
Magic Mike XXL hits theaters July 1.
Image: Channing Tatum/Instagram