14 Memorial Day TV Marathons That Guarantee An Entertaining & Relaxing Holiday Without Leaving Your Couch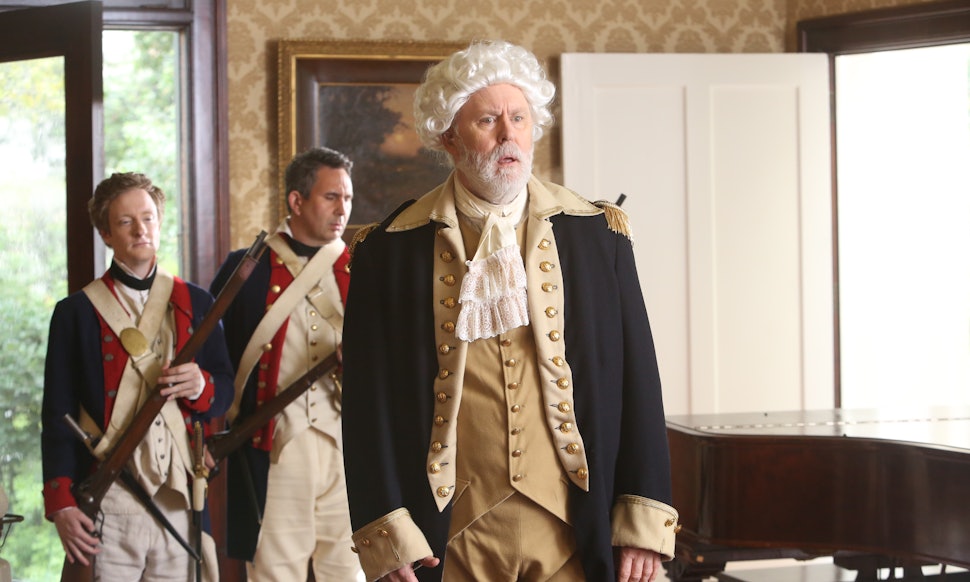 Ahhh, Memorial Day — a delightful Monday off from work. Sure, you could go outside and enjoy the May weather, but the outdoors are overrated (says the person who camped over the weekend). Avoid mosquito bites and ticks by staying indoors and watching all of the TV marathons Memorial Day 2015 has to offer.
Most of the TV programming is not focusing on the real depth of what Memorial Day is about (honoring the people who died serving our nation in the armed forces), but I'm not here to judge anyone for their holiday decisions. If watching countless hours of TV is what will bring you joy this three-day weekend, that's exactly what you should do. Luckily, you'll have plenty of different ways to do it.
Please note that all times listed are ET and TV schedules depend on your location, so make sure to check your local listings.
Image: Jesse Grant/Comedy Central
'Saving Private Ryan' On AMC
Keeping with the spirit of the day, AMC is playing Saving Private Ryan three times during Memorial Day — at 10 a.m., 2 p.m., and 6 p.m. The World War II movie leads up to a new episode of AMC's show TURN: Washington's Spies (about the Revolutionary War) at 10 p.m.
Image: DreamWorks Pictures
'Drunk History' On Comedy Central
Perhaps after AMC's Saving Private Ryan marathon, Comedy Central's Drunk History mini-marathon (from 1:37 p.m. to 6:52 p.m.) makes the most sense for Memorial Day weekend. Historical references to armed forces? Check. Excessive drinking? Check. This may actually be the ultimate Memorial Day TV marathon.
Image: Comedy Central
'Ridiculousness' On MTV
For you early birds out there, MTV is airing Ridiculousness from 6 a.m. until noonish.
Image: MTV
'Teen Mom OG' On MTV
Teen Mom OG (Original Girls) then takes over MTV's programming until 11:30 p.m. I'm not confident that MTV attempted to honor Memorial Day with these listings, but guilty pleasures are perfect TV fodder for the extra day off.
Image: MTV
'Friday Night Lights' On CMT
The country world is going with a football theme this Memorial Day. The film version of Friday Night Lights will be on CMT at 9:30 a.m. and followed by episodes of the TV show until 8 p.m. (Be still, my Kyle Chandler-loving heart!)
Image: NBC
'Cops' On Spike
Spike will be giving a true marathon with a 12-hour block of Cops — 10 a.m. to 10 p.m. — which begs the question: Whatcha gonna do when they come for you?
Image: Fox
'The Little Couple' on TLC
You can catch up with Bill and Jen of the Little Couple on TLC after you come home from your weekend plans from 3 p.m. to midnight.
Image: DCL
Adam Sandler Movie Marathon On TBS
TBS isn't going with a traditional marathon, but they are providing you with plenty of man-child Adam Sandler with his movies Billy Madison at 10 a.m., Happy Gilmore at 12 p.m., and Big Daddy at 2 .pm.
Image: Universal Pictures
'The Last Ship' On TNT
See McSteamy himself, Eric Dane, during The Last Ship marathon on TNT from 10 a.m. to 8 p.m.
Image: Karen Ballard/TNT
'Real Husbands Of Hollywood' On BET
In what appears to becoming a holiday tradition, BET will air a marathon of the Kevin Hart-led Real Husbands of Hollywood from 12 p.m. to 12 a.m.
Image: Tyler Golden/BET Networks
'Love & Hip Hop' On VH1
Season 5 episodes of Love & Hip Hop will air from 11 a.m. until 8 p.m. on VH1, followed by the two-hour special of the live wedding of Yandy & Mendeecees in Love & Hip Hop Live: The Wedding.
Image: VH1
'CSI: Crime Scene Investigation' On USA
You can watch a large part of Season 14 of the CBS show CSI: Crime Scene Investigation (part of the Ted Danson years) on USA from 6 a.m. to 8 p.m. Where's the Cheers marathon?!
Image: Robert Voets/CBS
'Top Gear' On BBC America
Although it feels like BBC America is doing some sort of Top Gear marathon almost every day, this time it's official, starting at 3 a.m. and lasting the rest of the American holiday.
Image: Ellis O'Brien/BBC Worldwide
'The Monkees' On IFC
Yep, I went and saved the best for last. IFC will be airing a The Monkees (?!?!?) marathon on Memorial Day. The quirky channel will be showing episodes of Season 1 of the 1960s TV band-turned-real-musical-group from 6:45 a.m. to 4 p.m. If you didn't watch The Monkees as a kid on MTV or taped VHSs (or you know, the original time it aired in 1966 to 1968) now is your chance to fall in love with Peter, Mike, Mickey, and Davy. I just added to your list of things to be thankful for this Memorial Day.
Image: NBC