Is A "Bad Blood" Sequel In The Works?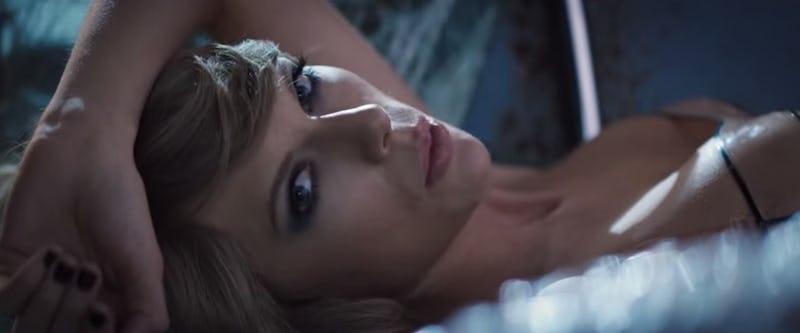 ICYMI — the star-studded, action-packed music video for Taylor Swift's "Bad Blood" basically blew the minds of everyone watching the Billboard Music Awards this month, and, let's be real, how could it not have: The four-minute video plays out like a mini feature film. There are celeb cameos all around, from Selena Gomez to Ellen Pompeo to Karlie Kloss to Lena Dunham — which is just naming a few — and it's basically a revenge-driven action story featuring almost every awesome woman currently heating up the world of pop culture. If you have not wanted to see more of Catastrophe, Arsyn (Gomez), and Lucky Fiori (Dunham), then you are a stronger woman than I am. "Bad Blood" is just begging for a sequel.
Though Swift is keeping mum on whether or not there is an official sequel in the works, it looks like there may be some hope for us fans in the rumor mill: Hollywood Life is reporting the singer is allegedly keeping an open mind about where she could take these characters next. In an ideal world, Hollywood would snap "Bad Blood" up, and create a movie based on the Quentin Tarantino- Sin City-esque video. The possibilities are endless! Honestly, I would take a Saturday Night Live sketch at this point, because I really just want more of everything — the action, the cameos, and the song!
So, while Swift is considering her options, here are a few suggestions of my own about what forms "Bad Blood" could continue in.
Comic Books
Reportedly, Swift is already eyeing the world of comic books as a place to expand the "Bad Blood" universe. If the rumors turn out to be true, I will be first in line to snatch up the debut issue. "Bad Blood" is perfect for the world of comics: It has heroes, villains, sci-fi and fantasy flourishes, and all of the story elements to make up a good comic book series. I can see "Bad Blood" fitting right in at one of the indie publishers, like Image.
Feature Film
I don't think Hollywood loves us enough to make a "Bad Blood" feature film happen, even though the video totally features more stars than a Richard Curtis film. A girl can dream though — and while Hollywood shies away from most female-centric action movies, it does love a good origin story... and "Bad Blood" has a pretty epic one at its core.
TV Show
As a TV junkie, I would completely lose my mind if "Bad Blood" inspired a weekly series. Just imagine the possibilities: sci-fi, espionage, missions of the week, and an overarching story about how Catastrophe was betrayed by her BFF. ABC, are you hearing this? "Bad Blood" is basically tailor-made (pun so intended) for your network.
Another Video
This is the most likely option and I am fine with that — even if it means we have to wait for Swift's next album. I can only imagine how much fun it was making "Bad Blood" with all her besties, so why wouldn't Swift want to do it all over again and give fans a new chapter in the story at the same time?
Whatever Swift decides, I know I want to go to there.
Have you forgotten how awesome the video is? Check it out again.
Image: Vevo/YouTube; Giphy (4)