A Subscription Box Full Of Sriracha? Yes Please!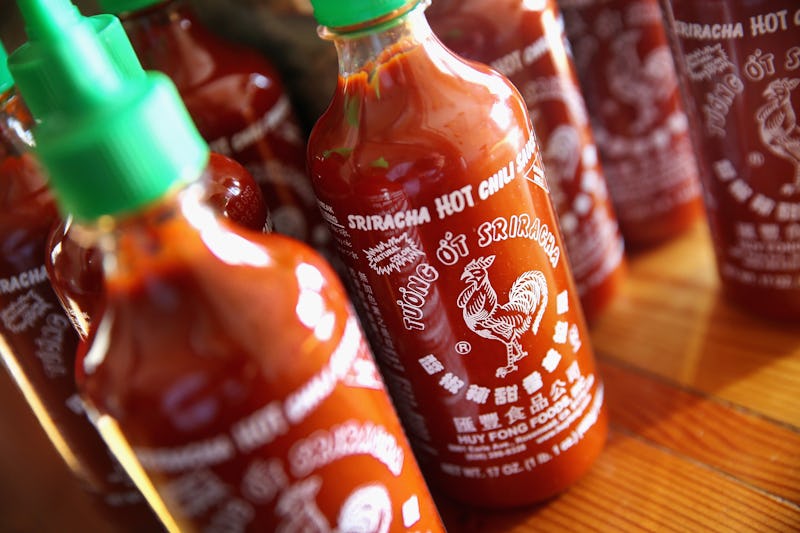 Scott Olson/Getty Images News/Getty Images
If you've ever found yourself thinking, "Gee, there really is a subscription box for everything these days, isn't there?", you'd be absolutely right—and now there's one for the rooster sauce lovers in the crowd: The new Sriracha Box subscription service specializes in all things Sriracha. Am I excited? You bet I am. Because… well… how could I not be? It's a box full of things that taste good. Yes please!
Created by friends Brady and Chandler, who have been pals since college, Sriracha Box lives by the philosophy that rooster sauce makes everything better (and let's face it: It does). Each month, it plans to deliver a kick of chili-flavored awesomeness right to your door — and the reason I say "planned" is because the current box is the inaugural one. The very first box will feature Country Archer Sriracha Jerky, Kikoman Sriracha Mayo, a couple of rooster stickers, and (of course) a bottle of the good stuff all on its own. Will most subscribers already have a bottle of Sriracha in their kitchens? Probably — but I mean, come on. You can't launch a Sriracha-themed subscription box service without including an actual bottle of Sriracha in the first box, right?
According to the Sriracha Box FAQ, the boxes ship out on the first of every month; you have to subscribe by the 20th of the previous month in order to get in on it — which means we may have missed the boat this time round. But hey, at least we all know this potentially wonderful-sounding service exists early enough to be able to sign up for the next box. What can I say? I'm an optimist. The boxes cost $19.95 with free shipping, so it's also not going to break the bank.
Although there are loads of food and snack subscription box services out there (just take a look at My Subscription Addiction's database), comparatively few of them seem to focused specifically on spicy food. This makes a certain amount of sense; the whole idea of a subscription box service centers around being able to try new things, and limiting yourself to just one type of food cuts down on the options considerably. Still, though — I suspect Sriracha Box might fill a very specific void, which might perhaps be a good thing.
Not into Sriracha? You might try Fuego Box or the Hot Sauce of the Month Club; both specialize in hot sauce, with Fuego Box curating small-batch artisan sauces and Hot Sauce of the Month dealing in gourmet hot sauces from all over the world. Everyone's got to get their kick somehow!
Images: Scott Olson/Getty Images; Sriracha Box