Black Women Share Their Confusion About "Nude"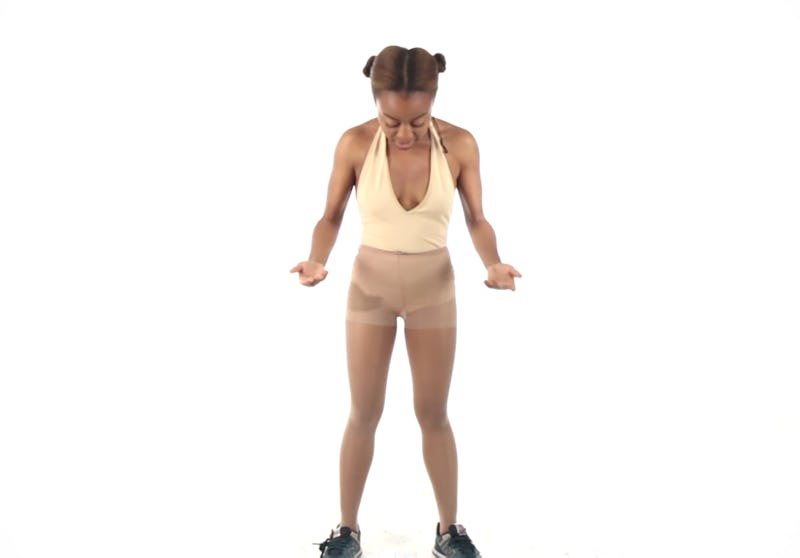 Can you define "nude" in a few, non-racist words? Neither could the ladies from Buzzfeed's "Black Women Try 'Nude' Fashion" video. In the "no topics are off limits" style that is Buzzfeed, the video consists of four black women going through the discussion while trying on "nude" products that are available on the market today. What they found was that none of the products matched their skin tone, making it clear that "nude" is rude.
The video subjects found that out pretty early on. At first, the lovely ladies were asked to describe what "nude" actually meant, to them, leaving them with answers that all pointed to the same thing. "Nude equals nothing," the woman in the green tank top said. "Nude is not an option for black women," a woman wearing black glasses said. And they're both right. All the times I've ever tried to buy "nude" things, I've never exactly found something that fits my nude. The women in the video had the same struggles as me. The lipstick, pantyhose, bra, and leotard — all which came in "nude" — didn't match any of these ladies' versions of nude. They were all pasty, beige, oatmeal, off-white colored items that have been labeled "nude," but clearly don't fit. And instead of getting angry, the women all laughed about the difficulty and confusion of what exactly "nude" meant, and why it's even a thing.
As funny as the video begins, it ends with something that I find super disturbing. The women read the dictionary definition of "nude," straight from Merriam-Webster, and are as shocked as I was. As we all know, to be "nude" is to be without clothing, but according to the dictionary, it's also to be "the color of a white person's flesh." That's right, a white person's flesh. So, where does that leave black women? Are black women's naked skin not considered nude? I hope not because it's definitely 2015 and the fact that the dictionary is still racist says a lot about our society.
"Nude should not be a color in fashion," the woman in the green tank said. "It's making women feel like they're abnormal." And she's completely right. Unless we change the root definition of something so blatantly closed-minded, there's no way black women will feel equal or beautiful. Because "nude" comes in a lot more shades then just peach, people.
Images: Buzzfeed/Youtube