'Grace Of Monaco' Shows Kelly's Hollywood Drama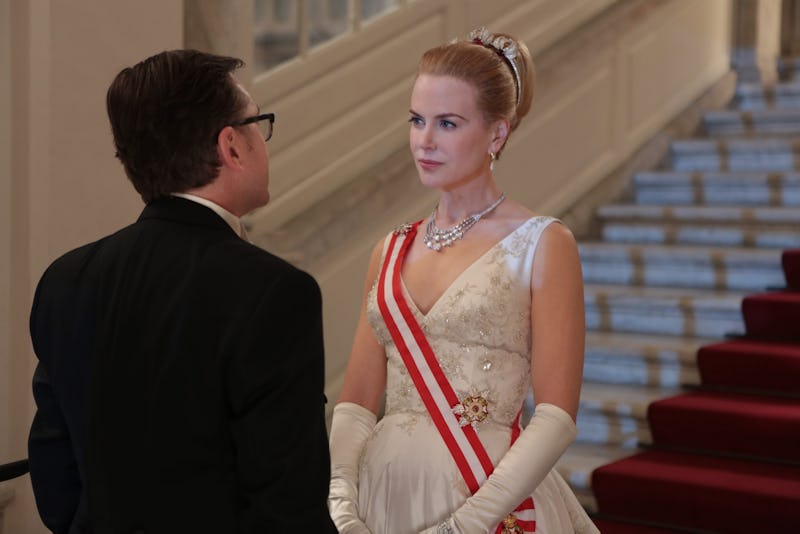 Audiences will see plenty of drama unfold on screen when Grace of Monaco premieres on Lifetime on May 26 at 9 p.m. While much of that drama will center on Grace Kelly's personal life and struggle to adapt to her new role as a royal, interestingly enough, this movie gives us a behind-the-scenes look at another, as Grace Kelly considers starring in Alfred Hitchcock's Marnie. It's a central plot point in Grace of Monaco, and considering that the film is "a fictional account inspired by real events," was Kelly really supposed to play the lead in Marnie? And if so, who replaced her?
One thing is for certain. Kelly was definitely slated to appear in Hitchcock's classic film, which is discussed in Tony Lee Moral's Hitchcock and the Making of Marnie. For anyone who has seen Marnie, you know that its star Tippi Hedren was basically iconic in the role. This was Hedren's second role in a Hitchcock film, following The Birds, and she knocked it out of the park. But Kelly was set to make a return to Hollywood with Marnie and unfortunately, thanks in part to Monaco's struggles with France, she had to drop out of the production.
According to Moral's book, which is supported by numerous news stories about the production, the drama behind Kelly almost starring in Marnie played out in a rather complicated fashion. Kelly's agent at the time stated that he told the director Kelly was looking to get back into films, so Hitchcock apparently sent him a treatment for Marnie and asked if Kelly would be interested. Kelly's agent passed along the material to her, and she agreed to star. But Moral claims that the director once said in an interview that Grace came to him about making a movie together, and he mentioned the book upon which Marnie was based. He only then sent it to her agents and she responded to the material. Hitchcock claimed he didn't know Kelly had accepted the role in the film until her office came to him and said she wanted to do it, but the announcement had to come from the palace.
For a while it seemed like everything was in place. There was some drama over Kelly's salary and how she was only doing the film because the royal family in Monaco was having money troubles, so Kelly publicly stated that she would set up a charitable fund with the money from the film. Everything else was going according to plan. The film was scheduled with perfect timing to coincide with the royal family's already planned trip to the United States, meant to allow Kelly to spend some time with her family. But all of a sudden, the production schedule had to be delayed and then later Kelly dropped out.
According to the book, the real reason for Kelly's departure was not scheduling, but actually the growing drama between Monaco and France. In a research memo that was started by Hitchcock, it was determined that Kelly felt compelled to stay in Monaco while her husband tried to settle problems with France who had ended a treaty with Monaco over their limited tax laws. So Kelly dropped out, Hitchcock looked around for other actresses, and suddenly in the middle of shooting The Birds, he asked Tippi Hedren if she'd take on the role.
As we can see from the Grace of Monaco clip regarding Marnie above, the film shows Hitchcock specifically having a meeting with Kelly about the film, in which he remarks how she looks tired and is still an artist. While where exactly this meeting took place is disputed, we know that at some point, Kelly both accepted and then rejected Hitchcock's offer. I believe that Hedren was a perfect choice for Marnie in the end, though it would have been an interesting story if Kelly had stayed on the production. A princess in a Hitchcock film? That's another movie in itself.
Image: Lifetime