These Beer Labels Are Absolutely Magical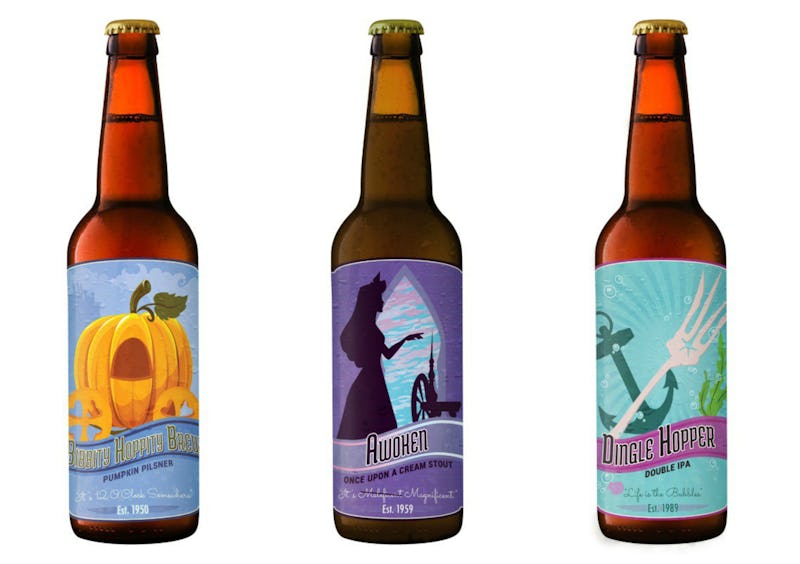 What I am about to show you needs no introduction, so I'll just launch into it: Disney beer labels exist, and they are absolutely magnificent. I mean it — they're punny, they're pretty, and most importantly, they allow grownups everywhere to embrace their inner children in a way they never have before. The best part? The labels are printable, which means you don't have to worry about the beers behind them being mediocre or terrible. All you need to do is hie thee to thy nearest inkjet and bam — you can slap them on all your favorite brews, ensuring both a magical and delicious time.
Online costume retailer HalloweenCostumes.com dreamed up these wonderful creations, appropriately dubbing them "Disney beer bottles for the Disney fans that grew up." Yes, the movies can be somewhat problematic… but I still love 'em. And now I have two of my favorite things, all in one go. Heck and yes.
Hitherto, my Memorial Day weekend was going to be a low-key affair full of relaxation. Now, though? Well, it's still going to be a low-key affair full of relaxation… but first I have to print these suckers out and plaster them to the six pack I currently have in my fridge. And also maybe make a list of all the Disney movies currently available on Netflix, because clearly I need to have a Disney movie/beer pairing adventure ASAP. It's the next best thing to drinking at an actual Disney park, is it not?
Here are a few of my favorites; head on over to HalloweenCostumes.com to see the full range, as well as nab the printable versions for yourself. Cheers!
1. For the Fairy Godmother:
I usually prefer my pumpkin beers to be of the ale variety, rather than in pilsner form, but hey, I'll take it if I can get it. Plus, I just like saying "Bippy Hoppity Brew."
2. For the Sleepyhead:
Nice pun, there. I do so love a good cream stout.
3. For the Beast Inside:
Obviously you have to drink this out out of an actual growler, too.
4. For the Puppet Who Just Wants to Be a Real Boy (Or Girl):
No, not that "No Strings Attached."
5. For the Loveable Teddy Bear:
Those simple beer necessities, am I right?
6. For the Swim Champ:
I hate IPAs, but "Dingle Hopper IPA" is quite possibly the greatest beer name in the history of beer names. I would drink it just to say I did.
Head here to see the full set.
Images: HalloweenCostumes.com (6)