This Is How FLOTUS Works Out — VIDEO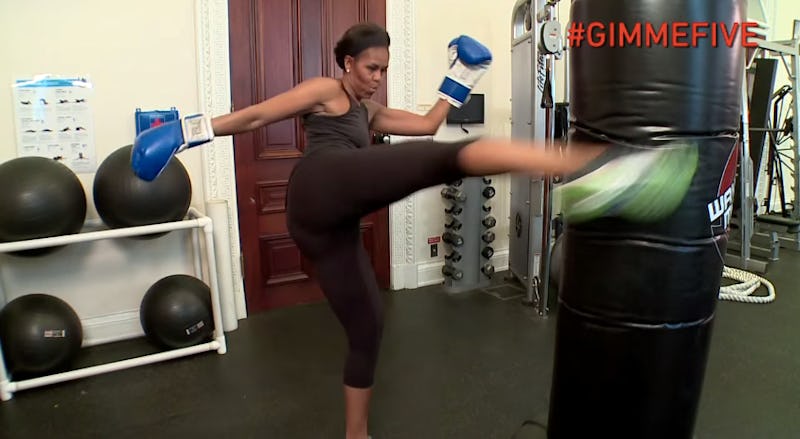 It's no secret Michelle Obama is all about a healthy lifestyle. Her "Let's Move" campaign, whose mission is to help Americans be more active, has been her main project since moving into the White House with her SO a.k.a. the president of the United States. In celebration of the initiative's fifth anniversary, FLOTUS has been rolling out fun #GimmeFive challenges all year. The newest entry? I give you Michelle Obama's workout video.
What's made Obama's health campaign really take off with Americans are the inventive ways she gets people excited about eating right and working out, two things that aren't always the easiest sells. Whether having a dance-off with Ellen DeGeneres or rocking mom moves with Jimmy Fallon, Obama shows how being active can be fun. Now, the video isn't about trying to look just like Obama. Instead, she just wants you to get moving with five exercises that aren't too difficult and won't take up too much of your time.
Because really, that's what the #GimmeFive challenge is all about: Can you give five minutes of your day to take a walk or make a snack of fresh fruit? Or in this case, can you give five minutes for this easy-to-do workout?
Jump Rope For Cardio
No need to jump all crazy. Stay close to the ground, and tuck your elbows in.
Abs With Medicine Ball
If sit-ups and crunches are becoming a drag, change up your ab workouts with a medicine ball. Core strength is key!
In-And-Out Squats With Bench
Here's a new way of looking at squats. Explode from the ground to help you get in a squat position on top of a bench.
Lifting Weights
Don't be afraid of weights. Strength training is just as crucial as cardio in your workouts.
Kickboxing
Treadmills and ellipticals can get a little monotonous, but kickboxing is an easy way to make your workouts feel more like a physical activity. (And you get to unload some of your stress.)
Of course, make sure you stay hydrated by drinking lots of water! Here's FLOTUS' workout video and see if you can give her five.
Images: letsmove/YouTube