A Brief Evolution Of The Bikini In Under 2 Minutes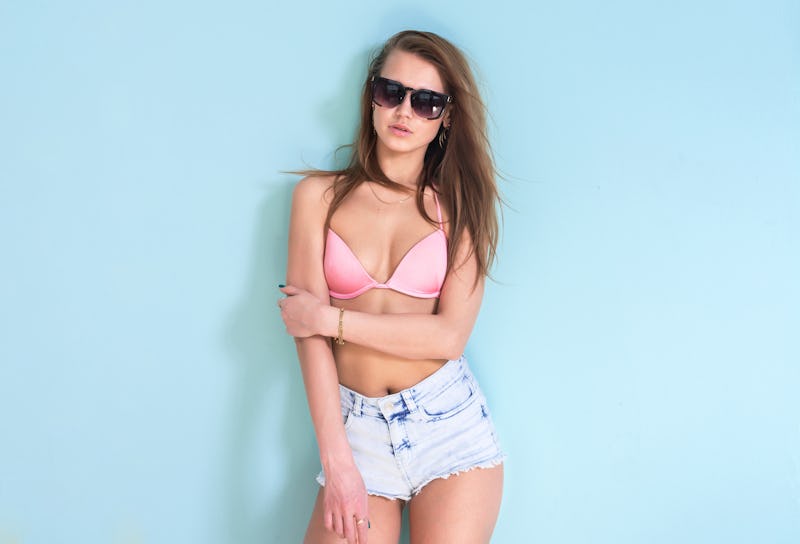 Bathing suits are more revealing now than ever before, and it's crazy to think of where it all began. This "Evolution of the Bikini" video shows just how far bathing suits have come since 1910. Historical facts about the bikini are interesting and all, but not many of us are actively searching for that information, right?
That's why this video is great, because it gives some context to your favorite summertime wardrobe staple and sums up pretty much the entire history in less than two minutes. That's definitely how I prefer my history lessons — quick and to the point!
Starring Amanda Cerny, the video takes you through popular swimwear for every decade in the past century, really highlighting how much how our swimwear has changed over time, specifically how much more skin-bearing it's become. The end of the video begs the question, where are we going from here?
I, for one, am interested to find out! But, if fashion has taught me anything, it's that history repeats itself. I would start familiarizing yourself with the silhouettes from the past decades, because we're bound to see those styles again (and, in fact, we already are). Which decade is your favorite?
See highlights from the bikini evolution here and decide!
1. 1910s
So, this isn't much of a bikini at all. Bathing suits started out very covered up, so much so that this looks more like a workout outfit than a swimsuit. Can you imagine wearing something like that today?
2. 1940s
Here, you can see suits are starting to show a little more leg — so scandalous — but the top is still relatively covered.
3. 1970s
Now this is where you really start to see some skin. Ahh, the '70s. How freeing!
4. 1990s
As you can see, the high-waist bikini comes into play here, as well as the ultra high-cut bottoms.
5. 2015
And, we're back to those low-cut, navel-exposing bottoms and triangle bikini tops with fun, fringy details.
Check out the full video to see all of the decades.
Image: Fotolia