9 Books To Soothe Your School-Weary Soul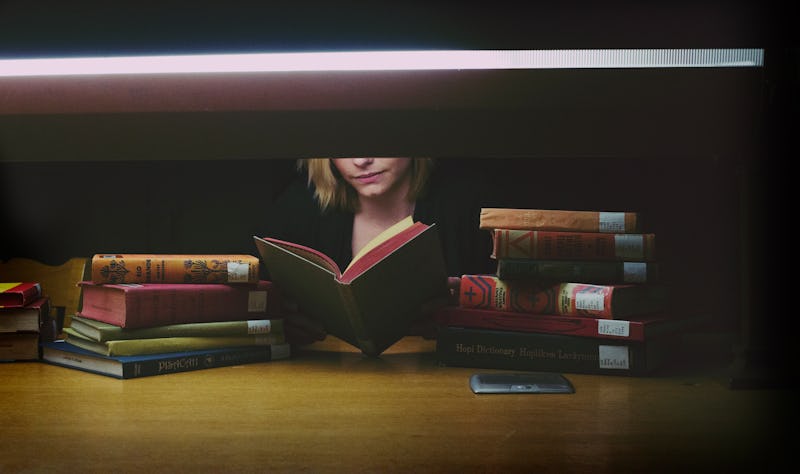 This time of year is rough. Many people have graduated already — they're posting pictures of their caps and gowns, their vacations. And then there's you. You're either a) on the quarter system, slaving away in front of school books until June, or b) still in high school, feeling like you'll never, ever be free from teachers, books, and dirty looks. What you need is a perk-up. Something to soothe your soul.
I know that with the end of the year rapidly approaching, reading material will be not only abundant but also somewhat mandatory — but that doesn't mean you should tune out the world of creative writing entirely. When it comes to final exams, maintaining your sanity is half the battle, and you're bound to score better overall if you can approach those essay questions with fresh, creative ideas rather than all-out terror.
So, counterintuitive though it may seem, when you're looking to balance out your daily cram sessions with a dose of relaxation and reinvigoration, say no to Netflix and turn instead to these 9 spectacular books. It'll make all the difference, I swear.
Yoga Girl by Rachel Brathen
You might not have time to make it to the yoga studio, but that doesn't mean that you can't do something about the tension in your shoulders and your rapidly increasing heart rate. Take the time to clear your mind and mellow out with the Rachel Brathen's endearing and inspiring memoir of a misspent youth, rebirth on the mat, and epic adventures in the Costa Rican jungle. Along the way you'll find enough yoga routines and healthy recipes to get you through exam week with a sound body and mind.
The Stranger by Albert Camus
When you're entirely fed up with dates and names, duck out of the academic game altogether for a brief sojourn with The Stranger, Albert Camus' absurdist meditation on living outside the system. If you're not quite ready to drop out but you do need a little time off, Camus' existential classic may just be the perfect solution.
Harry Potter and the Deathly Hallows by J.K. Rowling
Whenever I'm feeling down, or out, or just a little under the weather, I turn to Harry Potter and the Deathly Hallows . With heart, guts, and goblins on the run, J.K.Rowling's tour-de-force finale to one of the most popular series of all time belongs on the bedside table of every single college student, if only for the limitless inspiration that can be found in Hermione Granger's study habits.
Midnight in the Garden of Good and Evil by John Berendt
Ducking out for a weekend getaway during exam preparation isn't generally considered a good idea, but that doesn't mean a little travel wouldn't be the perfect way to take your mind off of all those flashcards. With John Berendt's classic account of murder, mystery and the minutiae of Savannah, Georgia and an ice cool lemonade in hand, you'll be halfway to the deep south without ever leaving your room.
Waiting for Godot by Samuel Beckett
In addition to the hours of memorization, the note-taking, and those relentless dreams that place you in the classroom on exam day stark naked, the end of the year always seems to involve an interminable amount of waiting. So, why not soothe those unsteady nerves and keep your sense of humor about the vast expanse of academic torture ahead of you with this classic tale of exactly what happens while you're waiting for something to happen.
Letters to a Young Poet by Rainer Maria Rilke
If you're feeling the need for a little sage advice as the big days approach, turn to the one and only Rainer Maria Rilke. Culled from actual correspondence with the esteemed poet during his formative years, Letters to a Young Poet is chock full of complex and cogent wisdom perfectly apropos to the herculean intellectual journey that is the annual assessment process.
Down and Out in Paris and London by George Orwell
While you're procrastinating by pondering what life might look like if you never actually make it out with a degree, really dig into the idea with Down and Out in Paris and London. Orwell's unbridled and unflinching honesty sheds light on the dark places all too often obscured by leafy quads and oak-paneled seminar rooms, and sometimes a shift in perspective is all you need to find the passion that will carry you through another long week of all-nighters.
The Mandarins by Simone de Beauvoir
Escape into the realm of Paris society without straying too far from the intellectual pursuit at hand by taking some time in between practice tests for Simone de Beauvoir's superlative feminist society novel The Mandarins. Luxurious, bohemian, and utterly immersive, The Mandarins might just be the perfect bubble bath book.
The Bat by Mary Roberts Rinehart
Mary Robert Rinehart's seminal work of mystery fiction has been credited with the origin of the phrase "the butler did it" as well as the inspiration for the character Batman. So, wait for the darkest and stormiest night you've got and then let the pain and suffering of studying fall away as you step effortlessly into another world altogether.
Image: Jess Ruby / Flickr