Christina Aguilera's Most Empowering Music Videos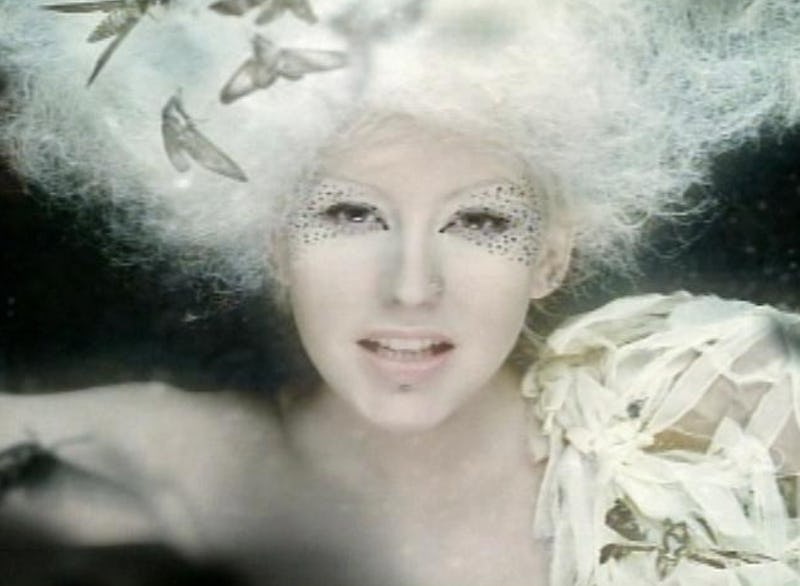 Christina Aguilera has cemented her spot in the pop music world as a reigning queen of versatility. Ever since she gleaned explosive success in 1999 following the debut of her single, "Genie In A Bottle", Xtina fans have watched her prove herself to be quite the chameleon with her sound, artistic endeavors, and style. Aguilera's creative prowess has also translated in her music videos. Whether it's becoming a queen amongst moths, transforming into a platinum blonde cat-woman, or taking things "back to basics," Aguilera delivers in her videos, each time, all the time.
Along with her multifariousness, Aguilera has used her music videos as a vehicle to dispense inspirational messages of feminism and empowerment. Some of the empowering messages displayed in the pop crooner's videos are easy to spot at a glance, while others are decidedly more nuanced. For example, did you notice all the feminism peppered into the music video for "Genie In A Bottle" the first time around? I didn't either, as I was to busy rocking the frick out in my crop top and shredded jeans to pay attention. Lucky for you, I have taken a look back at several of Aguilera's music videos — #BestAssignmentEver — and noted the most empowering components of each. Enjoy!
"Beautiful" From Stripped
Possibly one of her most empowering music videos — and songs — to date, the video for "Beautiful" addresses issues like body image, bullying, and homophobia. All of the scenes displaying these issues are deftly threaded together by Aguilera's uplifting mantra, "You are beautiful, no matter what they say. Words can't bring you down."
"Fighter" From Stripped
Forget butterflies — moths are where it's at! In this highly artistic video, Aguilera transforms from a state of weakness to a pillar of strength as a reigning moth queen, complete with intricate moth-esque makeup that I immediately want to look up a tutorial on.
"Genie In A Bottle" From Christina Aguilera
Even from the start, Aguilera was a formidable force in music who always knew how to stand her ground. While many of us — myself included — were busy doing the I Dream of Genie dance throughout the entire song when this music video first came out, we may have missed the empowering feminist undertones. Aguilera is consistently being approached by one of the video's male stars, but she's unsure if she wants to reciprocate due to doubts as to whether this dude can treat her the way she deserves to be treated. The overall message: if you don't treat me right, this genie is staying in its bottle. Bye!
"Can't Hold Us Down" From Stripped
One of my all-time favorites, "Can't Hold Us Down", bites back at double standards while also encouraging self-love and respect. The video does the song justice, with Aguilera and Lil' Kim facing off with a group of disparaging dudes who "must talk so big to make up for smaller things." BURN!
"Keeps Gettin' Better" From Keeps Gettin' Better: A Decade of Hits
We've always known that Aguilera is an expert at wearing many hats, each one fitting fabulously. In this video, we get to see Aguilera try on many different personas, all threaded by the commonality of being a self-assured, empowering female.
"The Voice Within" From Stripped
The simplicity of this video — shot in black-and-white — is perfect for giving way to Aguilera's inimitable pipes, sincerity, and this ballad's powerful message.
"Something's Got A Hold On Me" From Burlesque: Original Motion Picture Soundtrack
Wow! Even when she's playing a fictional character, Aguilera is just as on fleek when it comes to empowerment. In this video from Burlesque, Aguilera's character dances and sings as a small-town girl with big dreams.
"Oh Mother" From Back to Basics
Aguilera penned "Oh Mother" as a thank you to her own mother, who left an abusive relationship with Aguilera's father. Taken from a performance during her Back to Basics tour, the video displays heart-wrenching images inspired by the story behind the song. Through this, Aguilera raises awareness on such a pertinent issue.
"Reflection" From Mulan: An Original Walt Disney Records Soundtrack
We're taking it way back, now! Before releasing her debut album in 1999, Aguilera was chosen to voice the single "Reflection" for Disney's Mulan. The lyrics center on self-acceptance, withh empowering lyrics such as: "Why must we all conceal what we think and how we feel?" In between Aguilera nailing it, the video is interspersed with scenes from Mulan, which featured one of Disney's most arguably feminist princesses. Love. It.
Image: Screengrab/Vevo