You Can Buy Wedding Themed Arthur George Socks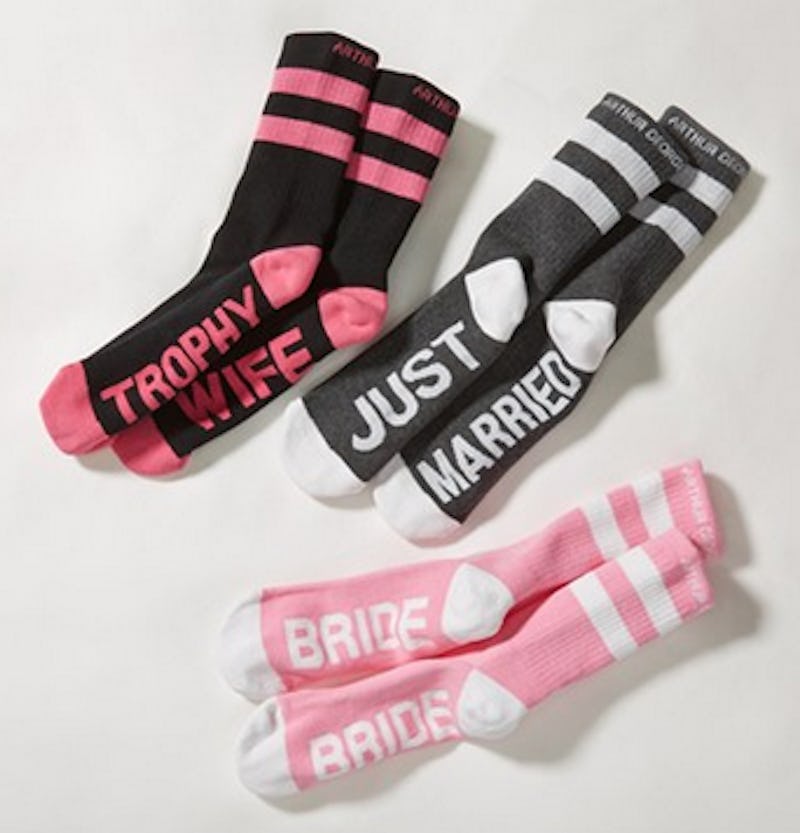 It's almost time! And yes, I'm referring to Kim and Kanye's one year anniversary! With this big day right around the corner, the whole family must be nuptial-obsessed, because Rob Kardashian released wedding themed Arthur George socks. And I can't help but think that this is in honor of his big sis's May wedding. I mean — the world does revolve around Kim Kardashian, right?
The socks are available to shop now at Nordstrom and feature sayings like, "I Said Yes" and "Just Married" printed on the bottom of them. So, whether you're married, getting married, or just want to celebrate the Wests' anniversary, you can snag a pair of these socks now. They're actually pretty cute and would make a fabulous bridal shower gift, IMO.
It's funny that this collection was released in May, just days before Kim K and Kanye's big anniversary. Perhaps Kardashian is trying to show that he's a super supportive big brother, despite the fact that he actually didn't attend her wedding? Whatever the inspiration, this line is super fun and seems like a great thing to wear while lounging with your significant other. I really hope Kim and Kanye have a few pairs! How cute would that be?! Relationship goals, for real!
Shop these wedding themed looks for yourself and get your romantic relaxation on. I'm sure Kimye would approve!
$15
$15
$15
$15
$15
Images: Nordstrom