'90s One-Hit-Wonder Hidden Messages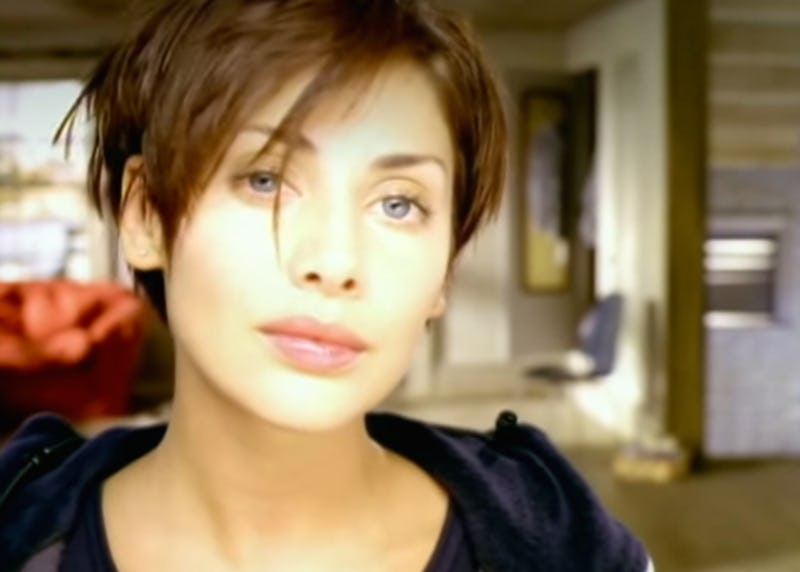 Weren't the '90s just the best? From the strange fashion that's somehow coming back into style (can't we all just wear jelly sandals again?) to electronic pets (I loved my Tamogatchi) and some of the best and most cliched TV shows that are still entertaining as hell, the '90s were an awesome time to grow up in this country. Some of the best things to come out of the '90s were of course the music made by artists we never heard from again. You know what I'm talking about guys, the one-hit wonders! Natalie Imbruglia, Lisa Loeb, Right Said Fred — somehow all of the songs from these artists are still remembered and appreciated (in their own way) today. I'm sure we all have our favorites. But what does your favorite '90s one-hit wonder say about you?
I'm here to help you discover the deeper meanings behind why you love your favorite '90s one-hit wonder. I've compiled some of the best one-hit wonders the '90s had to offer, and it's time to dissect the hidden reasons behind loving each and every single one. Because loving the song "Tubthumping" by Chumbawamba over other classic one-hit wonders like "Stay" by Lisa Loeb or "Jump Around" by House Of Pain is an important distinction that needs to be investigated thoroughly, guys.
Natalie Imbruglia — "Torn"
What It Says About You: There is a deeper, hidden hidden meaning to everything you say and do.
Deep Blue Something — "Breakfast At Tiffany's"
What It Says About You: You're romantic to a fault. Or, you haven't really listened to the lyrics of this song and you just really like that the band says "Breakfast at Tiffany's" because you love that movie. If so, own it — because that's pretty awesome.
Lou Bega — "Mambo No. 5"
What It Says About You: You want to be a player, but you just don't know how. Because honestly, this song proves Lou Bega was never as much of a ladykiller like he probably hoped he would become one day (But was really good at remembering names).
Fastball — "The Way"
What It Says About You: You were the original emo kid in school. That is, until the other kids turned the definition of being emo into a person who had side-swepts bands and wore guyliner to school.
Marcy's Playground: "Sex and Candy"
What It Says About You: You probably still remember hearing this song as a kid and thinking how cool it was that a song said "sex" in the title and in the lyrics (repeatedly). Loving this song is all about nostalgia for you.
House of Pain — "Jump Around"
What It Says About You: You can't stay still for even one second. Calm down!
Haddaway — "What Is Love"
What It Says About You: You really don't understand love, but you want to. Or more likely, you really love Night At The Roxbury.
Semisonic — "Closing Time"
What It Says About You: You love simplicity and order: defined beginnings and ending are your jam.
Lisa Loeb — "Stay"
What It Says About You: You're a wonderful and sensitive soul. And I respect the heck outta you. (Because this song is awesome, guys.)
Eagle-Eye Cherry — "Save Tonight"
What It Says About You: You live for the moment... Or at least you tell people you do. But in reality, you miss everything that passes too quickly and have major FOMO.
Chumbawamba — "Tubthumping"
What It Says About You: You're drunk right now, aren't you?
Right Said Fred — "I'm Too Sexy"
What It Says About You: You have the weirdest sense of humor, or you take this song way too seriously. Either way, you should definitely pick a new favorite one-hit wonder. Perhaps you should check out...
Sir Mix-A-Lot — "Baby Got Back"
What It Says About You: This one is obvious. You love the booty and you understand the beauty and humor of this song! You're also probably a Nicki Minaj fan.
Biz Markie — "Just A Friend"
What It Says About You: You are a ridiculous person and that's what people love about you. Or you're high... Or you're both.
The Proclaimers: "I'm Gonna Be (500 Miles)"
What It Says About You: You're an amazing person who can realize an anthem when he/she hears one. Let's be best friends!
Images: Screenshot/YouTube